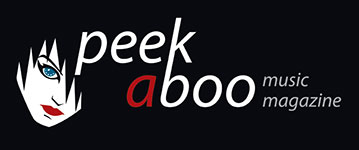 like this interview
---
TYSKE LUDDER
Our roots are more in the 70/80th wave and goth music than in the Oldschool Electro-classics.
16/12/2014, Benny CALUWE
---
One of the bands you absolutely have to see at this year's BIMFest is of course Tyske Ludder. Benny interviewed them for Peek-A-Boo.
Tyske Ludder means German whore in Norwegian. How did you come up with this bands name and how does it relate to your music?
Claus: The name Tyske Ludder was used for a Norwegian women that had sexual relationships with German soldiers during WW II. The children of such relationships were called Tysker Barn and a lot of them were sent to orphanages after the war. Olaf and I saw a report about them during our founding time and we decided to take it as our bands name.
A theme that often returns in your lyrics is USA's domination on global politics. Could the scandal about the CIA's extreme interrogation techniques be a subject for a Tyske Ludder song?
Claus: Every political scandal, not only American disasters, influences our lyrics. Maybe there will be a song about CIA and NSA on our new album, but there are so much other themes, so I am not really sure about that.
In some of your tracks I hear similarities with This Invincible Spirit. Are they one of your influences? Which (other) bands do you consider as an influence?
Olaf: In fact I never heard about that before. Of course we know The Invincible Spirit, but in fact I saw them for the first time two years ago live and only the song "Push" comes to my mind, which is a great dancefloor classic, indeed. If this is the similarity you are talking about, you are welcome (laughs). In fact our roots are more in the 70/80th wave and goth music than in the Oldschool-Electro-classics. The synthesizers and sampler we used in the beginning of Tyske Ludder were just an easier way to let our ideas come true. But that changed after seven full-length albums during the last 20 years...
One of your songs is called Der Androgyne Held. Seeing this title, I immediately think of David Bowie. Unfortunately my German is not good enough to understand the lyrics. Could you explain what this song is about?
Claus: The song is about a dubious personwhot tries to manipulate other people with his friendly manners and as he enjoys the confidence, he shows his real character and its evil, awkward, voracious, on heat and dark.
You made a great cover of Tilt's Merciless. Are there other songs you would like to cover? Or maybe consider a complete cover album just as Leather Strip did?
Claus: I don't think it is a good idea to produce a cover album. We really like to cover songs sometimes, indeed for the live show, but it is only one small part of Tyske Ludder. We like to write our own songs and therefore cover songs are only a small element of our work.
Olaf: … but in fact we will cover a great classic Belgian indie hit of the eighties at our show on BIMFEST!
How do you look back on 2014? And what are your plans for 2015?
Claus: 2014 was an interesting year for us. We left our old label Black Rain and Olaf started a new project with Harmjoy that I support 100%. The year started with an agitating visit and concert in Israel, we are very thankful for a lot of moments in the Holy land. We started to work on our new album and we will release it in 2015. So there will be a lot of work in the beginning of 2015. There are some festivals we are invited to perform, for example Mera Luna for the third time.
Benny CALUWE
16/12/2014
---