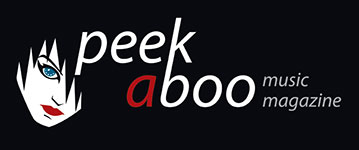 like this interview

---
SHE PAST AWAY
And, finally, at the end of the day, the night emerged…
01/01/2015, Pascal VERLOOVE
---
She Past Away, two guys from Turkey, playing an intense dark wave that finds its roots in the post punk and the cold wave of the early eighties, adding a touch of modern gloom with a voice rising from the depths of the earth. After having released their excellent debut album two years ago, they are about to release their new opus next spring, and just before that, they will be playing at the Botanique in Brussels (45th Fantastique.Night – February 21st). The perfect moment to have a chat with them!
Hello gentlemen, thank you so much for answering a couple of questions … and let's start with a small introduction. If you had to present She Past Away for those who have never heard of you, how would you describe yourselves in just a couple of sentences?
The group was created in Bursa and since then we have moved to Istanbul.
We have been actively performing since 2009. We have published one EP Kasvetli Kutlama ("Gloomy Celebration") in 2010 and our debut album Belirdi Gece ("The Night Emerged") in 2012. We have been playing concerts in most European countries and also in Mexico after our debut album was released, and we are currently working on our second album.
She Past Away – how did you choose your moniker? Is this just a pun on the name (she passed away) or is there another message hidden in your band name? Who is "She"?
There is no subliminal message or true life story in the name, although we liked that name for its sound. The goal of using "Past" instead of "Passed" was meant to express the cold, the uncertainty. It's like a lawless expression, but it does not relate to any particular tragedy.
Your hometown is Bursa, one of the first cities on the Asian part of Turkey, facing Istanbul, on the other side of the Sea of Marmara. But the music you play has certainly roots in Europe (even probably more specifically in UK). So, how do you feel yourselves? Europeans? Turkish first? Or mainly citizens of planet Earth?
I have never felt that I really belong to a nation or a country, although we generally feel closer to Europe, because of its freedom and lifestyle. In addition to that, we are in the world by chance, so we could not choose where we were born or who we are, so we don't feel we are dedicated to belong to any place.
Still talking about your homeland, you sing in Turkish. I was truly amazed, listening to your album, to hear how perfectly this fits and gives a special aura to your music. So, when you started making music, was it immediately logical for you to write lyrics and sing in Turkish?
Yes, we write the lyrics in our mother tongue and that is kind of a normal process for us. We have been playing and singing in English with some bands in the past, however we felt that something was missing because the only language that you really feel is your mother tongue. We believe that we definitely better express all the difficulties of the daily life in Turkish.
Thanks to an online translator I managed (hopefully!) to translate the titles of your songs, that talk about the night, black celebrations, hallucinations, rituals, spirits … could you tell us more about what your songs really talk about?
Our songs mostly talk about the dark side of life, but it does not necessarily lead to mystic stories. For instance Sanrı ("Hallucination") talks about our position against fundamentalists, which have taken a place that we could see as hallucinatory. Asimilasyon ("Assimilation") has a similar topic. Monoton is a about a man who feels abandoned and falls into the strange situation of losing his faith, and the return of the supernatural power of life.
Volkan, your voice is incredibly bass and deep, it may remind of Andrew Eldritch of The Sisters of Mercy. Actually, I've seen a live recording of Rituel and I have seen that you are both singing, and have both that deep bass voice. What is the "secret" behind such mysterious gothic voices?
I do not see myself as a good singer, but I want to express my feelings one way or another and so this is the result! I never hesitate about that because our musical roots are in Punk. Therefore, I am not sure whether there is really a mystery about sounding gothic or not, but if I can convey my own feelings that way, then for sure it will make me happy.
While mentioning The Sisters of Mercy, this is the first band referenced in your bio, so I suppose this band has some importance for you. But, more surprisingly, DAF and Grauzone are also cited. Do you feel that your music has an electronic dimension? Maybe because you are using rhythm boxes?
We never plan in advance that our music will have more or less electronic elements, we have used both until now and we will continue to do so. The Sisters of Mercy have always inspired us, with their albums but also with all the demos before the albums. However, pioneering groups like DAF or Grauzone have broadened our horizons.
When you are playing live there's just the two of you, Volkan and Idris, playing guitar, bass and singing. Is there someone else behind the scenes when you two are on stage?
We played with different setups on stage until now. We've been up to four people on stage at some point: synths, electronic drums, guitar and bass but we tend to be with less people on stage nowadays. There's just the two of us now, and I don't think we will be more, because we hope to be able to better express our music to the audience this way.
You will be playing in Belgium in February next year, which will not be your first time in Belgium, right? What can we expect? New songs of your second album? Some covers of other bands?
This will be our second concert in Belgium, as we played last year in Dentergem. That was a great concert. I hope that we will have the same spirit and feelings at our next gig. The playlist may change, depending on our moods and also the audience's mood. Sometimes we also play some of our new songs.
While talking about your second full-length album that will be released at spring next year, how different will it be from Belirdi Gece? Any special evolution or more like the continuation of your first album?
The recording of the new album was completed very fast, and I am sure that it will be finished soon. There is no big difference between Belirdi Gece and the new album. Maybe we have some slower songs, but also songs that may be more dance oriented. But in any case, we are keeping the dark and mysterious soul in the new album as well.
Do you still live in Bursa, or did you move to Istanbul? And if so, are you part of an Istanbul underground music scene?
We live in Istanbul and here there is no dark wave scene which is close to us. We try to follow our friends who are playing indie and experimental music as much as we can, though.
If you had to choose two or three of your favorite albums of all times, would you mind sharing with us what those would be?
It is really hard to say because it changes depending on the period, your age etc. Moreover there's a lot of great albums that have been released. Let's say three albums I listen to a lot nowadays are: Decima Victima: Décima Víctima and the EP Tan Lejos, Taxi Girl: Sepukku and Spear of Destiny: Grapes of Wrath.
Anything else you'd like to add for our readers or for the people who will come to see you play in a couple of weeks?
We are looking forward to playing in Brussels and I am sure that will be a great concert!
Many thanks and looking forward to seeing you play at the Fantastique.Night in February!
Greetings, thanks!
Pascal VERLOOVE
01/01/2015
---