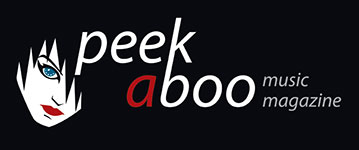 like this interview

---
DARK POEM
Unique or being 'first' is not important, that is just an ego trip.
10/02/2015, Didier BECU
photos: © (2) Benny Serneels ; (3)+(4) Marquis(pi)X
---
On the Black Easter festival there is of course also room for Belgian quality: the electronic compositions of Hatchling, the goth rock of Lizard Smile and The Breath Of Life, but also Dark Poem, known for its indescribable (but wonderful ) sound.. Time for a nice chat with Raya and Sophie!
Hello Raya and Sophie. I asked you this before, but with each interview, I hope you can reach new fans. How would you describe Dark Poem?
Raya : The 'Dark ' in our name stands for the Yin side: the dark, nocturna , sensitive, dreamy, dualistic, female... 'Poem ' not only refers to the importance we attach to words, but more the poetry of life. We try to see the story and are always looking for beauty and coherence.
Frankly, I always think of Tim Burton when hearing your music. It is a fairy tale, yet a tad dangerous. Were artists such as Burton an inspiration or have they nothing to do with Dark Poem?
Raya : Fairy tale and slightly dangerous, that is a good description.
Sophie : My favourite Tim Burton movie is Edward Scissorhands.
Raya : Mine too!
Sophie : I saw that one as a teenager about 15 times, I guess.
Raya : Yeah, me too! I would quite like to make music for Tim Burton. He obviously has the genius Danny Elfman, but if we love Burton's work, there is a chance that he also appreciates ours. Maybe we should send him a CD... I would also like to mention another film that fits very well with how I see the world: Dark City by Alex Proyas, with the underlying message that the spirit itself creates our reality. In real life reality changes, especially in small things, but by working together we can achieve those really special things.
Music is an international language, yet we can not deny that you are a Flemish group. Do you know any Flemish artists who make music like Dark Poem. Are you unique in Belgium?
Raya : Unique or being 'first' is not important, that is just an ego trip. It often happens that multiple people get the same idea without knowing each other and this whole discussion about whose idea was actually first is pointless. But ideas just hang in the air, they fall onto one's head. Now, I'm one of the lucky ones whose head is wide open for such ideas and I am grateful for that. It could be that others in Belgium, or elsewhere, have similar ideas, but how can you be unique? One can not measure that, can you? What is important is what you do, that the things you create are in balance with who you are.
Are you in touch with other artists ? I mean, do you listen to how others do it or is Dark Poem the exclusive world of Sophie and Raya?
Raya : Usually I feel an idea inside and try to translate that into music. Nowadays I listen a lot to radio Klara and classical music, I sometimes get ideas.
Sophie : Technically I am a layman, I usually start with the idea to create a certain atmosphere thatI feel in my stomach. I listen to a lot of music, but I don't analyze it. Of course, it will have an influence on the music we make.
Some people think that you are inspired by the psychedelia of the 70s. What do you think of that? And what does psychedelica mean for you?
Raya : I do not really have anything with the 70s, simply because I was not born yet. For me it is a bit of an abstract term that I associate with brown and orange. Trunks with orange spheres or wallpaper with orange balls... that sort of thing. No doubt that it was an interesting time, just as any other era.
Sophie : I don't really see that link, though I grew up with the records of my father of that period, the repetitive rhythms, reverb with Arab tonalities influenced our melodies and the use of exotic instruments can also be found in our music.
Who does actually what in Dark Poem?
Sophie : Raya mainly gets the ideas out of the blue and I mix them into music. But it can also be oterwise... it all happens very spontaneously and naturally. That i the luck if you are best friends for 20 years.
Raya : And then we have an army of friends, who are willing to lend their creativity or other skills to Dark Poem: Trauma Sutra Ka Sol XIX , Laura, Kolja, Alain, Mark or Sven... they all play their part in creating the Dark Poem- magic.
The last time I spoke to you, you were talking about a new album. How far are you with it and will it be different from your debut?
Raya : Actually we wanted that album for some time, but we need to give it the time it needs. Last year, we worked hard on the new songs, but we also had other things to do. For example, we have cooperated with the mysterious project of Jean-Marc Lederman, The Last Broadcast On Earth. And we have spent a lot of time on making the Euphoria video clip, you can now watch it on YouTube. I hope many people will do so, as the world urgently needs a strong dose of cheerful madness.
We know you in Flanders, but is there also response coming from abroad?
Raya : Thanks to the internet, we now have fans all over the world.
You also attach great importance to visuals. You have a limited budget, but you spend a lot of money on making videos. How important is that for you?
Raya : We find the visual aspect of our shows very important. You are welcome to come and listen with your eyes closed, but for those who keep their eyes open, there also will be something to see.
Sophie : We are fortunate to be surrounded by artistically gifted friends, who like to share their ideas with us and work them out. This gives us the opportunity to be more than just a music group and it offers us a broader platform to tell our story.
What are your musical dreams?
Sophie : A performance in a beautiful ballroom with ideal acoustics, assisted by a choir and a group of dancers.
Raya : Yes! Or an auditorium with red velvet seats and cherubs on the ceiling. And unrestricted soundcheck time!
Soon you are part of Black Easter. The name alone seems to been created for Dark Poem. I suppose that this festival is very important to you?
Raya : I has been a while since we have played at a Belgian festival and Black Easter is really something for us, so we look forward to it. We are going to make a good show of it.
To whom will Raya and Sophie definitely look during Black Easter?
Raya : It is an incredibly interesting bill. I would like to see everything, but on top of my list is of course Sieben. Matt Howden is one of my idols. I really get ecstatic when hearing the sound of the violin, especially when it is played in such a fantastic way.
Because you still believe in fairy tales, I will play the good fairy for once. You may express three wishes. Tell them before I change my mind!
Raya : Our real dreams and wishes will be kept secret, Didier.
Didier BECU
10/02/2015
---