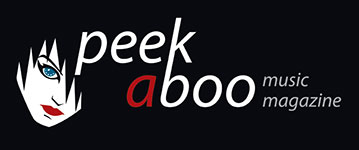 like this interview
---
LA MUERTE
No "taking the money and run" feeling....
10/02/2015, Wim GUILLEMYN
photos: © Danny Willems
---
La Muerte was founded 30 years ago, so this calls for a celebration. On Saturday the 7th of March, La Muerte plays a concert in Brussels, at the AB. We did an interview with Didier Moens, one of the founders of the band, next to Marc Du Marais.
Today the bandmembers of La Muerte are:
Marc Du Marais: vocals
Didier "Dee-J" Moens: guitar
Michel Kirby (Length Of Time, Arkangel): guitar
Christian Z. (Length Of Time): drums
Tino de Martino (Channel Zero.): bass
How did the idea grow to play at the AB? Was it an idea of the promoter?
Didier : Actually it was an idea of ​​Marc to do something for 30 years La Muerte. We felt that playing with the original line up wouldn't be right. But we did want to do something together. The concert in the AB was not really planned. Marc worked on a feature film. Delphine Balfoort was opening her club in Ghent. The idea was to play 3 songs together on the openingnight as a return. But things turned out differently, and Live Nation was asking for this to happen. The condition was that it had to be challenging and interesting for me. The new band members gave the right feeling to the music. They gave it their own specific touch, so the music felt fresh again.
You both will be playing, together with the new members. Was it difficult to integrate them into the sound of La Muerte? Did you have to turn over the music, or renew some things?
Didier: It was a combination of interpretation and playing the scores. It is more then just playing the songs. They listened to the LPs and to live versions of the songs. The fact that we play with 2 guitarists now, makes it very interesting, so I can play parts of the albums, which I couldn't play when I was the only guitar player! And I can also play in a more relaxed way!
Is this celebration the start of something new? Will there a new album?
Didier: Certainly not. I do not want to restart the band. This is just a celebration because of the band's birthday! We will play some songs we never played live before, as we could not to do that with 1 guitar. We do not know really, we will see what March brings! To be honest, La Muerte will end the end of this year! Maybe the concert will be recorded, maybe it will be released.
Was it difficult to put together a nice setlist?
Didier: When we played at Ghent, Marc and I had made a setlist. When we overlooked it, we saw that we made the same choices regarding the songs we want to play!
You didn't play together for a long time, was it hard to remember all the material?
Didier: No, we were like an oiled machine. I had to buy some new affects to create the old sound. Sometimes I had to listen to the albums to find the right structure, but mostly, my brain remembered really fast. There must be a super hard drive disk in our minds! LOL.
Did you get reactions from the former band members?
Didier: Paul was in Ghent, but we did not talk much. The former drummer was not surprised that we were playing again. He did not have any problems with the fact that we are doing live gigs again. You know, Marc and I were the core of La Muerte. You see the same in other bands like The Beatles or The Rolling Stones.
How is the ticket sales going?
Didier: Pretty good for a band that did not play for many years and used to be in the underground!
You do have a pretty good live reputation though….
Didier: You are right, but you have to remember that we have new band members now. We have a nice support (Fifty Foot Combo). We asked them, so it is a double bill really. And with the same ticket, you can go to the after show by My Diligence, who is playing at the AB club afterwards! It is a coincidence that they are there, it has nothing to do with the fact that I produced their album.
Do you expect youngsters at the AB?
Didier: We sure hope so! The evening has to be more then just a night of nostalgia! We are still musically relevant. And we expect a lot of people from Germany or Switzerland too.
Do you see a lot of changes in the music industry? If you would start La Muerte now, would it be different?
Didier: It is a lot tougher for bands nowadays! I still do not hear anything like La Muerte. The climate is changing!
In the past, you had once in a while some new things going on in the music, like Supertramp adding effects with a Wurlizerpiano, or Led Zeppelin changing the guitar with electro sounds…
Didier: Yeah, everything sounds mainstream these days!
La Muerte sounds more punk then most punk bands today. Lots of punk bands sound like pop music.
Didier: In the seventies and eighties you really could see interesting bands in small clubs, like The Cramps and so on…Today bands get picked up and they directly go on a high level, which is too fast.(War On Drugs for example).
Do you like bands who are hot nowadays?
Didier: Amenra is very nice, so is Raketkanon.War On Drugs is OK. I look at my son's collection to learn new things!
You see the same names at a lot of big festivals. Eurorock is programming a bill you could be on…
Didier: It is a nice line-up, but we were probably to late with the announcement that we were playing an anniversary show. We have some gigs, but nothing is really sure for the moment! A lot depends on the AB show, but you know, we have seen it all, nothing is a must. Everything more is a "surplus"!!!
Remember, we have an after party after the gig, in Café Central, just across the AB.
Thank you for the interview, and we will see each other on the 7th of March!!!
In collaboration with Sam Claeys.
Wim GUILLEMYN
10/02/2015
---
La Muerte zag 30 jaar geleden het levenslicht en om dat te vieren is er op zaterdag 7 maart in de AB te Brussel een herdenkingsoptreden. We spraken met Didier Moens (gitarist). Samen met Marc Du Marais vormt hij de vaste kern van La Muerte.
Vandaag bestaat La Muerte uit:
Marc Du Marais: vocals
Didier "Dee-J" Moens: gitaar
MIchel Kirby (Length Of Time, Arkangel): gitaar
Christian Z. (Length Of Time): drums
Tino de Martino (Channel Zero): bass

Hoe is het idee ontstaan om op te treden in de AB? Kwam het van jullie of van de organisator?
Didier: Eigenlijk was het een idee van Marc om in het kader van 30 jaar iets te doen omtrent La Muerte. Met de originele bezetting een optreden doen zagen we allebei niet meteen zitten. Maar we hadden wel zin om samen iets te doen. Het concert in de AB was eigenlijk niet gepland. Marc werkte aan een langspeelfilm en Delphine Balfoort speelde daar gratis in mee. In november opende ze haar club in Gent. Het idee was om daar samen 3 nummers te spelen als wederdienst. Maar zoals dat gaat kwam alles in een stroomversnelling en Live Nation was vragende partij voor dit optreden. Voorwaarde was dat het voor mij een uitdaging en interessant zou zijn. en met die nieuwe bandleden erbij was dat gevoel er. Ze gaven er hun draai aan zodat het weer fris en nieuw aanvoelt.
Jullie twee zullen samen optreden, aangevuld met verse bandleden. Was het makkelijk om anderen te integreren in jullie geluid? Moesten ze alles herwerken of naspelen?
Didier: Het was een combinatie van eigen interpretatie en van partituren volgen. Het is meer dan zo maar naspelen. Ze hebben geluisterd naar studioversies en live optredens. Het feit dat we nu ook met 2 gitaristen spelen betekent dat ik bepaalde elementen uit de albums nu wel kan spelen. Vroeger lukte dat niet. Het betekent ook dat ik relaxter op het podium mijn ding kan doen.
Is dit het startsein van meer? Nieuw Werk?
Didier: Dat is zeker niet de bedoeling. Ik wil niet herbeginnen met de band. Het is gewoon de bedoeling om een optreden te geven omdat we als band dertig jaar bestaan. We zijn bezig met de repetitie van enkele nummers, die we vroeger nooit speelden omdat we ze toen live niet konden brengen met 1 gitarist. We zijn nog bezig met enkele andere dingen, maar of dat zal lukken weet ik nog niet. We zien wel in maart. In feite zal La Muerte op het eind van het jaar ophouden te bestaan! Normaliter zal het optreden wel opgenomen worden en als het een goed optreden is, zal het misschien uitgebracht worden. Maar dat zal het enige zijn op dat vlak.
Was het moeilijk om, uit jullie oeuvre, een setlist samen te stellen?
Voor die 3 nummers in november had ik een lijst gemaakt van wat ik wel en niet zag zitten. Toen ik die met Marc overliep, bleek dat zijn lijst met de mijne overeenkwam. Dus dat ging vlot. Ook voor het optreden in de AB.
Je hebt lang niet samen gespeeld. Was het moeilijk ?
Didier: Eigenlijk niet, we waren snel weer op elkaar ingespeeld. Ik heb enkele effecten moeten kopen om mijn sound weer te krijgen zoals vroeger. Enkele nummers heb ik opnieuw moeten beluisteren en ik heb ook moeten zoeken naar enkele stukken, maar eigenlijk kwam alles verbazend vlug terug. Er moet in ons geheugen een super harde schijf zitten die alles opslaat wat je met liefde doet.
Heb je reacties gehad van de andere, vroegere bandleden?
Didier: Paul was aanwezig op dat optreden in november. Maar er is weinig gesproken. De vroegere drummer was niet verbaasd dat we het deden en had er ook geen probleem mee. We zijn eigenlijk altijd het kernduo geweest (Marc en ik) binnen La Muerte. Je ziet dat bij veel groepen: zie Rolling Stones, Beatles, ….
Hoe loopt de voorverkoop?
Didier: Goed eigenlijk, ten minste voor een band die echt underground zit.
Jullie hebben natuurlijk ook een goede livereputatie.
Didier: Dat klopt wel, maar het is natuurlijk met andere bandleden. Voorts hebben we er wel voor gezorgd dat we een goed voorprogramma hebben dat de kans krijgt om een mooie show te geven. Daarom hebben we 50 Foot Combo gevraagd. En met je ticket kan je nadien naar de after show van My Dilligence. Toevallig staan ze in de club geprogrammeerd op de avond dat wij in de zaal optreden. Dat was toeval en niet omdat ik hun laatste album heb geproduced.
Verwacht je ook wat jong volk op jullie optreden?
Didier: Dat valt af te wachten, maar ik hoop het in elk geval. We willen meer zijn dan alleen een avondje nostalgie. Te meer omdat ik vind dat we, zonder te pochen, muzikaal nog altijd relevant zijn. Het is wel zo dat ik toch wel wat volk uit Duitsland of Zwitserland verwacht in Brussel.
Is er een groot verschil in de muziekwereld nu in vergelijking met vroeger? Denk je dat het anders zou zijn mocht je nu aan het begin staan met La Muerte?
Didier: Ik weet niet of ik er nu nog aan zou beginnen. Het is moeilijker nu. Ik hoor ook nog altijd niets nieuws dat klinkt als La Muerte. Er zijn goeie groepen, maar ze raken niet verder. Het klimaat is ook anders.
Alex Callier zei laatst ook dat hij nog altijd wachtte op iets nieuws in de muziek. Je had vroeger bijv. Supertramp dat met zijn Wurlitzer-piano iets nieuws deed, gitaristen kwamen met nieuwe effecten, Led Zeppelin bracht electro met zijn synths. Nu is er qua sound niets nieuws.
Didier: Ja, en alles klinkt mainstream.
La Muerte klinkt inderdaad meer punk dan de meeste punkgroepen nu en veel punk klinkt nu als pop. Mooi en braaf geproduced.
Didier: In de jaren 70 of 80 kon je nog grote groepen live zien in kleine clubs. Ik denk dan aan The Cramps en zo. Nu worden ze niet opgepikt en als dat wel het geval is, dan zijn ze in een mum van tijd on high level. Denk maar aan Royal Blood of War On Drugs.
Welke hedendaagse bands vind je boeiend?
Didier: Amenra vind ik wel interessant en Raketkanon. In het buitenland: The War On Drugs. Verder weinig. Ik check regelmatig de muziek van mijn zoon om een beetje bij te blijven.
Op veel festivals zie je vooral oude namen. Ik denk dan bijv. aan Eurorock. Veel groepen van 20 jaar geleden. Jullie hadden daar ook mooi tussen kunnen staan.
Didier: Ja, misschien wel,maar de line-up ligt al grotendeels vast en het nieuws over ons jubileumoptreden was een beetje te laat, denk ik. Misschien komen er nog enkele dingen na de AB, maar dat is niet zeker op dit moment. Veel zal afhangen van het optreden daar. De luxe is ook dat niets moet voor ons. We willen geen contract versieren of iets dergelijks. Komt er nog een extraatje dan is dat fijn meegenomen. Het is ook zo dat het na 2015 echt gedaan is met La Muerte.
Op 27 februari doen we een gesloten try-out in het Depot. Na het optreden in de AB zal er nog een after party zijn, recht tegenover in café Centraal.
Bedankt voor het gesprek en tot op 7 maart.
Interviewers: Sam Claeys en Wim Guillemyn
Wim GUILLEMYN
10/02/2015
---