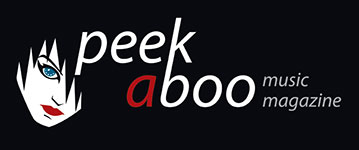 like this interview

---
SOROR DOLOROSA
My personal dream would be to play and record a concert in a place like Pompeii
17/06/2014, Filip VAN MUYLEM
photos: © Felicie Novy & Andy Julia (album cover)
---
They already played a great gig in Aarschot and did some other great concerts before. They also launched a CD that sounds like a milestone for the genre! In October they'll come back to Belgium, so it was for sure time for an interview!
'Soror Dolorosa' is a very strange name, can you tell us why this mysterious name? Does it stand for something?
The name of the band was took from the novel "Bruges la Morte" written by George Rodenbach. This is a very important work of art for us. Hervé, the bass player, read it long time ago and this name stuck in his mind till the day he decided to make it a musical project, in 2001. This notion of painful sister is about what love represents in its deepest meaning. In the book, the main character loses his wife and the whole city turns into a painful sister, where he's haunted by the phantom of his love. This masterpiece of decadent literature represents very well the intensity of our songwriting and what can happen onstage while we play our songs. In the book, it is question of passion, devotion and introspection. As life is a perpetual wandering between dreams and reality, this "Soror Dolorosa" is a kind of bridge, where all of us must pass one day to reach the innermost part of our existence. It is also an intimate expression of love, trying to define song by song and in very different ways what can be this light linking humans and things through the time. This is a romantic notion that you can truly appreciate in the calm of loneliness or the noisy company of excesses.
How hard is it to create your own path, invent yourself and work yourself a way up?
I think it is just a question of what you decide to make with the time you've got in this life. It's the positive side of ambition, the perpetual desire to get higher and closer from what you want to share with others. At the beginning you don't know anything about what music will ask to you, you just make it because you feel something and at a precise moment, you understand that you can't get back. A rock band is challenge with life and you have to deal with it. I think it's one of the best things because it brings to you everything in the same time, when you feel that people understand what you do and share the music at the precise moment when it's played onstage. This is unique, every time and that gives the strengths and inspiration to get further. In the band we're not all of us the same age and we're kind of complementary, I think music is the best way we have to live our friendship because nothing can destroy the sound. This continuity makes us stronger and much more confident in ourselves, that's also increase our skills and upgrade the level of the band in the same time. A good album is like wine, years bring back all the soul after a kind of unspeakable alchemy.
How do you describe yourself to the people who haven't heard and seen you on stage?
We're a rock band, creating sounds that are images of life shots filtered by a poetical and cathartic feeling. We play onstage like our life would depend. Soror Dolorosa is that kind of music that needs some excess to be appreciated, like high volume of the sound, specific mood where you feel free to connect to yourself without spectral modesty. Our songs are inspired by those precise moments giving you the feeling to be alive and more, like relieved from the flesh. Our live performances are like a battlefield or an obscure bedroom, those places where magic and tragic mix up to write the human enigma. That is the place where poetry of truth takes its entire flavor.
How would you get them into your music and get them to attend the show?
Personally I really appreciate bands that give themselves 200% onstage, and then you feel close to their art. I think we're up to this because when I see our faces in the backstage after a show, there are things that don't lie!
We're often compared to the 80' bands like The Sisters of Mercy or The Fields of Nephilims that is an absolute honor because we like them but with Soror Dolorosa there is nothing to do with a revival. I think we just make the music as we would have done 30 years before because we felt a lack of something in the time where we growing up and we didn't wanted to listen our record with this frustrating feeling that nobody would make such inspired and original music like the bands of this time. Personally I don't make any difference with the time in music, music is about the moment when it's played and the feeling created by and that's it. Any other thing regarding our appreciation of music is something purely singular.
I don't know if we've got the same talent and I'm not here for any judgment but what I'm sure, is that we have the same honesty and fire from the inside. When of the venue is turning off and the show begins, we invite people for a trip between shadows and light where they could perceive a part of themselves carefully hidden by common sense.
I must say that our redaction team gets a lot of bad stuff, as anybody can now release something easily, so it's harder to get the wanted attention … Is it frustrating for you noticing that you have send out a lot of promos and didn't get much respond?
It's true that today a band have to make double effort to shine, but I think success in art have always been hard, but it was in different manner. I think time is like a circle, turning around and they only the truth that make the difference between things. The honesty is the 1st element to follow in making music anyway it's not music, it's an industrial product or an entertainment. The only things that will make your talent in creating songs, is how to get through your memory and how you'll gather your influences filtered by your subconscious and imagination. I think if you do good music, you'll find you audience a day, but sometimes you're not highlighted at the right moment and it is not fair. That was the point for exceptional bands like The Chameleons or Slowdive, who were on of the most quality and interesting bands of their time and not famous as they would have been…but sometimes, time passes by and truth always finish to appear, this is somehow the world of today.
'A dead Yesterday' sounds a bit influenced by Clan of Xymox, can I say that or is it too much credits? I really love the track, it has something really (as I know that you state on your Facebook that you want to create s much as you can your own sound).
I'm not the person who can say about the sound correspondences of SD because the music we're doing is made by instinct and nothing is planned in advance. We never gonna make two times the same album, the band is in constant evolution. I think the most important thing in doing music is never to ask you any question but just follow the invisible line of inspiration. It's the only way to get closer the magic of the sound and the efficacy of grooves. I think those rules are the same for every type of music.
You have a song called 'Beau Suicide' (the most played song on Spotify from your band) can you tell us something about the meaning of this song?
This song is about how proud and high you can stand facing your own fall. It's a kind of intimate statement you make facing any tries to accelerate your life and emotions though the way of excess and emptiness. This a song that speak about how you can feel close to the moon sometimes, so far from for human kind that you've got this feeling to assist at your mental suicide in a psychedelic poetic way.
Can I say that 'Autumn Wounds' is one of your most popular tracks on Last.FM? Is there a specific reason for it?
Autumn Wounds is a nice catchy song for smoky dance floor. Now we begin to play it for the encores. Personally I like this song very much, it makes feel like close to a good friend in a particular nice moment…but the lyrics are quite heavy, one more time, that speak about deep things hidden behind the passing time of everyday life, that one day appear like blue grief and nostalgia.
You called your last album 'No more heroes' is that the track from The Stranglers? What was to reason to call it like that?
It's because of the badge on the leather jacket of the cover, when we saw the pictures; we realized that it was the perfect name gathering all the songs in one album. Sometimes random is just the fruits of connections that you're simply not able to understand by thinking. This is the magic of music; some things you catch in writing songs are connected to other topics already made before, but you do it your own way and the wheel is turning. No More Heroes is a notion so true nowadays, during all the time we composed the album, so many things happened that this title was like, obvious.
It's out on 'Northern Silence - Beneath Grey Skies'. Can you say something about this label, as I don't know them?
Northern Silence are from Germany and they are basically a metal/stoner label. They opened Beneath Grey Skies sub division to release bands like us, much more Cold Wave / Post Punk stuffs. We're quite happy with the work they made for us because we managed to gather the goth and few of metal audience, which is the word of today when you see how genres are beginning to mix in the festival like WGT or ALT-FEST. They released beautiful object as cds and vinyls and we're quite happy for the moment.
You will come to Belgium twice this year (Porta Nigra and later on in Brussels), can you tell us something about it?
Porta Nigra was an absolute good experience and we look forward to play in Brussels for the fantastic night. They do great lineup and parties and Brussels is a place to play when you like crazy people who are really into the music without any limits. We look forward this concert at the T.A.G to make a crazy night like never!
How was your gig at Gotham Sounds Festival (nice name for a festival)?
The show in Hilden was absolutely great, that we played much more than 1.40hour! This festival is not that big but it's a perfect place to enjoy every band and spend good time in this venue, which is absolutely lovely regarding the stage and the sound. The Gotham sound crew really knows how to received bands because we had a private absinth cocktail bar bands in the backstage, what do you want to ask for more? Night was high times!
You also played with Herrschaft (I reviewed and interviewed them, but never seen them on stage), how was it?
We played with the CNK and Herrschaft in a special trans genre night because we don't play the same music and our audience is really different, but we are close friends and we wanted to trap the people and our madness and that worked out perfectly! We had a crazy night like we didn't saw for longtime in Paris and if the experience would be to do again, I would say 2 times yes!
Sometimes it's good to surprise a bit the people, personally, I like to be surprised, routine is one of the things I hate the most in life!
You will also play at Alt Fest and that is a great thing, was it hard to be part of the bill? You might even catch some of your heroes?
I was in Berlin on holidays when I received the demand for Alt Fest, sun was shining like never. I think that was a good time because we're actually the only French band running this fest if I don't make mistake. Of course we gonna play like rabid soldiers and take our chance to shine among this paradise lineup! I think it's the first time that a festival like this happen in U.K, this is a real honor to be a part of it.
What else is coming up in 2014?
A lot of concert for the end of the year and the ending of the composition of our 3rd album, which is our priority by now…this album will be a key, a very ambitious record, one more step to climb, but this one is 10 meters tall.
Do have a specific dream that you want to achieve/realize?
My personal dream would be to play and record a concert in a place like Pompeii, playing for the dead, playing for the whole universe, and doing such kind of artistic performance that you cannot be more true in front of your audience and in front of yourself. I heard about a cave in Vietnam which is 150 meters under ceiling, that's quite interesting… J
Thx a lot for the fast responding!
click underneath for the announced event (4/10/2014):
They will also play here:
I just received this comment (from the band, about your gig with them):
Hersschaft:
It was a perfect night with perfect friends. I love Soror's music since years and I am glad Andy accepted the invitation. It definitely was a challenge for both of us. It was the first Herrschaft gig for 4 years, with a radically new line up, and a big bunch of new songs. On Soror side, they had a big transition to do between 2 industrial bands, with a big ambiance change. I think it has been a great success for everybody.
My interview with them:
http://www.peek-a-boo-magazine.be/en/interviews/herrschaft/
Filip VAN MUYLEM
17/06/2014
---