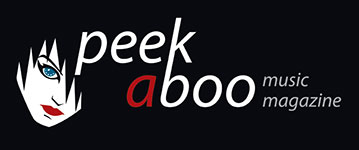 like this interview
---
KATIE PARKER (ACTRESS)
People who don't have compassion for the environment scare the hell out of me.
01/07/2014, Didier BECU
---
Peek-A-Boo brings you right to the centre of Los Angeles at where we find Katie Parker, one of the actresses to follow. She played the leading role in Absentia by Mike Flanagan that is currently released on Second Sight Films on Blu-ray. Katie also will be starring in Oculus that soon will be in the theatres over here and according to some overseas reviews it is the must see horror film of 2014. We are very, very proud (and happy!) that Katie wanted to do an interview with us. So shut your eyes and travel straight to Tinseltown!
Hello dear Katie. Let me first tell you it's an honor that you want to make an interview with us. I was quite impressed when I saw you acting in Absentia. How did you got involved this, I mean it's quite a big feature for a debut, not?
Well thank you! What a nice compliment! Im very happy to do this interview. I was very lucky, Mike Flanagan actually wrote the character, Callie, for me. ABSENTIA was a passion project created by friends.
The movie is directed by Mike Flanagan who is considered by many as one of the directors from horror movies to watch out for. You also have a role in Oculus. The movie isn't released over here yet, but the title is on many person's lists as a must see. What can you tell us about it and how were the reactions in the US?
OCULUS is about a family who is destroyed by a haunted object and how a young woman (Kaylie) tries to defeat this object. I think OCULUS is fantastic. Karen Gillan, who plays Kaylie, is such a star. She delivers a wonderful performance. It's been a very special thing for me to watch Mike's career take off. I remember when OCULUS was a short film. It was kind of extraordinary to be on the set of OCULUS, watching Mike direct this major motion picture. Watching your buddy's dream come true is a wonderful thing to witness.
I had the intention to think that Oculus is another creepy ride. A nice question to ask Katie Parker would be: what makes you in real life scary? (Not that your European fans want you to be afraid!)
Can I just say real quick how cool it is to have European fans, or any fans for that matter?!! I LOVE Europe!!! People who don't have compassion for the environment scare the hell out of me. Human beings have been destroying the earth for years and year and years. Believe it or not, we CAN do something to drastically lessen the pollution we have caused. Little things like recycling, being mindful of how much water you are using can really go a long way.
People might think that you are a typical horror-actress (whatever that is!), but when reading articles about you, I have more the impression that you like to do lots of things?
It's funny to me how people categorize actors. "She is a horror actress," "He is a rom com actor," etc. Pretty soon after ABSENTIA was released, I had a few reviewers put me in this category of "Horror Actress," and I had only done one horror film! Since then, I have shot 9 other projects and only 2 of them have been in the horror genre.
You are right! I DO like to do lots of things. I'd say, most actors want to play a vast variety of characters. I think people act because they have a desire to experience all the elements the human condition.
In fact, if you do a movie, what makes you decide to do it? The script, the persons involved or…?
All of the above. Mostly the character though. If it's something I haven't done before, I usually jump at the chance to come on board the project.
So far you are involved in indie cinema. How important is indie cinema you think? Since some years this movement is getting more and more stronger, not?
Yes, I agree. People have access to incredible cameras nowadays and people have stories to tell! Some of the best films are coming out of the indie filmmaking world. It's interesting how big studios are buying films from Indie Filmmakers and production companies. I wouldn't HAVE an acting career if it weren't for the indie film world so I'm incredibly supportive and grateful for indie filmmakers.
You were raised in Virginia and now you're in Los Angeles. That's the other side of America. That must take a lot of courage to do so, not?
Oh, I don't know about courage. Courage is being on the front line of battle during a war or fighting the government for your rights or something. L.A. definitely feels like another country at times but I moved to L.A. because that's the city I thought I would be able to find the most work in. People move to different parts of the country, or the world for that matter, for their jobs everyday.
I live in Belgium and I only see the images from television (sorry), but is Los Angeles so glamorous as they want us to believe it?
Nah! It's all just smoke and mirrors as they say :) There are actually many homeless people in L.A. I suppose it's a great place to live if you are homeless because the weather is always beautiful. Southern California is a beautiful but I wouldn't say Los Angeles is glamorous. But that's just my opinion :)
According to IMDb you're also working on Alleycat. A total different genre, but it also seems a quite interesting film. Can you already something about it?
Alleycat was such a fun shoot. Mark and Greg Runnels directed and I think they are such fantastically talented artists. I play a woman named PETRA who is at a crossroads in her marriage. She not only is suffering from tremendous financial stress but also, her husband is horribly depressed and embarks on an intense 80 mile cycling race to "discover" himself. I think it's a unique story and I'm excited to see it! I haven't yet!
You also work in quite some short movies. How important are these for you, Katie?
Work is work! T.V., Films, Short films, theatre. I just take what I can get!
What's your all time favorite film?
Ahhhh!!! Such a hard question! There are too many that I love. I honestly don't have a favorite. I'll list a few I like: Oldboy (the original), Singing in the Rain, Gone Baby Gone, Tootsie.
What do you know about Belgium and what are the final words from Katie Parker to the readers from Peek-A-Boo magazine?
I've never been to Belgium but want to go! I hear you have some great chocolate and beer!!! Follow me on Twitter BeanieParker8 Thank you so much Peek - A- Boo Magazine!
Thank YOU so much, Katie! Respect.
Respect right back at ya! xoxox
Didier BECU
01/07/2014
---