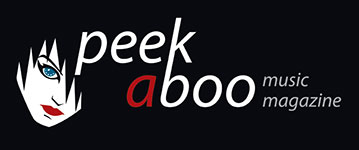 like this interview
---
COMPANY OF STATE
Nostalgia is a gloomy thing, I prefer paranoia.
03/07/2012, Jurgen VANVLASSELAER
---
The Leuven area (Belgium), had a very strong and interesting underground scene in the 80's. The Neon Judgement, Aimless Device, Street Ducks, Adult Fantasies, Sovjet War, A Blaze Colour etc. all came from that area. One of the most underestimated bands in that scene was Company Of State. A duo with a unique sound, dark moody guitar electro with a minimal DIY touch. Our favourite label Onderstroom Records will release an album of unreleased material in the following months, so it seems like the perfect opportunity to have a chat with Rudolf Hecke about that release and the history of the band.
Hi Rudolf, how did it all start? How did you meet your musical partner in crime Paul Taes?
By the end of the seventies we were both living in small towns near Leuven. I had been playing in bands since 1973 and was still living with my parents in Veltem-Beisem where the garage was my rehearsal-room. One day he showed up, he was looking for a songwriter, he'd be the singer. He rode a bike.
Where you or Paul in bands before Company Of State?
Don't know about him, I doubt he did… Together we first formed a nameless band singing in Dutch, then we became D-Astro and played a few festivals and clubs (the legendary Arno'z at Leuven), later it merged into Company Of State.
Nearly 30 years ago your first and only 7" was released on your own label. That must have been a fantastic moment I presume.
It was the way to start in those days and again is now. I had a very close friend Frank De Bruyn who provided us with the money and we went for it. Paul did 2 songs, I did 2 songs and recorded them in my black room, in which I was living in the heart of Leuven. We kept things separated, we wanted to be independent from each other, operating under the banner of Company Of State. Of course it was the start of it all. I never knew then that I would still be making records 30 years later and earning my living from it.
Did you release more records on that label or was the Company Of State single the only release?
We released some poetry as 'COS product 2', as I did several poetry performances in those days too. I shared the bill with Simon Vinkenoog, Gerard Reve, Johnny Van Doorn, Tom Lanoye and started writing letters to Hugo Claus, he kept writing back, which was a nice thing for such an important man to do. He commented on my poetry and we talked about writers we both favoured like Kenneth Patchen and Ezra Pound.
I've always wondered, how many copies of that first 7" were pressed? It's a real collector's item these days.
500 I guess, they didn't sell well and Paul had them pulled out of the shops and melted in the factory so you could recuperate a small amount of money. I still own a few anyway, it's funny now that people offer me lots of money for them, it's so stupid in a way, but please keep doing it, ha! ha!
In the 80's lots of bands released a demo tape before they were actually signed. Was that also the case for Company Of State?
No, we went for the EP, no tapes released. They exist only in my private collection, but some of those songs will see the light soon.
Company Of State always had a quite unique sound. Dark, moody guitar electro with a minimal DIY touch. What were your influences in those days.
I remember Paul was influenced by Jim Morrison of The Doors. It showed in his live performance too. We both digged The Stooges, Velvet Underground and The Plastic People from Prague but then everyone did those days. I was very into Krautrock, Joy Division, Edith Piaf, Marlene Dietrich, Fassbinder, Herzog, Klaus Nomi, Dagmar Krause, Lotte Lenya, lots of German stuff.
Was Heroine Eyes, which can be found on the From Behind The Bushes compilation, a kind of tribute to Nico?
Might have been, don't remember. As I said we both were fond of Nico & The Velvet Underground, on my first God=doG record from 1989 there's a real tribute to her: Dream Of Nico, worked very good live that one I remember.
In 1984 you released the fantastic 12" Still In The Flesh on Ludo Camberlin's label Anything But Records, including a fabulous coverversion of Velvet Underground's Venus In Furs. Who's idea was that?
As most good ideas they come in a funny way to you. I just bought a violin and wanted to use it on our new record. John Cale influenced me (and The Flock and East of Eden), and I bought a book with transcriptions of Lou Reed songs. There I found the Venus In Furs parts, I started practising and before we knew it, I rearranged the song for rhythm box, electric guitar, Korg MS20 synth & 3-string violin. I broke a string in the studio but Ludo Camberlin, our producer kept shouting: keep playing now that your fingers finally hit the right spot. Ha! ha!, I couldn't play at all on the violin, just made some noise.
The sleeve is also pretty cool, a drawn map of the famous Père Lachaise cemetery in Paris. All your sleeves were in fact very nice. Who was responsible for that?
I went over there to visit the grave of la môme Piaf and took the picture of the man rising up from a grave (which was on our live posters) and the map of the cemetery I took with me ended up on the sleeve, Paul was a fan of Jim Morrison who is buried on Père Lachaise too, so he agreed to it.
In 1986 you release the Crawling From The Craves 12" on Soundwork. It's my least favourite Company Of State record I have to say. It's more rock orientated, probably thanks to Paul Delnoy's (La Muerte) production work. Goodbye synths, hello bass and drums.
I loved to freak out on guitar live, as all the Krautrock bands did, La Muerte spotted it and one thing led to another. It was our hippy record, Swamp Fever was one long guitar free-form-freak-out I wrote, featuring La Muerte's drummer and Frits De Cauter on sax (who passed away a few months later). The songs on the b-side were not as good as they could've been, they marked the weak spot of Company Of State. Paul was technically no good as a singer and I started to write more and more melodies for real singing voices, I passed the stage of mumbling and shouting, it was growing pains all over.
Then you moved to Antler Records and released not one masterpiece, but two 2. The LP Drowning In Fire (1987) and the 12" Metal Move (1988). The electronics make a come back and both records were produced by Jo Casters of Poesie Noire.
Jo helped us out a lot. Herman 'filterbank' Sherman provided us with state of the art electronics. It was great to have them on board. They each had the capability we lacked, great guys, great musicians. There are some great songs on the album and some that suffered from the fact that I was moving towards more melodic songwriting and Paul couldn't cope with the melody lines. Then again, I wasn't a great guitar player either, songs like Hound feature a good chemistry between my songwriting and his performing the song, but Slow Side Of The Night, I really want to re-record that composition of mine one day. Anyway it was the record that took Company Of State upper-ground, we played lots of shows with The Neon Judgement, Aroma di Amore, SPK etc etc
Metal Move was, sadly enough, the last Company Of State release. I don't know how the situation is these days, but was the troubled relationship between you and Paul the beginning of the end for Company Of State?
I started to grow as a songwriter, writing every day from morning 'till evening, experimenting, learning, working my arse off, and it payed off. I started to write more and more melody-based songs and Paul had a hard time following this road. As a result he started to reject almost all of my songs and so we decided on a return to our starting point: make 1 more record the way we did the first one, separately, only united by name: Company Of State. It ended up that I wrote Metal Move and Slow Side Of The Night (which already featured on Drowning in Fire) and he wrote Doubt & Passion, which I agreed to arrange. A good way to end our collaboration, I still think.
Although, the last Company Of State release is maybe not completely true, because Onderstroom Records are releasing an album of old and unreleased material, if I am informed correctly. Can you tell us something about that?
They already released Jamomine Man, an unreleased Company Of State track of mine, on the compilation Koude Golven. And there will be more from the vaults soon, as they will release a Company Of State LP that includes tracks from the debut-single era that I remastered in my studio Factasy.
Do you still see or hear Paul? Any idea what he is doing these days?
Haven't heard from him since the days we broke up, nobody did, he's doing whatever he's doing, hope he's happy just doing that.
I never had the chance to catch Company Of State live, which I still regret, but I am pretty sure they were quite intense gigs.
Well, we very much liked to mess up things. Most of the time there was blood, I broke my nose once and ended up at the hospital Gasthuisberg when I cut my left arm with a razor blade on stage. We had some medieval weapons we'd like to throw around while the strobo's were lit. Crazy stuff, I was verry much influenced by Iggy Pop during the Raw Power era. On the downside, our concerts were often musically very sloppy, can't play the guitar right while using a flame-thrower on the audience. And we made the mistake of playing with musicians that really didn't understand what we were doing, how could they, we were so engrossed, living in our own world. But there were some amazing moments, when we were good, we were unique, when we were bad, we sucked big time. You had to take the risk. We certainly were no match for The Neon Judgement, our Leuven-brothers, they were like gods on stage, doing the right thing at the right time and knowing where their weaknesses were, thus avoiding them. Very clever guys! I adored them. Very good looking too, while we were definitely not. I was very proud when Frank and Dirk joined me on stage to perform my post Company Of State solo-albums. Jo Casters did too, thanks guys!
If I am correct there were 3 on stage during the early days.
Yes, my good friend Frank De Bruyne played my KORG MS20, I put stickers on the keys because he couldn't play. But he was a great guy, he really got into our world, but we almost had to drag him on stage, he was so shy. Good memories, respect!
Did you play abroad as well?
A few shows with The Neon Judgement, but not too many.
Is there any chance that Company Of State will do a reunion gig?
I don't know, music is my life, always has been and Company Of State is a part of that, of which I'm proud. So I'd really love to perform some of those songs again, maybe I'll re-arrange them and collaborate with some great musicians I work with now. Company Of State started and finished as a severed-project so why not… but then again I don't like reunions, we're way past our twenties now ha! ha!, nostalgia is a gloomy thing, I prefer paranoia.
After Company Of State you made a few solo records which, if I remember well, were received pretty well by the press.
It was the logical thing for me to do. I breathe music & lyrics so... All the songs Paul rejected, for Company Of State, I took to Roland Beelen and Maurice Engelen and they offered me a record deal. I worked with some great musicians from Tuxedomoon, Arbeid Adelt, Aroma di Amore, got to know Eric Melaerts. It was received very well, became record of the year in De Morgen and I played lots of gigs. Supported Bjork, The Triffids, Van Der Graaf Generator, Iggy Pop etc etc…. Had a great great time and a great almost-all-girl-band, the God=doG. Meredith took part in it and then I started writing songs for her unique voice.
Which turned into Pop In Wonderland. You had some great years and hits with that project. It was also something completely different from your solo material and Company Of State. How do you look back on that now? Cause that was a complete other world, from performing in small clubs with Company Of State, to performing on TV with Pop In Wonderland.
Meredith was gifted with a truly inspiring voice, we were the perfect pair during our first two albums. I intended to write psychedelic pop music and out of the blue my songs became huge hits, overpowered with joy. The American dream, making it as a songwriter and performer from scratch doin' but my own thing. Live we kept on doing songs from The Stooges and Fassbinder movies, pretty confusing for the teenager fans… Then on our third album, we got a huge budget from Peter Vanderhallen from Creastars Records, spend a few months in Galaxy Studio's, worked with choirs, orchestra's, Jean Blaute, Eric Melaerts, Vincent Pierens, Hugo Boogaerts, the best musicians. I started experimenting again, popsongs became 8-minute songs recorded during full moon, outside the studio, we did blindfolded free-form-freak-out sessions, we went on the mindblowing trip, listened to Led Zeppelin, Ash Ra Temple, Amon Duul, Isaac Hayes, Serge Gainsbourg… It was the nineties, Belgian popbands were huge, we met dEUS in the studio, played with The Radio's, The Scabs, Hugo Matthysen, Soulsister… I'm so grateful we had this opportunity, I cherish all the people involved, thank you everybody. But the records became a commercial flop. People expected hits and I freaked out. It is one of my best records in hindsight!
Are you still making music these days?
Couldn't do without it! For 12 years now I play live with The Incredible Time Machine, a mixture of own songs and sixties covers, still use the flame spitting guitar, ha! ha!… Wrote lots of songs for lots of people during those years, some of them became hits (Yasmina Karraz, Maurizzio..) others didn't. Right now I'm recording with Labyrinth Woman, I wrote an album for classical musicians with one of Belgian's top mezzo's Marianne Vliegen on lead vocals. It will be out by the end of the year, no holds barred, will be our bombshell in the face of expectations or our own pearls before swine. And an album with pure pop/soul songs I wrote for a young new band, I'm expecting some great radio tunes here. Writing a book on Serge Gainsbourg, which will be out early 2013, with photographs of Herman Selleslaghs. And I have my own recording studio Studio Factasy.
http://www.studiofactasy.be/ I'm a busy man, yes I am.
Do you have any regrets when you look back on that Company Of State trip? Chances you guys missed, making the wrong decisions ?
No regrets, work in progress, we move on, there's so much more to explore!
What has the future in mind for Rudolf Hecke?
Have to ask the future. I'm having dinner with the 'now' as I finish this interview, for which I thank you very much.
Thank you very much for your answers and good luck with all your projects!
http://www.onderstroomrecords.net/shop/
Jurgen VANVLASSELAER
03/07/2012
---