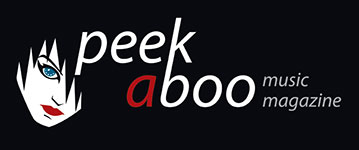 like this interview
---
SONAR
This music is meant to be played at maximum volume!!!
16/06/2012, Chris KONINGS
---
Have you heard? There's a new Sonar album out! Thanks to Peekaboo you won't miss out but before you rush to the store, take some time to read what Dirk Ivens has to say about his newest output. Together with Eric Van Wonterghem (Monolith), Dirk inflicts another attack on us after a seven year hiatus. So get out those bandages because it's another direct hit! You can check them on 27th July at Summer Darkness, Utrecht, NL and also at Maschinenfest in Germany.
Hi Dirk, I won't ask you to introduce the band, people should know you by now ;-) But am I right when I say Sonar is the Belgian version of Esplendor Geometrico?
It depends on how you look at it, in the beginning SONAR sounded a lot harder then EG and we always admired their work. Of course when you put a rhythm through a distortion pedal and you put the right noises on top you will easily go in that style but isn't it the same with reggae? All those bands sound basically like Bob Marley :-)

You told us before you would really like to perform on 10 Days of Techno. Any movement there? No contacts with 2ManyDJ's, Daan or Goose, since they like to use that 80's sound a lot, and probably know The Klinik?
No, and it's a pity because to me it looks like a completely different world. We have no contact whatsoever but we are open for everything: beats are beats, and I am sure we could be a very nice surprise for that kind of audience.

I listen a lot to Ant-Zen, Hymen, Ad Noiseam and Hands stuff, a lot of these guys use lots of techno and dubstep in their music. Phil from Synapscape told me the German techno scene is embracing darker sounds as well... Any interest of you guys in those genres? Apart from wanting to dismember Skrillex...
The difference is that Eric and me never listen to that kind of music, no influences from any style. Because we have so many different projects we know very well what we want and for which output. It depends on the mood we are in when we get together, we create some basics first and we take it from there.

Ever tried to play around with dubstep sounds? Hymen artists Hecq or Cdatakill are pretty good at blending dubstep with idm/industrial. Underhill on Ad Noiseam is doing the same with dubstep and hiphop... Most people I see at gigs are starting to get grey around the ears now so maybe that's how the kids could find us?
Now you mention the kind of music I really don't like, hiphop and rap are really not my favorites. I grew up with music from the 80's and I try to give that style the touch of today. Of course I'm influenced by others like every musician but to be honest, we are very lucky that we still can do 100% what we want without losing our personal taste. It's been a while, 6 years since the last Sonar album came out, and from what I saw during our gig at the Wave Gotik Treffen in Leipzig, it looks like people still like very much what we are doing.

Or an even weirder question. Ever felt the urge to play around with guitars, in a Sonic Youth or Swans way for instance... slabs of noise everywhere!
Would really love too !!! But in another project because it's no use to bring guitar into Sonar, that's not the concept. Maybe that's something for the future, I should practice first because since I bought a synthesizer ages ago I hardly touched my guitar.

Do you feel the need to play less gigs when you want to make a new album? It's been a while since you made a Sonar or for that matter Klinik album...
No, playing live comes at the first place. We need more time to collect ideas then coming together and work them out. In the last years we were very busy with ABSOLUTE BODY CONTROL, played many shows, recorded new material, released some EP's and even a new album. Then we said OK we've done a lot with it, it's time again to get lost in the noise :-) Now it's slowly time to pick up The Klinik again and start writing lyrics because I really hope to release something new next year.

About less gigs, do you worry about the scene in Belgium? Two major events cancelled in a short time...
What can I say? Too much from everything in a country that's too small? Crisis? I don't know and we are lucky that we are known all over the world and play with different projects, in that way we can spread everything. I wonder what the future will bring.

Drummers need to play behind plexiglas according to the Flemish Minister of Culture Joke Schauvliege. Do you know what she says about drum machines?
No, but when I heard about the new rules concerning the decibels, I thought: Houston we have a problem :-)

And what about the new Sonar album? Compared to previous releases? Please tell us all about it!
It's harder than the previous ones and very rhythmic. We spent a lot of time in the production and we also had the live concept in our mind. Many people told us that Sonar releases are meant to be played live, not in a CD player at home. Well with this album I think we manage to make it work for both options. This music is meant to be played at maximum volume!!!

How did you make those high pitched crackling drums on "Melted Dream"? That's an amazing song!
We just played and manipulated the instruments until we hears the sound that we wanted to hear :-) It's all captured in that moment.....

Thanks for the interview!
Chris KONINGS
16/06/2012
---