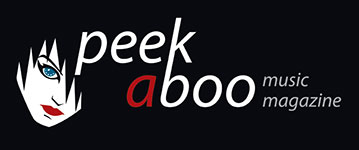 like this interview
---
COMA DIVINE
We are already looking forward to enter the peek-a-boo stage!!!
22/05/2012, Filip VAN MUYLEM
---
I have been following Sonia since l'Ame Immortelle. The gig at the Shadwoplay festival at Kortrijk in July seems to be the perfect opportunity to chat a bit with her.
First of all, Sonia: how did Coma Divine start?
Well, it was a gradual process. I really enjoyed rehearsing and performing with our L´ÂME IMMORTELLE live band... I worked together with Ashley and Francis for many years and I wanted to increase the collaboration, especially concerning the song writing. In fact, Wolfgang Luckner was the substitute for our drummer. He played during the last L`ÂME IMMORTELLE tour with us. Francis, Ash and me were enlightened by his style, so we decided to ask him to join our new band.
Martin Höfert and me have work together for years now, in the band PERSEPHONE. I always liked the idea of having a distorted cello, instead of a second guitar, because (of course) it sounds different and sometimes even more powerful playing riffs on the cello. So, Coma Divine is a band composed of musicians who have liked and treasured each other for many years...
For those who don't know yet: who plays in the band and where did everyone play before?
COMA DIVINE are:
Ashley Dayour: guitars, e-bow (WHISPERS IN THE SHADOW, formerly guitarist and songwriter of L´ÂME IMMORTELLE)
Franz Heinrich Lirsch "Francis": bass-guitar (actually he used to play in Ash's band WHISPERS IN THE SHADOW, was part of the L´ÂME IMMORTELLE live band since 2004, plays double bass for PERSEPHONE and is involved in various well-repected music projects in Austria)
Martin Höfert: cello (played cello for two L´ÂME IMMORTELLE tours and for studio productions, used to be in the band JANUS, played for SOPOR AETERNUS and is leading PERSEPHONE with me)
Wolfgang Luckner: drums (played the last L´ÂME IMMORTELLE tour with us, and drums for various musical productions, quite often also for Austrian TV shows). Unfortunately Wolfgang doesn`t feel too good at the moment, so David Pernsteiner will replace him. David played the last tour with us and it`s always a pleasure to play with him. We are already looking forward to enter the peek-a-boo stage!!!
Why did you choose for this name?
We were searching for a name that represents the whole group, all the different band members. We had various ideas and just couldn`t decide. We spent New Year`s eve together, were drinking and just having fun. In Germany and Austria we have a custom were you melt lead (just small pieces, on a spoon) and then you throw it into cold water... the "sculpture" that develops tells your fortune. So we decided to melt one piece of lead to get an inspiration for the band`s name... But unfortunately we were already that wasted before midnight, that we didn`t make it... But in fact we thought that it was an omen as well... so the band was called "Coma Divine". Well, that was quite a funny story, but usually we are not that excessive... :-)
Can you describe the idea or the spirit behind Coma Divine?
The idea behind COMA DIVINE is to play together in this very constellation... To make music beyond any limits and to play as many concerts as possible!
You worked together with Henke and presented a nice version of Helden (David Bowie original), how was that?
Yeah, the collaboration with HENKE is one of the best I`ve ever had. I did various duets before and worked with different musicians... But with HENKE, it is fertile and uncomplicated, maybe because we are aiming for similar things. It`s really motivating. Oswald Henke and his drummer Benjamin Küfner saw our first COMA DIVINE show at the Mera Luna festival. They liked it and asked if we`d be interested in touring with them. In autumn HENKE started with the recordings for their EP "Herz" and they asked whether I would like to join in for the female part of their cover version. I`m a huge David Bowie fan. I really adore this artist, but I was never anxious about doing a cover of a famous song like "Helden". HENKE made a personal version, with its own atmosphere and character. So I was exalted to work on this track. We did the song live during the tour, it was a pleasure... I enjoyed it and so did the audience, I guess... :-)
Coma Divine even toured with Henke, how was that?
Well, great! It was our first tour! So it was a good chance to introduce us and showcase "Dead End Circle". We were on tour as equal bands and partners, we shared all necessary preparations, which (of course) added a lot to the whole spirit and atmosphere between the two bands. At the moment we are working on part II of our COMA DIVINE / HENKE tour. In autumn 2012 we will play in Frankfurt, Rostock, Berlin, Glauchau and Vienna.
You sang before in L'Ame Immortelle, then in Persephone: are both definitely over and done?
No, these bands are definitely not over and done! On the contrary! We released the L`ÂME IMMORTELLE album "Momente" in January and the follow up CD "Fragmente" in April. We started with the preproduction of a new PERSEPHONE release and will play two gigs this year, one together with ASP in September and in December we`ll be in Switzerland again, supporting DIARY OF DREAMS.
Coma Divine is more metal orientated, a bit different from the things you did before? How comes?
Why should we repeat things we`ve already done with other bands? ;-)
We just felt like doing something which leads in a harsh - straight into your face - direction... just a bit more progressive and naughty than the things we did before.
Darkness and lost love seems to be the most present topics in the songs or am I wrong?
Hmm... Darkness: yes definitely. Lost love: yes but not in the common "romantic" way. Most of the lyrics are even (very) short stories, which disclose the downfall of the protagonist or show how society itself influences and changes a character.
What is the idea behind 'Dead end Circle'?
'Dead end circle', in the meaning of dead end society, shows different stories/songs, which have one thing in common: all the protagonists fall in the end. Sometimes they go down because they are conditioned by desires which are not compliant with the moral ideas of our society or they are just "different" and do not fit in.
What is 'The odd one out' about? and BTW: love the cello (it's a cello, right?)
'God loves the odd one out', is an excerpt of a film I saw one night... Klaus Kinsky said it... How suitable... ;-) The song is about a girl, who was always said to be strange, so people avoided her. One day she met a boy who was also a misfit, but together they were strong... and the morality of this tale: Don`t judge a book by its cover! ;-)
By the way "The odd one out" was the first song we wrote together as a band... So this one means a lot to me!
I love the sound on 'From time to Time', but what is the idea behind the song?
"Save all your love for evermore"... so if you love the sound, we`ve already suceeded! :-) It`s about a woman who is victim of her own craving and desires... and sometimes she addicts herself to the forbidden fruits of joy... at least from time to time... ;-)
Can i say that 'Praise the Fallen' has something that could have been from Persephone, or was your influence on this one minimal? Your voice sounds very clear and mature on it, it touches the soul.
It`s always possible that one song, sound, or vocal-line will be remindful of PERSEPHONE, L´ÂME IMMORTELLE or WHISPERS IN THE SHADOW, because we run these bands... But if so, it`s more about our personal taste and style. It`s not our aim to copy ourselves... That would be terribly boring!
If you take a look at who is playing at the Shadowplay festival, is there anyone you would love to ask on stage with you and why?
Gary Numan., because he`s a great inspiration! It would be an honour to meet him. Furthermore I really like MERCIFUL NUNS. Looking foward to see their show again!
COMA DIVINE "Burn Sister" - official live video 2011
http://www.youtube.com/watch?v=TiMxAI-y1CU
COMA DIVINE "The Odd One Out" - official live video 2011
http://www.youtube.com/watch?v=Ijw1NRvbrdA
COMA DIVINE "Making of Dead End Circle"
http://www.youtube.com/watch?v=YcDK6rh8jWw
Filip VAN MUYLEM
22/05/2012
---