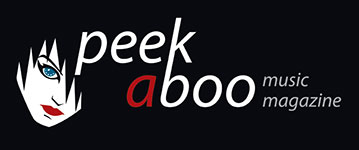 like this interview
---
ESPLENDOR GEOMETRICO
I stopped listening to electronic music in 1981. We quickly followed our own personal way of making music.
05/05/2012, Chris KONINGS
photos: © Marquis(pi)X
---
Esplendor Geométrico is a Spanish industrial band conceived in 1980 by Arturo Lanz, Gabriel Riaza, and Juan Carlos Sastre. In 1990 they were joined by Saverio Evangelista and together with Arturo they created a sound that was pivotal in the rhythmic industrial genre.
Arturo moved to China and thus gigs became scarce but since 2009 they are back with their album 'Pulsion'. A lot of their 80's albums like Mekano Turbo have been rereleased and the newest album is Desarrollos Geométricos. I haven't heard that one yet so I'll only ask questions about Pulsion. Your reporter quickly travelled to Spain and China and here is the resulting interview. They did an amazing gig at Bimfest in 2010 and now you have a chance of seeing they live again at Shadowplay the festival!

Hi Arturo and Saverio, could you introduce Esplendor Geométrico for our readers?

Arturo: Esplendor Geométrico is a band that makes intense music, visceral, hypnotic and is based on industrial percussion and obsessive rhythms.
Saverio: Esplendor Geométrico was born in Madrid over thirty years ago... and much has happened since then. The first album was industrial but since then our music has evolved and today it's not that easy to define. The best way is probably 'electronic tribalism'.

What were your influences? Suicide? Throbbing Gristle?

Arturo: My first influences were when I was with El Aviador Dro (1979) and then it were The Sex Pistols, Pere Ubu, Neu! and the first Throbbing Gristle and Cabaret Voltaire. I stopped listening to electronic music in 1981.
Saverio: Yes in the beginning it was mainly Throbbing Gristle and Cabaret Voltaire but as we said, we quickly followed our own personal way of making music.

You really are pioneers, ever imagined your career would become so long and influential?

Arturo: No never, that was also never our intention.
Saverio: We also never thought about calling it quits. Our secret? Probably that it has never been a stressful activity. We have all the time in the world to make decision concerning Esplendor Geométrico.

I have a few of your album, the 1980-1982 compilation on Staalplaat and Tarikat. It strikes me that 'Pulsion' has a warmer character then the machinal noises of before. Do you feel the same and why is that?

Arturo: In the 80's our sound might have been colder and more minimal, except with Mekano Turbo.

Pulsion reminds of pulsating or a pulsar, natural phenomena so the title seems logical.

Saverio: Your feeling is right, we do consider our last album as more organic and less mechanical. The title actually means our natural drive of doing something. When we make our music it really is a natural thing, we can't help doing so!

The songs with Japanese sounding titles (Japo and Mishi Mishi) are the harshest I think, is that a coincidence? Because Japanese noise is in a league of it's own...

Arturo: That's a coincidence!
Saverio: Propably a coincidence. But we do know Japanese noise is very extreme, a lot more then Esplendor Geométrico!

What gives you inspiration?

Arturo: China gives me a lot of inspiration, with their rich culture and traditional music. I've been living in Beijing for ten years now.
Saverio: The music itself, it's not something conceptual, it really is born in a spontanious way...

The economic crisis seems a good pretext for making extreme music.

Arturo: Thankfully it has not hit China hard, it's a country of constant change and growth.
Saverio: We did not change our music just because there is a crisis now. But music lightens the mind and maybe that's why we have been playing live more then ever.

You sound a bit like SPK, showing the facts in a neutral way without taking a position, leaving that for the audience itself.

Arturo: Yes I think so too. We met Graeme in 1981 and sent him our first single (Necrosis en la Poya) and our first tape. He liked it a lot and also thought we had many similarities. I loved the first SPK records!
Saverio: Yes that is absolutely right! That's also our way of bringing out the facts!

I heard stories that your liveshows can be very extreme, like in 1996 in Belgium where people started throwing around tables and such. Any other anecdotes on previous gigs?

Arturo: Umm, I don't remember any of that...
Saverio: Are you sure? I also don't remember that. For us it was a great gig! But when we get on stage we tend to lose ourselves into the music so we might miss a few things happening in the audience!

That being said, what can we expect for the upcoming gig at Shadowplay?

Arturo: A powerful show with our typical sound. I hope you will have as much fun as I always do during a gig!
Saverio: We really enjoy playing live and the audience feels that we do. It's always a blast and we give everything during a gig!

Thanks a lot for the interview!
Chris KONINGS
05/05/2012
---