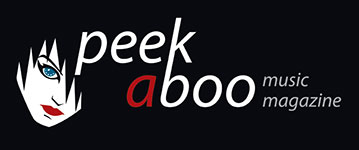 like this interview
---
DIORAMA
'There's something strange and uncontrollable happening on stage that flips a certain switch'
27/03/2012, Philippe BLACKMARQUIS
---
Since its debut in 1999, DIORAMA has been consistently delivering bewitching Dark Synth-Pop, characterized by a deep melancholy, meaningful Kafkaesque lyrics and an incredibly rich and powerful music. After the stunning show they gave in 2009 in Waregem, they will return to the SHADOWPLAY festival to present tracks from their forthcoming (and 8th) album. An excellent opportunity to have a chat with founder and leader Torben Wendt.
Torben, thank you very much for this interview! First of all, let's deal with the classic question for our readers: why the name 'Diorama'? In Wikipedia, 'diorama' refers to the lifesize or miniature replica's of events or landscapes you find in musea.

Diorama is an ancient expression for 'showcase'. And that's what we do. We're building and celebrating musical showcases.

How is the making of the new album going? When will it be released? On stage you have already presented a new song: 'Hello Goodbye', with nice Arabic motifs. Which direction does this new album take?

We're right in the middle of converting the rather rough demo versions of our current productions into sustainable, functioning and well-sounding songs. So, without having the critical distance yet, it's a bit too early to look beyond the rim of our teacup and evaluate how the final result is going to be like as a whole. What we can say is that the direction is going to be a creative one and that the album is going to have a less straight and encapsulated character as compared to our last work. By presenting "Hello Goodbye" at this early point of time, we wanted to already emphasize our openness towards harmonic influences from "unusual" sources and our goal to compose strong choruses conveying strong messages.

What kind of show will you present in July? Do you have a new stage concept after the famous "Cube" of your last tour?

I have to admit that there's a certain pressure to come up with an equally impressive and appropriate concept, after the CUBED stage setting had been working so nicely. The brilliant plan that would top it off has not yet shown up. Fortunately enough, there's still some time before July, so we can still figure something out, at least for the show in Belgium. ;-)
On stage, you always seem like in a state of trance and the shows have an incredible power. I remember when in Waregem you started screaming "Erase Me" frontstage without microphone: it was amazing. Sometimes we even think you are going crazy! (laughs) How do you put yourself in this state of mind?

Trying to make these energies tangible and understandable is like explaining a joke. It doesn't work. It surely has something to do with the initial motives behind the songs, but there's also something strange and uncontrollable happening on stage that flips a certain switch.

Will you play your song "Shadow Play" from the 'Cubed' bonus CD at the SHADOWPLAY festival? It would make sense! (laughs) I read that this song meant a lot to you.

Yes, I consider it as one of my/our most complete and self-contained songs. I'm sure it could be a world hit… if the world was a little different. ;-) Will we play it at the festival? Well, we're usually arranging our play lists 20-30 minutes before the show starts so there's a fair chance that after a few Hoegaardens we might notice the link to the name of the festival and think it over.

How is life for you guys 'Children Of Entertainment' in Reutlinger? How do you manage to combine your artistic passion with your professional, day-to-day life?

Life's a permanent balancing act. On the other hand, elements of tristesse, stress and triviality within our everyday regular normal (job-)lifes have been a growing source of inspiration recently and find themselves transferred into substantial parts of our music and lyrics. I'm sure I can say that also for Felix and grand parts of his own "parallel worlds" concept. The artistic passion we're living out isn't evoked out of nowhere or takes place on a purely philosophical level; it has an immediate connection towards real life situations in their complete awesomeness or dullness.

You have always written sad songs since you're 12. Is it a kind of catharsis for you, just to make you feel better afterwards? Is the negative spectrum of emotions, with anger, sadness etc., more stimulating to compose?

I've always been cultivating a stable basic depression. So it's no wonder that the music I use in order to communicate on an authentic honest level shows a rather melancholic character. Although I have to add that the purpose of DIORAMA is not to perpetuate the wide variety of negative feelings from anger to desperation, but also to find impulses to sort out and cope with your problems in all their complexity and not to give up.

What were your influences when you started? You are a classic trained pianist and we can hear a lot of classic harmonies in your music. Which composers more precisely? And in rock/pop? You already mentioned Black, Pink Floyd, Pet Shop Boys and of course Diary Of Dreams, the band that helped you in the beginning and is now part of your 'family'. Any other influences?

I could name an endless lineup of influences from different genres and epochs, from Chopin to The Doors, Tricky, Manic Street Preachers, Peter Gabriel, Bjork, Richard Ashcroft and so on, just to drop a few famous names. When I started developing an affection towards songwriting, classical and synth pop music were the foundation of how I intended to sound like; clean, logical, beautiful. Over the past years this approach has changed drastically and I'm now more and more interested in unconventional musical ideas that manage to be unique and still no to sound like chaotic bullshit. Luckily. there are enough artists to be discovered in this context and the internet helps a lot.

I think movies is also a passion for you? Don't you think your music could be a wonderful soundtrack to movies? What kind of movies?

The teenager in me can hardly be kept from answering "porn movies". But ok. I would say, gloomy Scandinavian thrillers with lots of murder victims, where it rains all the time or romantic movies from France where the protagonists just don't manage to come together, even though they once get drunk and have sex, due to unsolvable problems in their past.

What do you think about the evolution of technology? Long ago, when you started, you composed "Leaving Hollywood" on an Atari in the youth center of Reutlinger. Now you have a fully equipped studio. How do you both find your way in the maze of possibilities? Do you still prefer analog technology?

You're right, it has become very confusing. For the moment I try to be relaxed about it. I have two Macs, a mixture of well-tried software, some nice outboard equipment from the past 20 years and some high-class microphones. And an attic where I can make a bit of noise from time to time. You could spend endless hours just following the next big things on the market or suck everything you can get a hold of from the www. But at the end of the day, the technical question is a secondary one. It's the idea that counts, the one lyric line, the one melody or sound and the concern that will put you on the trail of a meaningful song. And that's something you can't buy or download or try to replace by enormous machinery.

Do you remember the first time you played in Belgium? Wasn't it in Ghent as keyboardist and backing vocalist of Diary Of Dreams in 1998?

Yes, and I can still remember being shivered by an incredible stage freight attack at that night. I thought that if I played one single wrong note, the whole Diary show and later career would be ruined.

As you like hiking, have you had the opportunity to walk around Belgium? Maybe in Brussels or Bruges?

Not yet. Are there any mountains in the area? If not I could fancy a hiking tour from brewery to brewery. And back.

When you travel for your gigs, how do you see the world? Your lyrics are rather realistic/pessimistic but always give pieces of solution for the individual to cope with the modern world craziness.
No, I don't have solutions. The human world is crazy and the "modern" era is only crazy 2.0, crazy speeded up, crazy globalized. There are relentless biological limits in our nature and self-destructive mechanisms in our societies that can't be interrupted or escaped from. There's no plan B, no heaven, no god, no higher meaning and nothing to hope for. At all. If I had solutions, I'd be happy to apply them or to run around and cry for a revolution or something. Personally speaking, all I believe we can do is to try and spend a fair proportion of the little time we have on things we love.
When you see some events like Occupy, or the revolutions in Tunesia, Egypt, etc.., don't you think more and more people want to "Rip out the edges of their cubes" ?
I don't think it's more and more. The media thankfully adopts and inflates these topics and delivers caricatures. Have you read any news about Egypt and Tunisia lately? No? Well, maybe there were no dead and injured people, no violence, no fear, no embarassements and no tits involved. Plus, I don't think there's a silver bullet and a master plan. Of course it's a good thing when certain visions how society should be like in cloud-cuckoo-land are proclaimed in public, combined with a certain set of values of independance, individuality, freedom, sustainability, reason and social justice. But what have been the results of former and ongoing protests, like the student protests all across Europe in the late 60s, and what's the perspective? Capitalistic democracy? Any other win-win-win-win-win-win-win... plan for 10 billion people on 1 planet with rapidly fading resources? Hmmm...
Philippe BLACKMARQUIS
27/03/2012
---