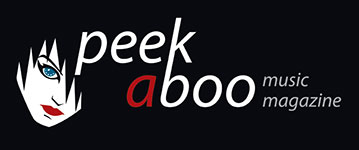 like this interview
---
EMBERS
The cool part is that our songs are appreciated by a wide range of people, we don't restrict ourselves to a scene or something.
12/03/2012, Jurgen VANVLASSELAER
---
One of the most interesting acts due to perform at the upcoming Shadowplay Festival is, without a doubt, EMBERS. Surprising the world with a stunning debut EP, that would have made Sigmund Und Sein Freund jealous, we decided it was more than time for a talk with the masterminds Pieter Nolf and Steve Desmadrijl.
Hi Pieter and Steve, can you give us a little Embers introduction and tell us, how did it all start?
Pieter: Hi there, I write all lyrics, sing, conjure up odd guitar riffs and weird percussion patterns. I got to know Steve years ago through his former band Ozzma. They played on the second edition of my festival onTWen!, and we kept contact. He liked PIA fRAUS and I liked Ozzma, and when both bands died some years ago we thought it was time to blend our musical ideas and soon the first EMBERS song Swamp Thing was born.
Steve: To me the beginning of a new music project is like drifting down a path you haven't seen before. When I decide to work with a new partner in crime I find myself trying to explore new depths of sound to create whatever I feel is original and fresh. Sometimes that leads to music only a handful of people can enjoy, but with EMBERS we found a sound that's not easily affected by specific genres, only personal taste and feeling.
You were both in bands before, Pieter in PIA fRAUS, Steve in Ozzma & Todzug. Are these projects still alive?
Pieter: PIA fRAUS disintegrated some years ago. We gave a last show in 2009 where we played some of the very first songs we ever wrote and gave them a nice live twist, which worked very well. To me this was the best show we ever played and I felt we then sounded the way we should have always sounded. Both the sound technician and live-percussionist for EMBERS were in that final incarnation of PIA fRAUS by the way. But soon after that show the co-founder of the band blew it all up and that was it that.
Steve: Ozzma ended where Todzug began. I had great times writing and recording the music but I absolutely hated writing lyrics. In Ozzma I was somehow forced to add lyrics to make the songs more performable live. In Todzug I had the help of Miguel Claeys to write them for me, and what he wrote as lead singer was so complete it made Todzug the band I always dreamt of. The perfect anger management project. But after a while I was saturated by it and it was time for something new and inspiring.
Your fantastic debut EP Lichtzwart has just been released on Hospitalfood Records. Did it turn out how you wanted?
It certainly did. Robin Degroote really did a great job. The label has existed for some years now, but mostly released CD-R's. Lichtzwart is the first official release, so it was quite the adventurous journey we embarked on! But we're very happy with how everything sounds and looks. Robin gives us complete artistic freedom; initially he wants US to be perfectly happy with both the songs and the artwork.
You have quite a unique sound, difficult to label. I mentioned Princess Tinymeat and Sigmund Und Sein Freund in my review. What are your main influences?
Pieter: SUSF are a big influence to me; I really like their sound and they're a highly underestimated Belgian band as far as I'm concerned. And there's Swans as well, or even Lhasa De Sela, Mike Patton, Killing Joke, Novy Svet, Primus... And of course Pixies and Nirvana really taught me to write songs in a simple but effective way. I'm not that skilled as a musician, but I always work from a brutal gut feeling. What I write is simple but honest. Combined with Steve's technical know-how, it's fireworks!
Steve: In EMBERS I see myself as The Wizard Of Oz who makes things happen. I pull the handles and push the buttons, and because of that I tend to recreate certain ways of sounds I like in existing music. I don't let bands influence me at all. I just try to make the guitar, drums or whatever instrument sound exactly like I want. Combined with Pieter's own influences and experience, that's our magic. One plus one equals three, if you know what I mean.
How are the reactions so far on your debut Lichtzwart?
Pieter: The reactions up till now are quite stunning. The music was rapidly picked up by Urgent.fm, the radio station connected to the University in Ghent; they really helped getting EMBERS our bit of attention. We already got a killer review from Peek-a-boo, and also the online mag Cutting Edge wrote some mind blowing stuff about us. The cool part is that our songs are appreciated by a wide range of people, we don't restrict ourselves to a scene or something.
In some tracks you sing in your local West-Flemish dialect. Which, I have to say, works surprisingly well. Is it easier to write a lyric in your mother tongue or did it just sound better?
We started off in English actually; the last song on the EP – Swamp Thing – is the living proof. After that one we started working on Metrognome, which has a rather unusual rhythmical pattern. I remember some rehearsal thinking about how the hell lyrics would fit in that ugly little bastard, but then I started counting along with the song, to help me get into it and just there and then, another piece of the puzzle fell to place. The counting just sounded way too cool not to use it... and so we decided to record it and use it as a lyric haha. Writing in my own dialect helps to give a song a pure and authentic feel. It's not always easy to make our dialect sound poetic, but lyrics are quite an important part, so I invest a lot of time in moulding and shaping the words.
You also covered Fad Gadget's Insecticide. Sadly we will never know, but I think Frank Tovey would have loved it big time. Did you get any reaction from his family, cause I know you asked permission to cover it.
Yes, well, we know that his wife and daughter listened to our adaptation, liked it, and gave their permission, so that put a big smile on our faces; especially on our label manager Robin's face, since he is a huge fan.
Pieter, one of the tracks you wrote with Pia fRAUS was called Mommy and with EMBERS you present us Moeder. A little tribute to your mother or some unresolved trauma that's still bothering you?:-)
Ha! ha! That's really a coincidence. The lyrics to the PIA fRAUS song Mommy are fully fictional and were invented while we were working on the song. I had it written out in about ten minutes. The song Moeder is something totally different. It's not a coherent story, but a mishmash of ideas that popped to mind while regarding 3 women close to me, all being a mother, or moeder: my girlfriend, my own mother and my super cool 92 year old granny. Despite the intrinsic humour, the lyrics certainly have a twisted and painful edge as well, which makes the song a very personal one.
In July you will be one of the guests at the Shadowplay Festival in Kortrijk. What can we expect?
Pieter: We'll try to present the Lichtzwart songs as interestingly as we possibly can. We also hope to have 2 new ones ready as well.
Steve: I leave all options open except failure. We are so steeply growing as a live band it's sometimes frightening how our sound keeps evolving in ways we never intended in the first place but can't do without anymore. I can't wait to find out where we will be as a band when we play at Shadowplay.
Will it just be you 2 on stage?
Pieter: No, onstage we have the support of a guitar player and a percussionist who both help to give the songs a more organic feel.
Steve: Before our first performance I thought we would do just fine playing live with the two of us alone, but after seeing what great chemistry Bert and Frankie add to EMBERS we just need them to bring the best possible show live.
What's next on the EMBERS agenda? What are the plans for the future?
Pieter: The 14th of April, we play in the 4AD in Diksmuide, supporting Chelsea Wolfe. Really looking forward to that one! Swamp Thing will also appear on the soundtrack to a Dutch movie, but we can't tell much about it so far. We're also thinking of cooperating with some people. Colin from Amenra was interested, that would be totally awesome, and also Jan Vantoortelboom – a budding writer (and my cousin) - who won De Bronzen Uil last year would like to work on a clash between his literature and what we do. And of course we have some ideas for some cool new stuff as well!
Steve: To me the most important thing is to keep exploring the corners of our minds and write more music. The responses we got on our first EP makes me want to see where EMBERS could go in the future.
Thank you for the interview, good luck with EMBERS and we look forward to seeing you at the Shadowplay Festival!
Jurgen VANVLASSELAER
12/03/2012
---