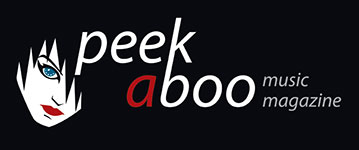 like this interview
---
APOPTYGMA BERZERK
1984 IS NOW !
19/02/2012, Philippe BLACKMARQUIS
---
It's always a great pleasure to welcome Apoptygma Berzerk (APOP) in Belgium. In July, they will be one of the headliners of the SHADOWPLAY festival in Kortrijk. Formed in 1989, this Norwegian band helped to create what is now known as "Futurepop" by combining elements of EBM, techno, synth-pop and trance. APOP achieved large public success with very catchy songs and covers of 80ies classics. But the band is always eager to surprise its fans, that's why their last full studio CD, "Rocket Science", featured more alternative rock songs. Peek-A-Boo talked with Stefan Groth, founder and mastermind of the band, about recent and future activities.
Dear Stefan, thank you very much for accepting this interview. In September 2011, you released the Black EP's with great remixes of your recent songs. Was it a way to reassess your electro identity after the rather 'alt rock' CD "Rocket Science"?
Hello, and thank you for the questions :-) The "Black EP Vol. 2" was a follow-up to the "Black EP Vol. 1" that we released after putting out the album "You And Me Against The World". The concept is to have newer APOP songs available in a club-friendly format, since the last two albums where not intended for club play. I see no problem in having my songs "dressed up" in different styles…a good song will always be a good song, no matter what drawer you choose to put it in. Remixing has always been a part of APOP's concept, and I'm very happy that people are excited about the electronic remixes on BLACK EP Vol. 2.
In 2011 you also toured with Unheilig and did summer festivals. Did you have other activities besides this?
We toured with Unheilig for 3 months, playing only sold-out arenas, it was an amazing experience! When not touring, I am constantly involved with APOP or other art related projects, remixing, recording, writing, design, painting and of course tons of internet and social media stuff. Being an artist is not only a full time job, it's also a lifestyle.
APOP is very famous for its great shows. On stage, you always seem to give the best show possible, with an emphasis on interaction with the audience. How do you manage to find all this energy and positive spirit?
Connecting with the audience is the key. Sharing the energy with a positive audience is such a good feeling. Playing songs for people who appreciate you is always exciting and something that I find very rewarding. The energy has to come not only from the band, but also from the crowd. Only when the "energy distribution" is right, a really great show can happen.
Can you tell us more about the show you will give at SHADOWPLAY festival in July? Will it include a mix of recent and old songs? More electro or more alt rock oriented? Any unreleased songs on the setlist?
We always try to play all the songs that the fans like the most. It's of course not possible to please everybody, but we'll try to play at least a few songs from every APOP album. When we play live you can't really hear that the songs are in different styles. APOP live is kind of a style in it self. We usually try to stay away from playing unreleased songs, we used to do it a lot earlier, but it never really worked that well. Most of the time people go to a show to hear songs that they like and already know, not to discover new songs.
In the 90ies you helped create Futurepop: do you remember precisely how the idea came to combine several genres?
It was actually Ronan from VNV Nation who came up with "Futurepop". Back then (just like today) I thought that combining different genres/styles was very interesting. Because my own personal taste in music is so varied, it's only natural for me to mix genres in order to create new and exciting material.
Were the Belgian EBM bands of the 80ies an inspiration for you?
YES! Bands like Front 242 and à;GRUMH... labels like ANTLER SUBWAY and PIAS were also extremely important in shaping my musical taste back in the late 80's early 90's. I also love Soulwax.
Very few bands from our scene actually manage to get attention from "non-gothic" circles. Did "Shine On" give you access to a wider audience?
Yes, absolutely. It's every artist's dream to have his/her songs played for as many people as possible. "Shine on" was a chart hit, with heavy rotation on MTV and mainstream radio. This track got us many new fans, and many of them have followed us ever since.
On the Black EP's, you are covering Joy Division's classic "Love Will Tear Us Apart". Was it a challenge to cover such a quintessential song of music history?
Yes... I tried to be as true as possible to the original. It was quite hard to record it, because I didn't want to add too much to it, I wanted to keep the original vibe, but also touch it up a bit. In my opinion this is one of the best songs ever written... on top of that it has a very special meaning to me personally. In a way I did not really want to record it, but at the same time I felt that I had to do it. Dunno… it was a strange experience, I identify with the song in a very special way. I'm very happy that people like it, and very pleased that even Joy Division fans have given me positive feedback.
On your last CD, there is an image with a red pill and a blue pill. Is it an allusion to Matrix?
Yes, I have used the Matrix analogy using the red and blue pills to refer to the two world views that I think we can chose between. If you chose the blue pill, you might get a chance later to chose the red, I dunno…. but if you chose the red pill there is no turning back. The way you see and experience life will be changed from that day on.
What do you think about movements like "Occupy" or "Anonymous". Do you think they are a part of a new awakening?
I don't know… It's a good thing when people are "waking up" becoming more open minded and start to educate themselves, but there is so much disinformation out there, so it's easy to become deceived. I don't think we can outsmart the New World Order, therefore I have chosen to believe what the Bible is saying about the future, and only this way (I believe) you can see the big picture.
What do you think about music dematerialization? How can new bands survive in this new context?
If you are asking : how can bands survive financially? Then I must honestly say that I don't know. At the moment it's near to impossible to make money from being a musician, unless you are touring all the time, have a large fan-base and a big back-catalog. On the brighter side, it's cheaper now than ever to record albums and to do promotion. So, if the agenda is to make money, then it doesn't look good at the moment, but if the main goal is to create good art and share it with people all over the planet, then the situation is optimal right now.
Do you think this evolution of music is a conspiracy?
Yes, I believe that the entertainment industry (just like every other industry) is being controlled. I believe that most things that just "happen" whenever tons of money is involved, are happening by design. Honestly I haven't cracked the code yet about what really happened to the entertainment industry, but I'm sure one day soon we'll find out. I have a feeling that both Hollywood and the music business have been some kind of guinea pigs for a new system… a new way to deal with copyrights and distribution in the future. We'll see ;-) 1984 IS NOW !
Thank you for your answers and see you in July for a great show!
Thank YOU, see you in July :-)
Philippe BLACKMARQUIS
19/02/2012
---