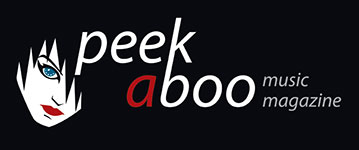 like this interview
---
THE ARCH
Evolution doesn't mean getting rid of our old stuff, but taking the best of the past with us, to create new and better songs.
22/02/2012, Didier BECU
photos: © Marquis(pi)X
---
In some weeks there will be another edition of Bodybeats at Antwerp. Apart from bands like A Split-Second or Parade Ground, the festival also welcomes The Arch, who just have a new album out on Echozone. Come on, Pieter, tell us everything!
Please tell us who The Arch are in 2012.
Nowadays The Arch is Ivan DC, Mr. Pierre, CUVG, Ian Lambert, Chiffon's Tale as backing singer and JDsub as producer.
You are a band that has been in the running for quite some years, what has changed?
Mr. Pierre joined the band 6 years ago, JDsub became our producer and they became very important for the band. Recently Chiffon's Tale joined us on backing vocals, but in fact the way we work hasn't changed. Each member has its influences and contributes to the songs. What has changed the last years is our commitment. More than ever, we believe in what we do, and in what we and our music stand for.
Lots of bands use the word "evolution" which terrifies me as evolution mostly means going backwards quality wise. How's that for The Arch?
The actual sound of The Arch is still there but if we wouldn't have used new techniques and new influences we would have stagnated. Evolution for us is the urge to get better. To improve our sounds, songs and performances, that's our biggest aim now. It's great to notice our fans still like the old tracks, but we feel that they also appreciate the new songs. Evolution doesn't mean getting rid of our old stuff, but taking the best of the past with us, to create new and better songs.
We can't say Belgium was nice for The Arch. I mean, you were better known in other countries! I know that time heals all wounds but I guess it must made you bitter as well.
We had and have a great time abroad and of course we hope Belgium will follow but it is not our major concern. We played at Bimfest a few years ago, we filled the ballroom of Vooruit last year and we will be at the next Bodybeats festival. We are certainly not frustrated about the Belgian public. We have some loyal fans in Belgium, and we love them! But we could make some remarks about the attention our media has for alternative music, We feel national media is directed by the major labels. Sometimes it's unbelievable what crap is on the radio. But on the other hand, alternative music will find its public through other (and better) channels.
You're on Echozone now. The ideal label to be at?
Fot the moment we're very happy with Echozone. They take good care of the promotion and distribution of the new album, and we have artistic freedom.
How are the reactions to your newest one, "Engine In Void"?
Most of the reviews are good or very good. We still have to read the first bad review. We are very satisfied with the new songs, and their sound. Most of the songs are on our live-playlist, and we adore to play them. What we like as well, is that they fit between the older songs. Not a revolution, but an evolution. We can't wait to start on new material right now. We have the feeling we've only just begun...
That cover reminded me of Boy and War by U2. A young boy that's staring at us…..
I see what you mean but in fact this is a very old picture of a nearly deaf young boy hearing for the first time thanks to one of the very first hearing aids. It's not a fake picture, it's a real emotion. In his eyes we can see the wonder, but also the fear from this first sounds. His story appealed to us for another, more personal reason. Not only Ian, but also Lou, our manager/soulfriend have faced hearing problems the last years. Nevertheless, they manage to enjoy playing and listening. Sometimes more with their guts, than with their ears.
That album came with The Arch Of Noise. How does that feel when you're having a compilation album out?
In fact it's not the first compilation album. In the nineties there were two compilation albums on German record labels, but we made a new one because they were sold out. A compilation album also makes you reflect on your past. "The Arch of Noise" is our own selection and our reflection.
I saw this album like the greatest hits that never were… Agreed?
You can put it that way :-)
I mean it with respect, but you're not exactly a young band. Would you have the guts to do it all over in 2011 in times where the music industry is completely dead?
Is that so? Is the music industry dead? New media open new doors. You have to learn to work with these media. We do exist for a long time but often it feels like this is a new beginning.
Do you think music will once rise again like it was?
Music will always be there, but I don't see why you would want it to rise "like it was". It will rise in new forms through new channels.
This question I always wanted to ask. Is "Babsi ist tod", your great hit, named after the Christiane F.-character?
Yes it is. It's about Babsi in the film Christiane F. As the lyrics say: "We just want to keep you alive in everyone's memory".
What's your favourite record of all time and please state why.
This is a difficult one. We all have different influences. For Ian, it probably will be one of the earlier songs of Pink Floyd. To Ivan DC, the following albums were very important: Killing Joke - What's This For; Wire - The Ideal Copy; and Bauhaus - The Sky's Gone Out. They were so new to him when he first heard them: they had some dark and mysterious sounds he never heard before. It was love at first sight (hearing?). At that time, you could hardly find those albums. I remember I went to a local record store to buy the new album from The Cure which was Pornography. The store-manager looked at me, and said even without checking: "That album doesn't exist, sir…" I even think he didn't said "sir". It had to be a great album!
With whom wouldn't you mind to be alone with in an elevator for 8 hours and what would you do then?
Having great sex with Els Pynoo!
You soon will be at BodyBeats 2012. What can we expect?
New songs, mixed with old songs, on a bed of strong electro-beats, sequences and guitarwaves. The Arch @ its best..
Didier BECU
22/02/2012
---