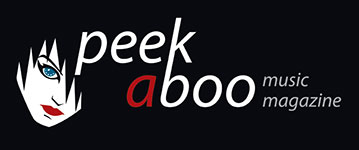 like this interview

---
MONA MUR AND EN ESCH
Let me say I'm the most underrated artist there is….
24/02/2012, Jeremy Thomas
---
Mona Mur and En Esch are 2 giants of the German music scene, and we at Peek-a-boo are very excited that they've agreed to talk to us. And we're even more excited at their imminent visit to Les Fantastique Nights in Brussels this 3rd of March
You sing in both English and German. Does each language hold its own fascination for you?
MM: Each language is music. Inspiration is the key. Do not see any boundaries. I totally do what I want. By the way, there is also a French part on the album, in "Le Weltanschauung - Les Jeux sont faits." In the album centerfold is a hookline of it decorated by a shot out of the window of "Circus Circus" Hotel at the end of the Strip in Las Vegas, Nevada. Saying "We 're all Jesus, we 're all Satan now and then, and we all belong in heaven; and we all belong in hell."
EE: English seems to be the easier language…. German the more sophisticated, for me at least…. Luckily we still have the luxury to be able to use both of them if we like…
After 30 years of making music, how have the rules changed?
MM: After the digital revolution, artists have been empowered, because they own the production technology. In the same time they see their work devalued. Gold nuggets lie in the street for free together with the rubbish. Nothing makes a difference. I wonder what the deluge will be like that will inevitably have to happen.
EE: I've been making music for over 40 years and I'm getting better all the time…let me say I'm the most underrated artist there is….
When 2 artists with such long histories get together as you and En Esch, how do you approach the back catalogue?
MM: En Esch helped me to fulfil my oaths from the past. The seven classic MONA MUR songs from the mid 80s, like "Snake", or "120 Tage" and the Brecht/Weill Interpretations, "Song von Mandelay", "Surabaya Johnny" and especially "Die Ballade vom Ertrunkenen Mädchen", for which we got one of the rare permissions of the Kurt weill Foundation NYC, have finally been appreciated and properly released in an unforeseen and exciting new way. In return, I serve Esch as female singer in his Slick Idiot and KMFDM sets, whenever he desires so. It is great to sing hits like "Godlike" or "Flesh" or "Jukejoint Jezebel".
EE: We honour each other's work to the fullest… The only problem occurs playing live when we have to skip certain song to avoid the setlist being too long…
With Chanson to Metal, even the rather dodgy videos of you live on Youtube can be quite captivating. What should we expect in Brussels?
EE: We haven't played since Ottawa, Canada, so we are hungry to perform again…watch out Brussels…
MM: "Strange and scary Rock 'n' Roll Cabaret,", "equal parts Marlene Dietrich and Black Sabbath". "If this music was a movie, it would be a film noir remake of Saturday Night Fever. It sounds like a nightmare take on Donna Summer... A sultry prowl 'n' growl through a musical landscape as atramentous as anything Tricky's ever done.... Like the Modern Jazz Quartet gone stoner-techno. It's time to hit the post-industrial dystopian disco."
NEMESIS TO GO, UK
or here: "Surabaya Johnny"live in Chicago OCT 2011
You seem to have known En almost as long as you've been performing. There's clearly quite some magnetism between you, not just musically, but a great friendship. What took so long for you to get something together?
MM: No, we didn 't know each other personally until January 2007. Of course we have known and adored each other's music and performances before. Actually, KMFDM opened for me in Hamburg 1985 and Raymond Watts was sound engineer and live mixer of the MONA MUR formation at the time. Later I got to see a KMFDM DVD, "Beat By Beat by Beat". I enjoyed that to death. Classic KMFDM are clearly one of the best live acts ever. In the end, good things take time.
EE: I lived in the USA for over 15 years so I lost touch to the euro scene….and Mona … It was a coincidence that brought us back together… I like it…
You've both been involved in music for video games. But there's not much in terms of videos for the music, at least not on Youtube. It that a deliberate policy?
MM: If you search Youtube for "Kane and Lynch 2 Mona Mur," you get a lot of stuff.....same with "Velvet Assassin".... And there is a 3D version of "120 Tage" in Russian with Esch and me as 3D characters in a cut scene of the Game "Culpa Innnata II"........so you better search again...:-)
Plans for the future?
EE: Staying alive and searching for fame…. Einheiit, Esch and Mur is the shit…..
MM: We work on music with FM Einheit formerly of Neubauten, "EINHEIT, ESCH & MUR". And we will tour North America again in summer 2012. Our recent album "DO WITH ME WHAT YOU WANT" will come out as a special German/Swiss/Austrian Release on DANSE MACABRE April 6th 2012.
What music are you finding really new and exciting at the moment?
EE: Not any of the new generation of guitar shredding hippies..… very boring ….. Than I rather go for Deadmou5e and such…. But usually we don't have even time to listen to music cause we are working on our own stuff…
MM: Exiting, a lot. New, I do not know.
You are in a lift. It gets stuck. It will be at least 8 hours before you are rescued. To your greatest delight, you couldn't have wished for a better person to share that lift with than the person stood just next to you.
Who is that person,
EE: Rachel Welch
MM: My Candy Man.
And please tell us the story of what happens.
MM: NO. :-)
EE: Use your imagination, dear
*** Last photo from The Zero Hour, hosted by Steve Morell - you can listen to it here:
http://pale-music.blogspot.com/2010/10/zero-hour-4-steve-morell-mit-mona-mur.html
Jeremy Thomas
24/02/2012
---