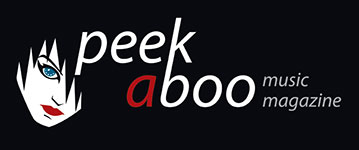 like this interview
---
THE JUGGERNAUTS
Don't expect us to play acoustic guitars, flutes or bagpipes and we will also not claim we have come up with a brand new style and sound!
26/02/2012, Jurgen VANVLASSELAER
---
Everybody knows that Belgium has already given us several great electronic bands in the past. With The Juggernauts we can add another one to that impressive list. Opening the second day of the Rewind Festival in Ghent on the 7th of April will be their first live performance ever. So we decided it was a good time for a little chat with the Juggernaut duo.
Hi guys, can you introduce The Juggernauts to us?
BORG: Hello! We are The Juggernauts!... Will that do? :)
Ok, Ok... I'm Peter, some of you know me better as (DJ) BORG, or the hard of hearing 'soundguy' from numerous bands like The Neon Judgement, Dive, Sonar, Absolute Body Control etc... I started my musical career on my 17th as a resident DJ at The Phantom, a club in the north of Antwerp, that my brother and I ran for a couple of years from the mid eighties on. We organized gigs from Insekt, The Klinik, and many more... Most of them became best friends and still are to this day.
Glenn: The Juggernauts is a concept between Peter and myself. I was really into the idea of making Belgian EBM and I like Peter's vision, Belgian's have got a certain virus in our blood to produce music in this kind of genre.
How did it all start?
BORG: Glenn and I met in the summer of 2010 after a Neon Judgement concert in Germany. At that time I was pretty frustrated because only weeks before I was forced to choose between two friends. Not that the choice was difficult because by asking such a decision of me, it was clear he wasn't a real friend of mine. But still, it was a painful moment because I had to abandon a dream, one in which I invested a lot of blood, sweat and tears between 2004 & 2010. Anyway, I desperately needed a new outlet for my own creativity and ideas and was telling Glenn how hard it is to find like-minded people. A few days later Glenn called me and invited me to his studio. Being a brilliant and open minded studio machinist he knew exactly what I wanted after only a few minutes! I think we wrote our first track Phoenix that day, in only a few hours and starting from scratch.
Glenn: Well it started backstage actually (off course), indeed after a Neon Judgement show ... ;-)
You are both in other bands as well. Glenn is brains and body of Radical G, Peter is part of The Klinik these days. How do The Juggernauts fit in? Is it just as a fun side project or is it a bit more than that?
BORG: It's much more than just a fun side project to me! I'm very serious about it! The Juggernauts is my own project, my own child! I always tried to pursue having my own band and I had some: The Four Horsemen OTA, The Lance Of Allotment, a.o. But after one or two tape releases there was always something coming in between, but also the lack of time. Finally after 2 decades I decided, I've postponed it long enough!
Glenn: Yep I've been a busy bee, everyday is different, so why not make different kinds of music. Next to Radical G I'm involved in concepts as Neon Electronics, Zolex, The Juggernauts and Dubler, besides those , I've remixed the hell out of my life and I do some classix DJ sets too! JEEEZ, I want 48 hour days asap.
The only track you shared with the world so far is Phoenix. A real kick in the face electro track which will please the Portion Control fans I think. Will the other tracks go in that direction as well?
BORG: Thank you for the compliment! Phoenix was indeed released by Out Of Line and is the only song released so far. It all happened so fast. One day Out Of Line boss André asked me at the Kinetik Festival in Montreal how I was doing?(after having to abandon Vomito Negro), and I told him I recently started a new project and our first song was recorded. When I arrived home from Canada there was an urgent email from Out Of Line, please send your track today! We want it on the Awake The Machines Compilation Volume 7! We would have liked some more time for the post production but hey. It seems people like it a lot, as it is on the CD now!
As far our direction concerns, I can only say we make the music that we like ourselves. I grew up with it and danced for hours and hours on music from Front 242, Portion Control, The Klinik, Skinny Puppy, Nitzer Ebb, KMFDM and so on. I'm not ashamed to admit that I'm (still) a fan of those artists. So don't expect us to play acoustic guitars, flutes or bagpipes and we will also not claim we have come up with a brand new style and sound!
As you're performing some gigs soon I presume there's an album on the way. When will it be released and on which label?
BORG: At this time we are concentrating on getting our shit together for our first live gig ever. We hope to have the album ready before spring but in the last months of 2011 I had some demons to fight and Glenn suffered some serious health problems which did set us back a couple of months. But yes, it will be released as a physical album. And although we all know it's not easy, these days, to get any hardcopies sold, I believe it's one of the duties of a musician and artist, to believe and fight for something you believe in, rather than to give in to the greed of the unrespectful music collector who doesn't give a fuck about who made the song, who you are or how your band is named and how you get by. So even if you may only have one loyal fan left, one who respects you and one who actually wants to buy your album, you should give him the satisfaction and opportunity to do so. And since you are already the second one to ask, we must proceed! :-)
Will it just be two of you on stage ?
BORG: I think it will be just the two of us and I see no reason to fill up the stage and our small backstage with even more and bigger ego's :-)
You will open the second day of the Rewind Festival in Ghent. Tell us why we have to be on time?
BORG: Because we might reconsider being the only two of us on stage and bring the Ukrainian Femen Protest Movement on stage with us!
Glenn: Do we? That sounds pretty cool ;-)
What's on The Juggernaut agenda for 2012?
BORG: Our first album of course and gigs! As many gigs as possible, before the world ends! So Berlin, Paris, London, Amsterdam, Rio De Janeiro, San Paulo, Moscow, New York! Just say when! :-) Now seriously, we have another show in confirmed on the renowned Industrial Booom Festival in Budapest, Hungary on April 28 with Front 242 and more requests are coming in as we speak!
Glenn: Peter, are we really playing after front 242? For some reason I'm feeling kind a sweaty :-)
Final word?
BORG: Live your life like you want it to be, because the Mayas could be right and then there will be no time for regret! The bright side of this end of the world is of course that we can say 'Fuck You, I won't work 'till I'm 68 for you!' to our Government
Glenn: Final? ? ?, it ain't my time yet buddy. A lot of things happened to me the last year, I lost probably everything you can loose in a lifetime and I'm still here. I guess I'm just a slave to the rave, forever ;-)
Thank you guys for the interview. We look forward to the album and seeing you live in Ghent!
Jurgen VANVLASSELAER
26/02/2012
---