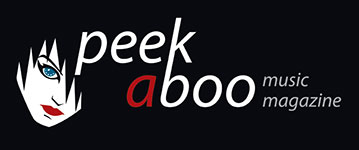 like this interview
---
QEK JUNIOR
Today the lyrics of many acts are somewhere between ridiculous and embarrassing.
14/03/2012, Chris KONINGS
---
Quirky German synthpoppers with the least commercial name ever, QEK Junior, could be one of the unexpected highlights of the Bodybeats Festival on Saturday 5th of May. What does their name mean? What about their new album? If you want answers to those and many more questions, read on!
Please tell our readers, who are QEK Junior?

QEK Junior are me, Dominic Daub (vocals), and Tobias Dupont, responsible for the technical affairs...


What does QEK stand for?

QEK means "Qualitäts- und Edelstahlkombinat". It was a "volkseigener Betrieb" in the former GDR - they developed that nice little caravan called QEK Junior which was sold from 1974 to 1990.


You make what they call "minimal" music. Do you mostly use old analogue instruments?

Yes, for the recording of our last album we mainly used a MAM MB03 and a MFB Nanozwerg, besides a AKAI Sampler, a Quasimidi Quasar and some other stuff. Usually we use second hand gear that no one else wanted to buy at Ebay...


After guitar with "The House Of Usher" it's a big step towards minimal electro! How did that happen?

Do you think so? I grew up with acts like The Sisters Of Mercy or New Model Army on one side and Anne Clark or Nitzer Ebb on the other. After leaving The House Of Usher, I started recording some simple sequenced synth-tracks... And soon I discovered that the songs worked better without additional guitars. But maybe I'm gonna work with guitars again - we will see... ;)


How are things going for QEK Junior? The new album is on vinyl only and very limited, how come?

We are quite satisfied. Even before returning to Kernkrach, we decided to release "Druschba" on vinyl - besides a download version available on Amazon, itunes and so on... Vinyl gives us so much more possibilities, e.g. for the artwork. It simply "feels better". Whenever I get a new CD, I put the tracks on my hard disc-drive for streaming them to my network player or put them on my mp3-player... Really, I don't take a CD in my hands for a second time. And that's the difference to vinyl... So we decided to release the album as vinyl for collectors - and as download for the consumers... Who needs CD's nowadays? ;)


Didn't "Ausverkauf" do well? I remember you got some nice reviews. But music as a business has been going downhill for a long time...

We got pretty good reviews, yes, that's right. And we even were listed in the DAC (german alternative charts) for several weeks... But shortly after the release we found the album on pirates bay, megaupload and so on. Don't get me wrong, I really don't want to lament about that, as I think that the internet brought so many positive effects that we must handle the "negative" sides - which are not really negative for us, as we do not expect to earn a lot with our music. But that was another reason for our decision to get back to vinyl... You can't really copy it. On the other hand we had lots of plays on lastfm or myspace - for our strange kind of music, that wasn't bad...


Tell us, how was it being on a cult label like Dance Macabre?

The work with Bruno was professional, but finally we asked them to cancel our contract shortly before the release of "Druschba" - even if we could have released two further albums on DM. They accepted our point of view, saying "we want to release vinyl only". That was quite fair, as they immediately accepted our return to Kernkrach who are specialised on our kind of music.


Your lyrics have a punk attitude, a thinking man's music. Do you agree?

Huh... Thank you. I really don't like that modern BDSM- or "I'll f*ck you like a beast, you little slut" - lyrics that are popular in "the scene" at the moment. It was funny in the eighties when DAF sang about "Sex unter Wasser". But today the lyrics of many acts are somewhere between ridiculous and embarrassing... And I still listen to acts like The Clash and Bad Religion these days... Good music with great lyrics...


What can we expect at the Bodybeats Festival?

We really don't know. We will come to Antwerp and see what will happen... :D

Viele Grüße

Dominic Daub
Chris KONINGS
14/03/2012
---