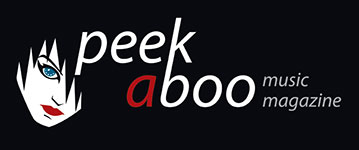 like this interview
---
A SPLIT-SECOND
We never had a decent promotional machine behind us, and a lot of the press was hostile. But the crowds always turned up, and we try to give them an unforgettable evening in return.
15/03/2012, Jurgen VANVLASSELAER
photos: © Marquis(pi)X
---
Headlining the next edition of the Bodybeats Festival and finally releasing their tape Stained Impressions on vinyl. Two good reasons to have a little talk with the vocalist of the legendary A Split-Second : Marc Ickx.
Hi Marc, more than 25 years ago A Split-Second released the Stained Impressions tape. How do you look back at it?
It's like a time warp back to the 80's. A Split-Second was originally a new wave band I started with a few friends in high school. After a few years of playing live, I wanted to start recording, but by then I was incorporating more electronic influences in my songs, and the band was growing apart. I decided to spend my last money on an amp with a double cassette deck and lock myself up in the freezing offices of Independent Films during Christmas holidays to write and record a few songs. With hardly any money left for food and insufficient heating, I "suffered for my art", as you do at that age, and recorded most of Stained Impressions in single takes, since I didn't have a multi-track, and mixing was also out of the question. It's funny to hear reflections of the new wave influences next to the early electronic experiments. It's also obvious I was still a bass player at that point, because the bass parts are generally played pretty well, whereas the keyboards and guitars sound more naive. The first five songs on the album are the beginning of A Split-Second , as Chrismar Chayell (= Peter Bonne) invited me to record these songs in his 4-track studio. He already had a few excellent records out with his own bands Twilight Ritual, Autumn and Linear Movement. It was his start as producer for my stuff, and within a year this evolved into a full collaboration leading up to the release of our first mini-album.
Who came up with the excellent idea to re-release it on vinyl?
Several people were after this demo for a vinyl release, but when Dirk Ivens suggested it to me, he was so passionate about it, I couldn't refuse. I've known Dirk for a long time and I can trust him. I felt awkward because much of it is rough and unmixed, but Dirk insisted on releasing the original demo as it was, without any changes, so that's what you get. It's a real collector's item for people who are into the pioneering days of the mid 80's.
The record will be presented at the next Bodybeats Festival in May. Does that mean that the set list will contain a few tracks of Stained Impressions?
We're working on incorporating a little "flashback section" into the set with Stained Impressions material. I'd love to hear from people on our Facebook page what their favourite tracks on the album are.
A Split Second live is always a great jukebox trip through nostalgia land. What's your favourite track to play live and why?
Probably Bend My Body Armour, 'cause that song is part of my DNA, and it has a great live vibe. Vengeance C.O.D. is a close second, but actually I'm really happy about the whole set as it is now.
Once in a while you're playing abroad again as well. What kind of responses are there?
Amazing. It's great to see a whole new audience opening up, next to the fans from the early days. In Sweden I talked to someone who saw us live for the third time over two decades, and said that the last gig was the best, so that proves to me we're on the right track.
People sometimes don't realise how big A Split Second was at a certain moment. Tours in the US, gigs in front of 3000 people and more in Spain etc.
That's a problem of perception we've always had to deal with, more so in Belgium than anywhere else. We never had a decent promotional machine behind us, and a lot of the press was hostile. But the crowds always turned up, and we try to give them an unforgettable evening in return. So even if the press or promoters ignore us or underestimate us, the people we're really doing it for have never let us down. I suppose it also has something to do with being hard to categorize. Are we EBM, industrial rock, new wave, new beat? We're lucky to have an intelligent audience who don't care about that, and appreciate our own identity.
May we expect new material one day?
If I can get my new studio installed, I would like to have a new album out next year.
Is there still old A Split-Second material lying somewhere in a drawer waiting to be released?
It's lying there, but hard to release, 'cause even by our standards it's very diverse in styles.Some of it is very old style, early 90's, and some of it is a lot more recent. It would be difficult to put on one album, but I'd love to get it out one way or another.
A Split-Second will always be associated with Flesh or New Beat. Is that an annoying fact or can you live with that? It's still a great track, but A Split-Second is so much more than that.
Apart from Belgian press and national radio, we've never had a problem with that. It seems like it's the only track they know and understand, but we actually didn't play Flesh live for 15 years, and nobody at our gigs even asked about it, as long as we played Rigor Mortis, On Command, Colosseum Crash etc. I think our audience gets the big picture, even if some people don't.
Not many A Split-Second fans know this, but you were involved as a writer, composer or director in a few horror movies. Are you still active in the movie business?
Movies have always been a passion for me. I already made a movie in high school, before A Split-Second took off. In the last ten years, I made a short spy movie called Cure, and three more shorts; a crime comedy, a fantasy story and a horror short. I was also hired to direct a slasher movie on a very low budget.The problem is you get send a lot of crappy scripts, so I should write my own. At the moment though, I want to focus on making a DVD for A Split-Second.
You also worked with Gitane Demone (ex-Christian Death) as Demonix which resulted in one excellent album. Do you still have contact with her?
I don't, unfortunately. I never saw any of the royalties of that album either. It's too bad because I think musically we could have taken that project a lot further in subsequent albums.
What are the future plans for Marc Ickx and A Split-Second?
EMI have been sitting on the old albums for a long time, so I'm trying to see if they're willing to do anything with the old stuff. If not, we'll find another way to re-release some of it, preferably with a DVD. Apart from that, hopefully a new album and plenty of gigs!
Thank you for the interesting answers and see you at the Bodybeats Festival in May!
Jurgen VANVLASSELAER
15/03/2012
---