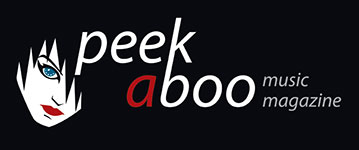 like this interview
---
CHRYSALIDE
It was like an act of artistic terrorism. We had attention so we used it to spit on this fucking media chaos, it inspires us.
21/03/2012, Chris KONINGS
---
Ready for a fist in your face at the Shadowplay Festival? Chrysalide will do exactly that, metaphorically spoken then. Bloodstained electro punk with a message, what more do you want? We asked them what they think of the world today.
Can you introduce the band for our readers?
Arco: Syco and me, we started CHRYSALIDE in 2005. Yoann joined us in 2009. In the beginning, it was about making harsh industrial music with explicit vocals. We were more inspired by Synapscape then other bands like Skinny Puppy. And then, with time and lots of work, the project became more complex and subtle. Year after year we try to get over our influences and creating something unique.

Syco: Chrysalide is more than just music. It's a real concept, a way to wake up our consciousness. The only way for us to keep our mind free and stay alive in this slave driver system of thinking. We are terrorists!

Did you start playing guitar or was the synth the thing for you from the beginning? How did it all start?

Arco: In the beginning, I started playing piano when I was 10 years old, then I started to play in some metal bands with guitars or vocals but that didn't really work out as I wanted to. In the beginning of nineties, it was so fucking hard and expensive to manipulate sounds and samples. With my friends of MIND NECROSIS FACTOR and TWINKLE, we shared a lot of programs, techniques and ideas about what we really wanted to create. And it became more and more experimental, syncoped, tribal and cinematograpic.

Syco: I'm not a musician. I prefer to consider myself as a comedian of noise. My way to create music is more conceptual than technical. Arco is my brother so we are connected by something special: the blood. He can easily read in my imagination to translate lyrics and themes into sound.

You had some other projects as well, Sonic Area for a long time and F.Y.D. along with Nicolas Grasser. What's the difference?
Arco: SONIC AREA is my first and solo project since 1997. It's very personal and intimistic music. It's my pure freedom area, my experimental garden. I can't and I don't really want to describe it. Because I hope it's something that you cannot close into a purist style. I've just finished the new album right now and I can't wait to share it with everyone.
F.Y.D. is an old project I've started alone and then Nicolas joined me as a screamer. It's very extreme, we tried to create the hardest stuff we could make. But, I don't how it started to go fucking wrong, but for the moment, I don't want to continue this insane project. It seems like it found its own limits. But who knows? Maybe a new F.Y.D. will be born this year, especially for doomsday year!

Syco: I have a new side project called Republik Of Screens. A kind of mix between industrial hardcore and noise with spoken words and screams. We're working on the second opus since a few weeks...

It seems you're in a host of bands, all on Audiotrauma. What's your connection with the label? Did you start it up?
Arco: Audiotrauma is our own label. We created it because in the beginning, nobody wanted to produce or organize something with us. So we created our own structure with friends and artists. I've made all mastering and most of visual stuff since 10 years. We learned a lot of things and I'm very proud of it today. Even if we are broke all the time. We are not good businessmen.

Syco: Audiotrauma is much more than a concert organisation or just a label. It's a collective of activists from Strasbourg. It's a way of life. We don't want to make the same sound like the others. It's not about folklore. We want to put our social, emotional and metaphysical traumatism in our art.

Is this the first time you play in Belgium?
Arco: Yes, we already played in Belgium, many times. We love that country, nice open minded people and good beer. In ten years, if I can remember, we played in Belgium, Switzerland, Italy, Germany, Hungary, Czech Republic, Bielorussia, Norway, Poland and UK. I played something like 300 gigs in 10 years with all my projects. And I'm not deaf yet !

Syco: We have to play cause it's the only way for a musical project to be alive: releasing and playing live. We love to meet people on tour. So many different ways to live, to think, so many cities to visit, so many people to unplug everywhere.

Punish Yourself is recieving some attention, do you notice it also helps you?
Arco: Yes and no. I really really enjoyed this experience. It's amazing to play with a big band such as Punish Yourself. I really feel close to VX69, the singer and programmer. We used to work with same methods, using a lot of influences from music and movie culture. But it seems like people didn't really expect that kind of collaboration. And even if we had a lot of support from fans, I think we disturbed most of them. But finally, that's pretty funny and I didn't regret anything, it was like an act of artistic terrorism. We had attention so we used it to spit on this fucking media chaos, it inspires us.

What's most important to you? The music itself? The live experience? The things you want to say in your songs?
Arco : Everything in the same time. Live experience is very important. It makes what you shout real. Today, it's too easy to just make music. People need to feel you on stage, to feel your sincerity, to feel your soul, your truth. I don't know how to explain my relation with music. It's probably about love and hate. Just like a couple. It's my obsession, my language.

Syco: As I said earlier, live experiences are the most important thing for me in the band life. It's always intense and raw. I'll take advantage of this interview to invite all the readers to come and watch Chrysalide on stage. Who's still alive?

When I see you on Youtube, you guys look and sound like Skinny Puppy. A big influence?
Arco : For sure. Skinny Puppy inspires me to go beyond a lot of limits, a pure chaos of inspiration. Like making something from the "great garbage" of our sick, sad and exciting culture. But they're not our model. I don't think about Skinny Puppy when I'm going stage. I think more about "fight club" you know.

Syco: Yes, Skinny Puppy is one of our main influences, but more in the spirit than musically I think. We're a bit more violent than the Puppies.

What can we expect of Chrysalide on Shadowplay?
Arco: Something really hard, harsh, stimulating and epic, tragic and sad at the same time and dirty. Don't be scared, it's about "live".

Syco: What can i say more? Be there, awake and alive.
Chris KONINGS
21/03/2012
---