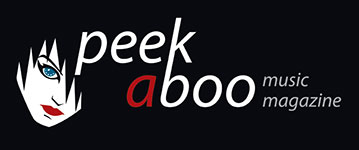 like this interview
---
IC 434
It's strange that in a time where almost noone believes in God anymore, people seem to believe the most outrageous things!
12/03/2012, Chris KONINGS
---
IC 434 recently released another great album, Anhedonia, and we asked Geert De Wilde all about this new release. And don't forget his upcoming show at Beverwave! Make sure you are there because not only can you see IC 434, there will also be gigs by The Klinik, Vita Noctis and Monolith!
Can you introduce yourself for our readers?

IC 434 has been placed under the "dark electro" style since its inception in 1994. Because that's 18 years ago now, the old school sound can't be ignored but that was never a purpose in itself. I hope and think IC 434 sounds rather timeless and that's the feedback I receive. It's mostly high paced songs, with an emphasis on melodies and a dark atmosphere. It's very danceable but the lyrics are also very important. IC 434 is currently on the German label Infacted Recordings.

The Horsehead Nebula... Do you still look trough a telescope as a hobby? It has been cold for a while, which is good for astronomy. (I'm currently short on time to have a look-see)

Ever since my childhood I have been interested in astronomy as a hobby. Not only the scientific part but also the esthetic and philosophical aspect. Us being just a tiny speck in the immense universe puts our earthly existence in perspective. The idea to name the project after the code of the Horsehead Nebula didn't come from me, but it convinced me quickly.

What's Anhedonia about? Is there a central theme?

They are classic IC 434 theme's, a critical vision on society and the doubtful difference with subculture, thoughts on animal suffering (meat industry, use of guinea pigs and bull fighting), some references to astronomy. Also some personal songs about my own confrontations with death and other obscure life experiences. As always subjects that touch me deeply.

Does the name "Anhedonia" mean something?

"Anhedonia" is a term used to describe the incapacity of enjoying things you would normally enjoy. A common side effect of certain mental illnesses like depression. As a paradox, it can also be a side effect of medication meant to treat these psychic problems. I had some personal experiences with the matter, but as our country is one of the record holders of depression and suicides, I'm certain this term sounds familiar for quite a few people.

How comes it took you so long to deliver a new album?

Well the longer a project exists, the longer it takes to come up with new releases. You learn and develop yourself but that also means you won't be satisfied with your creations as quickly as before. You want to stay true to your own sound without repeating yourself and then it takes time to finish something. And there was a six month hiatus between the completion of the songs and the release date. A mix of unfortunate circumstances, things no one was to blame for but in the end the result was achieved!

There's also a song "Rats" from your first project (Tales Of Doom). Is it a new version?

It had to be. The melodies, rhythm and lyrics are unchanged but the original version and production techniques were too dated after twenty years.

Is there a connection between Skullwatch and Headwatch? Or are the similar names just a coincidence?

That's the other older song on the album, it's a song from 2004. For a long time there were no lyrics and the few times I brought it live I used Lyrics of "Headwatch". So "Skullwatch" was a working title and I stuck to it because that title covers the content perfectly.

Is IC 434 your solo project? Or does Nicolas Van Meirhaeghe's and/or Didier Didelez's help beyond live support?

It's my solo project all right. I shared the stage with a dozen of people but these were always live support.

Why do you limit yourself to the Korg M1?

For a long time I found it a challenge to make everything with just one synth, one that doesn't have obvious functions such as portamento/glider, filter resonance etc. That was one of the reasons I got my first label contract in 1996, I could prove you didn't have to have a fortune's worth of synths to reach a proper result. After a while nostalgia also became more important, trying to make a bridge between a past that I sometimes miss. Since almost no band uses this synth anymore it gives me a very recognisable sound and that's also a plus. Also, because I am using it for such a long time it helps me concentrate on the melody because I don't have to experiment with sounds, I can find the sounds I need fairly easy.

Where do all those thoughtful lyrics come from?

Well... those are the more serious issues that keep me busy. I don't feel the need to write songs about the lighter issues, even if they are obviously also there. IC 434 has become my outlet and it's a lot more to me than just music. Some depth is the main thing I miss in a few of the newer bands these days...

All those changes mankind is responsible for... Do you believe the end of the world is coming towards us at the end of this year? (personally I believe changes rarely come suddenly, but the 2012 hype is getting the same proportion as the Y2K hype)

Those are two different things. That man isn't doing very well is pretty obvious to most of us. About some 'big catastrophe' that will be the end of the world's story, I don't believe a word of it. It's just one of the many interpretations of the Maya texts. Even if they would have been very specific about it, there are enough reasons to take them with grain of salt. I think it's strange that in a time where almost no one believes in God anymore, people seem to believe the most outrageous things. It's like people are programmed to believe in something no matter what!

Are reissues of "Dogondance" and "The Banished" being planned? Or something else, some news on your other project maybe?

Perhaps the old albums on Dirk Ivens' Body Records will be made available for download. I'm doing a lot of studio work for my side project Pangean Dreams but I can't give any concrete information about that just yet.

Can you tell us something about your show on Beverwave?

It's been since the Bimfest of 2005 that IC434 has played this close to home so I'm looking forward to it. It'll be a mix between older songs and an introduction of the new album.

Thanks a lot for the interview!

You're welcome, thank you as well!
Chris KONINGS
12/03/2012
---