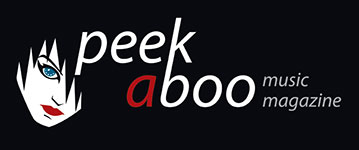 like this interview
---
IC 434
find it amazing to live in a highly developed society and at the same time having to realize what a mentally mess it really is.
14/01/2020, Xavier KRUTH
photos: © Marquis(pi)X
---
IC 434 has been around for 25 years now leaving its mark on the Belgian electro scene. That is certainly not a small merit, because if Belgium music is known for something, then it's electro music. With some recent and upcoming shows performances of IC 434 we thought it would be a good opportunity to go through the entire IC 434 career with mastermind Geert De Wilde.

In the beginning there was Tales of Doom, your first project if I am not mistaken. One day in 1994 you decided to stop this project and start IC 434, why this decision?
That is right. I started to use new equipment which sounded, in my opinion, too different from what I had used for Tales Of Doom, so a new name also seemed logical to me.

IC 434 is quite unique in the way you use only one instrument: the Korg M1. You have always remained true to this. Why did you set yourself such a limitation and what did you want to achieve with it?
Initially it only had financial reasons as I was still a student but eventually I started to think it would also be a great challenge to continue working with just one single instrument. A minimalistic set-up also has advantages: You get to know the instrument inside out and you don't get lost between too many possibilities, which means that you don't spend too much time searching better fitting sounds. However, the last ten years or so, I do the mixing in Cubase so the end result is no longer straight out-of-the-one-box.

In the early years of IC 434 you released two cassette tape demos: 'Paralyzed Beyond' and 'Drowning By Darkness', which honestly, I never have heard myself. What do you remember from those days?
I remember everything from back then as if it was only three or four years ago. I have great memories of that time. Back then, making music was pure fun trying to create an atmosphere. That changed later with the way my life went, it made everything feel less for granted.

Your debut CD 'Weathering Skies' from 1996 was received as a rock-solid release. How do you look back on this debut?
Still with some mixed feelings. On one side there was a certain pride that a record label had signed IC 434. On the other hand, there was also a disappointed feeling. Most of the raw basic versions were on the demos you mentioned earlier. While new recordings were made for the CD versions and the mixing was done by a professional. But the time to provide feedback was limited. The result was that not everything sounded the way I had it in mind in terms of sound. People also told me that they actually thought the demos sound better. Furthermore, the CD cover was much too dark, although it was also designed by a professional-to-be.

On 'Dogondance' (1998) the sound seems to have evolved, introducing more trancy elements into your by nature dark electro songs. What was your intention?
I had done some musical experiments besides IC 434, although the Korg M1 was actually unsuitable for that. The results were appreciated by my close friends and entourage, so I decided to incorporate some of those elements were I thought it suited in my IC 434 songs. Although I never heard any reference to "trance" at the time.

Your third album 'The Banished' (2002) seemed to continue on that course. It may be noted your first three CDs all appeared on Body Records, the predecessor of Daft Records, managed by Dirk Ivens. How did you end up with Body Records and how did the collaboration go?
In beginning of 1996 Dirk had seen IC 434 perform live in the Wommel, an underground club near Antwerp. The next day he called me and immediately said "We have to sit down and discuss the release of a CD". I had never talked to him before, so that was a very pleasant surprise.

In 2003 you announced the end of IC 434 and did a farewell performance. Why did you decide to stop back then?
I started to get fed-up with the Korg M1 sound and thus wanted to start something completely new in collaboration with Nicolas 'Sal-Ocin' from Empusae. In the end, little became of that project. Many nasty coincidences happened at that time that it completely took away our desire to proceed with it..
So, eventually you decided to continue with IC 434 and in 2008 the excellent 'Bacteriate' appeared. What motivated you to continue in the end?
I finally switched to Cubase as a sequencer and no longer used the internal step sequencer of the Korg M1, which was extremely limited. For example, it did not even have an undo / redo function for the last step you inputted, making the creative process sometimes too time-consuming. With Cubase, a new world of possibilities opened to me which made making music enjoyable again.

'Anhedonia' (2011) was the last IC 434 album you released. Is there still a chance that you will ever release a new IC 434 or is it a closed chapter?
Compared to 25 years ago, I feel my spontaneous creativity has shrunk enormously. So these days it takes a very long time before I compose something that I am really satisfied with. It often takes more effort than it gives satisfaction, something which weighs on my motivation of course. But I no longer speak in terms of 'stopping officially' because one cannot predict the future.

'Anhedonia' refers to a term from psychiatric world, the disability to experience the feeling of joy. Psychological problems are a recurring theme in your work. A national campaign is currently running to make psychological problems more open to discussion. What do you think of this?
I fully support it and think it is more than necessary. I notice how many people are fighting an internal fight. I think our society is not in good shape and it is only getting worse. Partly because of the enormous focus on career and material prosperity instead of well-being, coupled with the chronic stress that this entails. As if life is a constant competition with your fellow men. The growing 'selfishness', fueled by social media, the increasing mutual incomprehension … Emotions often remain embarrasing, and most people still don't know how to deal with them or don't even accept the existence of emotions, either by themselves or by others. I find it amazing to live in a highly developed society and at the same time having to realize what a mentally mess it really is.

During the existence of IC 434 you have been able to collaborate with many personalities. In addition to the aforementioned Dirk Ivens from Dive and The Klinik, this includes also Nicolas Van Meirhaeghe from Empusae, Johan Van Roy from Suicide Commando or Yves Schelpe from Psy'Aviah. What do you remember about these collaborations?
With Dirk it was a pure business and practical contact, we didn't really get to know each other personally. Johan had become a musical friend in the second half of the 90s due to our collaboration, but that has unfortunately been diluted. With Nicolas and Yves the contact went much deeper and further than just music. That is friendship that remains valuable even without the music. We share many common interests, social visions and our outlook on life. The collaboration with Guy Van Mieghem, former front man of Vomito Negro, is also worth mentioning. His stage experience was a source of inspiration.
Last November you played on a Dark Entries Night, the only performance that you do in this 25-year anniversary of IC 434. What made you decide to do this?
The enthusiasm with which Dark Entries made this request! That, coupled with the 25th anniversary and the intimate atmosphere of Kinky Star bar makes it something special for me. Maybe it's a start from back more, we'll see.
Are you still working on new music? I remember that a few years ago you were still working on Pangea, a project that previously made atmospheric trance music.
Meanwhile the activity around Pangea has now been almost ten years and longer ago, time flies. I am still actively involved with music in one way or another. In 2015 I put some instrumental tracks on Soundcloud under the moniker Skyshifter. They are slow, spherical songs, more like cinematic industrial, to give it a name. I also occasionally do a mastering for befriended bands, but I spend most of my free time in the organization of the 80s Flashback parties in Antwerp, where I dj. The focus on these parties is certainly not only on scene-related music. With the Mixed Visions parties it is a totally different story. In recent years I have also been involved with those, and that is indeed a more dark electro / industrial concept.

FACEBOOK
Xavier KRUTH
14/01/2020
---
U kan de Nederlandstalige versie van dit interview nalezen bij onze collega's van Dark Entries!
Xavier KRUTH
14/01/2020
---