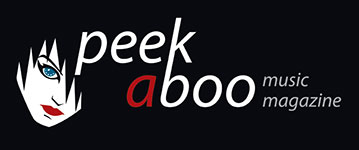 like this interview
---
EVA - X
An Interview With Synthpop Act EVA - X
10/01/2020, William ZIMMERMAN
---
EVA X is the solo project of Gaby Marie, a multi-instrumentalist, singer, and robot queen from Calgary, Canada. Stylistically, it's a combination of minimal synth and futurepop, layered with rich vocals. Inspirationally, it's an examination and celebration of love, loss, connection, and the unique tradeoffs and joys of being a woman and artist. We'd like to thank Eva-X for the interview.
First off, where does the name Eva X come from?

I kind of came upon Eva X by accident. I was playing with project names for a science- and tech-influenced project. I was looking at "Ada" for Ada Lovelace, one of the pioneers of programming, and "Eve" is pretty obviously a name with a lot of symbolism. My brain combined the two, and "Eva X" was born. As for the X? It just looks cool.
You have a pretty unique sound. Where do you draw yr. musical inspiration from?

My roots in singing are in metal, opera, and musical theater, and I think that comes through in a lot of my writing. I think a lot of the uniqueness of my sound comes from the fact that I translate a lot of writing ideas across from those genres, more so than traditional synthpop.
Your debut EP is "Electrowoman." Can you talk about the genesis of the writing and recording?

I started working on recordings about two years ago. I had been involved in a pop ensemble and a couple rock and metal projects up until about mid-2017, generally as a performer and not really a songwriter or driving force. I had done a bit of songwriting, but I really wanted to build something of my own from the ground up, and that's how Eva X got started. I ended up pushing myself to learn a lot about synthesis, sound design, and production over the next couple of years in order to realize Electrowoman.
What's been the biggest challenge for you as an artist?

Believing in myself and in my own work. I still struggle with that a lot.
Can you discuss some of the lyrical themes behind the tracks on the EP?

I sure can! All three of the tracks ended up coming from pretty different places. Subsume is the most personal of the three tracks for me by a lot. It was actually written after a visit to my extended family. Over the years I'd been questioned a lot about when I was going to get a boyfriend/husband/children, at a time when I was really advancing in my day job and as an artist, and at the expense of a lot of my family taking any real interest in that. Subsume ended up being a lament of losing one's own identity as an artist and person in the narrative of being a wife and mother, which is something I really grappled with for a long time.
Black Blood was inspired by the experience of gaslighting and navigating around a toxic ex. I've been there, and I know a lot of other people have dealt with managing someone who's really hurt you and had to act normal and friendly while carrying that pain. Virtualsexual was originally about falling for someone over the internet, but the original music was terrible, and when I rewrote the song I cut most of the lyrics that would have put that in context. So now it's about… well, about whatever the listener wants it to be about, I guess!
A lot of your music has kind of an analog sound. Do you use analog physical gear? What's included in the rest of your studio?

That's really interesting for me to hear, as Electrowoman was actually recorded almost entirely with VSTs. I used Diva and Repro very heavily, along with a couple of Ableton's built-in sounds for atmospheric stuff. The sole exception is the piano line in Subsume, which was recorded on a digital piano. I do have a Minilogue, but none of the patches on it ended up in the final EP, and I find I use it quite rarely.
My studio was honestly the kitchen of the basement suite I lived in for most of the recording of Electrowoman. In order to isolate the vocals for Subsume and Virtualsexual, I actually hung thick blankets from part of the room; I should really find the pictures sometime. I moved shortly before I finished the album, and even now my "real studio" is pretty simple. I use an Ableton Push to do a lot of my drums and melodies, and I have a microphone that works really well for my voice. I'll probably add more toys someday, but right now I'm pretty content with the gear I have.
What do you think makes a great remix; from the perspectives of the artist and the remixer?

As an artist, I get really excited when I feel like a remix has really brought out something in my work I didn't necessarily see in it when I was creating it. I think both the remixes on Electrowoman helped me see the songs in a new light, and made me think of possibilities for future work as well. They made me think in new directions.
What further plans do you have for the remainder of the year and forthcoming months?

I've got my first show on Halloween night, and I've been practicing furiously in anticipation of that! After that I'll be working on some collaborations and starting to write more music in anticipation of more shows and a future full-length release. For early 2020, I'm working on a mini-tour of Western Canada, so I'm definitely going to need a few more songs done by then!
What do you want fans to know about the music of Eva X?

The one thing I want people to really know is that there's no ghost producer, there's no other person making my tracks. Everything you hear, I wrote and produced myself, and I wouldn't have it any other way.
For More Information:
https://www.facebook.com/evaxband/
https://eva-x.bandcamp.com/album/electrowoman
William ZIMMERMAN
10/01/2020
---