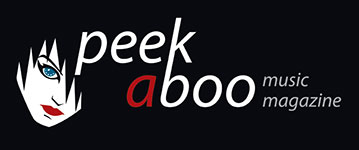 like this interview
---
ENZO KREFT
Many tracks from 'Control' are about the relationship between humans and technology and the dangerous consequences of this in the near future.
11/10/2019, Xavier KRUTH
photos: © © Enzo Kreft
---
With the release of 'Control' Enzo Kreft delivered another brand-new gem of minimal wave music, but this album is much more than this. It became a concept album about how we deal with technology and how this technology influences and shapes our lives. Moreover, Enzo Kreft has also made beautiful and appropriate graphic visuals to illustrate his work. We asked Enzo to provide us some text and explanation for each song on this album, and we even got his permission to display a few of the accompanying artworks. You will notice Enzo Kreft does not avoid "difficult subjects" on Control...
'Scanned'
Many tracks from Control are about the relationship between humans and technology and the dangerous consequences of this for the near future. The same goes for the album's opener. What would your days look like if you were walking around like a slave and scanned and controlled by those in power via a brain implant?
'Cyborg Platoon'
A SciFi track about a world in which people who rebel and who try to maintain freedom of thought are being eradicated by cyborg armies. A theme of many futuristic, dystopian films.
'Biometrics'
In biometrics, techniques are applied in which unique body characteristics (DNA scans, fingerprints, facial features, etc.) are checked and kept up to date. I find it a nasty idea that your personal data is stored by others, they can even be hacked and thus they can steal your identity. It is a technological development that could be used in totalitarian regimes.
'Virtual Happiness'
Are we really happy? Happiness has become a product. We live in "Emojikistan", the country of social media in which our behavior is massively modified and we think we feel happy. It is as addictive as sugars and fats in the food industry, as a result of which the consumer eats more and therefore the turnover increases. We are virtually happy.
'Connected'
Just like in 'Scanned' I wanted to talk in 'Connected' about the control that a system exerts on us. In all of our behavior we are dictated by authorities and we are gradually brainwashed, even though we think that is not the case. We are inextricably linked to the "matrix" and must obey the rules of the game.
'The Milgram Experiment'
Psychologist Stanley Milgram's experiment dates from the early 1960s. Milgram wanted to investigate how it was possible the Nazis had ignored their moral convictions in order to kill millions of people. In the experiment, test subjects were encouraged to give electrical shocks to others and they just did it. It's that kind of experiment you think: I would never do that myself! The experiment has been repeated over the years and it turns out: mankind has changed not even a little in 50 years, it still follows orders careless and doesn't feel responsible for its actions...
'Book Burnings'
'Book Burnings' is also about a not so distant past in which the Nazis burned books, but also looks ahead to a future in which this could still happen and that is why I refer to the science fiction film Fahrenheit 451 by François Truffaut. I also quote George Orwell's famous statement: "Who controls the past controls the future. Who controls the present controls the past." History forgery as an attempt to manipulate and control reality.
'I'm Not A Robot'
An up-tempo track, in which I refer to the well-known internet captcha, which is used to determine whether or not there is a human user. I immediately thought it would be a good idea to build in a contradiction and have the quote pronounced by a robot voice. People are not robots, robots are not people... but maybe robots will become more human than humans!
'In My Head'
In this song the "roboman" of the opening song 'Scanned' speaks. A spectacular reversal is taking place in his brain, the chips of the implant have been erased and the "thought police" has been driven out of his head. The hope is expressed that men are able to shed the yoke of slavery. He is again the master of his own thoughts and can move around the world as a free individual.
'Mindshift'
In this instrumental synth song I tried to create a cinematic, epic atmosphere. The track further elaborates on the theme of 'In My Head', the freedom of thought. "Are you able to make a mind shift?" asks the female Siri voice (one of the artificial voices on my iPhone, which I also use in 'Virtual Happiness').
The booklet illustration that accompanies this issue shows a bird in an open cage. You are free, but you must dare to spread your wings.
'Disobedient'
'Disobedient' is a call for a non-violent revolution against an unjust establishment. I quote Henry David Thoreau, the philosopher who promotes civil disobedience: "Disobedience is the true foundation of liberty. The obedient must be slaves."
'Imagine A Boot'
Closing the album with the famous last words from '1984', the novel by George Orwell that confronts you with the the horror of a totalitarian state: "If you want an image of the future, imagine a boot, stamping on a human face forever. The moral to be drawn from this dangerous nightmare situation is simple: don't let it come to that, it depends on you".
Enzo Kreft will perfom live on 14 December at BIMFEST 2020 @ De Casino, St Niklaas, B
Xavier KRUTH
11/10/2019
---
De Nederlandstalige versie van dit interview kan u HIER lezen bij onze collega's van Dark Entries Magazine!
Xavier KRUTH
11/10/2019
---