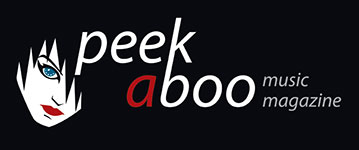 like this interview
---
CHMCL STR8JCKT
An Interview With Chmcl Str8jckt
19/09/2019, William ZIMMERMAN
---
Northern New Jersey's Chmcl Str8jckt fuse old school metal guitars with classic Wax Trax! era industrial music to bring you sinister Industrial Rock with a vintage flavor. Chmcl Str8jckt has recently finished recording their new CD Wrtch Thngs with John Bechdel (keyboardist of Ministry, ex-Fear Factory, ex-Killing Joke) producing....releasing in August 2019 on Cleopatra Records. We'd like to thank the band for their time in answering this interview.
Can you give us a little history about Chmcl Str8jckt and the meaning behind the name?

Absolutely! Mike Cairoli (guitars) and I were in an industrial band together back in college (1990-ish). I played keyboards and did the programming. We lost touch...almost 30 years!! I went to see Mike's indie rock band play a show (he kept at music while I stopped playing for about 25 years). After his show we reconnected and it was wonderful. Mike said "Let's do it again". I broke out the keyboards and learned some new software. We couldn't find a suitable vocalist so I took on that role as well. We needed to round out the band for live performances so we recruited another of our lifelong friends, Scott Luckman, to play some keys, trigger samples and do backing vocals. Then I made a new friend, Ian Omega, who blended in perfectly on percussion.
When Scott and I were at Rutgers together and my band with Mike had fizzled out, I told him, "if I am ever in another band I want to call it Chemical Straightjacket". I had just studied chemical straightjackets in one of my pharmaceutical classes. It's basically a cocktail of meds to incapacitate someone that is out of control (usually in a psych institution). So, 30 years later we are in a band together and it's time to come up with a name. Ha ha! Unfortunately, the name is being used by a dormant project in Georgia I believe. So, our friend and graphic designer, Chris Grove, came up with some logos for us and one of them was without vowels! We liked the hard look of it and settled on it. We never considered that people listen to music by saying "Alexa, play Chmcl Str8jckt". Ha ha! It DOES work, but it takes some effort.
Congrats on the recent signing to Cleopatra Records. How did you hook up with them?

Well, it's the basic story. We had the album finished and we really believed in it. John Bechdel (producer) and Maor Appelbaum (mastering) really helped us to create a truly solid album. I sent it (by mail and email) to the few labels that matter to me beyond the awesome Machine Man Records who we were already affiliated with.....Cleo, Metropolis, etc. The goal is always to have your music heard, right? It's not to sell it....it's to have it reach the ears of every person that might enjoy it. We wanted to see if a bigger label could help us do that better. Weeks and weeks go by and.....nothing, as expected. We were close to releasing it.....about a week away when I got a message from Cleopatra Records saying "This is really good!". I think they may have watched the "Bomb Cyclone" video but I can't be sure. That day we started talking and about 3 months later, Wrtchd Thngs came out on Cleopatra!
You recently released a video for the song "Bomb Cyclone" which has some pretty unique cinematography. Talk about the making of the video if you would, please.

That was a fun video to make! My wife Misha worked with a "video guy" in her corporate life, Alan Katana. We chatted a bit about what we were looking to do with both, Black Vulture and Bomb Cyclone. It turns out Alan and his wife, Melissa (Katana Visuals) were a great fit for us! Melissa 'directs' and has vision....Alan films and edits. They are bad-ass. The storyline of the video for "Bomb Cyclone"...the dancer, etc was my wife's idea. It's basically a big group effort! We rented the local strip club (The Bare Den) and just had a blast. I found Cameron Catastrophe (dancer) by contacting a troupe of performers called the Twisted Circus and Cabaret. She was perfect! We kept it very tasteful...but alas, Facebook still won't let us boost or promote it. I suppose a fully clothed cute girl performing athletic tricks on a pole violates some bullshit "decency rules", yet every day I get friend requests from girls asking if I want to see them naked. Go figure.... Well....that has made the video hard to promote, for sure!
Can you talk about some of the non-musical influences that go into the making of a Chmcl Str8jckt track or record?

Well, while we are really a bunch of nice guys, we are quite a masculine band. We like to explore that masculinity in our music. I know that is frowned upon in our hyper-sensitive society at present, but we embrace what we are...our differences, etc. The music is tough....the subject matter is almost always about strength. Even when the song is about a woman, like "Bomb Cyclone"....she is the ultimate bad-ass! Ha ha! Look at the track "Love". Mike gave me this beautiful guitar riff thinking we wouldn't use it in Str8jckt because it was kinda "pretty". I LOVED it. So, I write our first love song....I literally wrote it by thinking about my passion for Misha....I pictured her in a Helen Of Troy fashion. So, here you have a true love song and a beautiful guitar riff......but it's still full of war and death. This is why I wrote the self-reflecting line "We men are wretched things" in the song (which would become the title of the album). It was kind of a shot at myself......even when I try to capture love and passion, it's masculine and ugly. Ha ha!
Some of your aesthetics, stage-show and even a song like "Ode to Peckinpah" would suggest a western influence. To what do you attribute this?

There is this "post-apocalyptic cowboy" vibe that is strong within the band. I'm not sure how it came to be...but it has grown over the 2 years or so. I love westerns (Peckinpah films, etc). I read a lot about Wyat Earp, Doc Holliday, and such. Misha and I spend a lot of time in south Texas. We plan to retire there someday. I've been wearing a cowboy hat for decades, etc. The first proper track on Wrtchd Thngs is "Ode To Peckinpah". This is a tribute to the quite mad western film maker! Mike added a great western guitar riff to my keyboards and it just sets the mood perfectly! We have a demo for the next release written called "Poor Johnny Ringo", so this aesthetic isn't going away! Even our tracks that are completely NOT western sounding have an apocalyptic vibe to them. When we play "Cactus" or "Baphomet" I picture a badass in a duster walking down a bombed out city street.
How did you hook up with John Bechdel (Ministry) for the "Wrtchd Thngs" album?

What a story!! A friend of John's heard/saw us on Instagram. For our self-titled debut we had only made one video "Dressed To Kill". In the video I ride my Indian and my helmet says "Ministry" across the front. So, I have a bunch of conversations with John's friend (not knowing at all who they are or the connections they have!!). John is looking to do some producing in the little bit of time he has when Ministry isn't touring or recording. The introduction is made and John and I actually end up becoming quite good friends! He is an amazing talent and just the nicest guy you could ever hope to know or work with. I have followed his career over the decades, so...Wow! What an honor!
What plans do you have for the forthcoming months?

We are promoting the album right now and the feedback has been amazing. We are opening for My Life With The Thrill Kill Kult (for the 3rd time), which will be great! Then we will be looking to do some touring (in the works). We also have most of the demos done for the next album, including a co-write with Bechdel. We are looking at January to head back to his studio and record the next album!
Your last record was a remix album on Machine Man Records. What do you think, from both perspectives of the remixer and the artist, creates a successful remix?

Personally, I think the best remixes are the ones that give the original song a whole new vibe! We were very lucky to get a ton of great remixes for "RMX". I love how Missing In Stars took a very "rock" track like "Iron Virtue" and made it sound kind of Depeche Mode. It's killer!! Diverje made "Silver Or Lead" into a hard stomping dancefloor song.! I love that creativity. I also think the key is to have a strong, well-written song. That allows the song to be reinterpreted in any style and stand up.
Let's say many years in the future a very distant relative locates a box in the attic of an old home. In the box they find a Chmcl Str8jckt CD and something to play it on. What would you like this person to learn about your legacy simply from listening to your music?

I would hope that they are intrigued and a bit scared. I would hope that they also occasionally smile at the campiness. When I was 8 or so I heard Black Sabbath's "Electric Funeral" for the first time. It changed my life! I was scared.....excited....and completely hooked. If we could have that effect...even just a little on someone our mission is accomplished.
For More Information:
https://www.facebook.com/chmclstr8jckt/
William ZIMMERMAN
19/09/2019
---