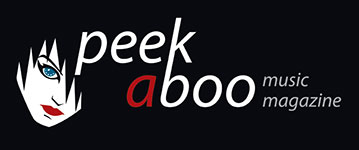 like this interview
---
UNDERTHESKIN
Try To Leave The Listener In A Certain Reflection, And Maybe Bring Some Kind Of Relief
02/11/2019, Stef COLDHEART
---
Undertheskin is a Polish cold-wave inspired project set up by Mariusz Łuniewski. He got previously involved with Deathcamp Project, but set up Undertheskin to create a very direct- and emotional composition. Mariusz tries 'to create the atmosphere that the listener can feel under the skin; like a thrill/shiver'. The self-titled debut album released in 2015 by Alchera Visions rapidly reached the first position on Bandcamp as 'the world's best-selling alternative album'! Four years later Undertheskin has unleashed a new opus entitled "Negative" again on Alchera Visions. The work is an impressive production for all lovers of cold-wave, gothic and post-punk and it will for sure become one of my favorite albums of the year! I'd a chat with Mariusz Łuniewski.
How would you introduce Undertheskin to music lovers who don't know you yet? What is your music background and what kind of music did you want to accomplish with this project?
You can find the roots of Undertheskin in 80's cold-wave music, updated with modern sound and production. Undertheskin is about respecting the roots, while also leaving my own mark on the output.
You mentioned the 80s so what makes this era and especially the darker music special to you and how did you transpose this influence into 'modern' sound?
I grew up with sounds from the 80s/90s - MTV era, so this aesthetics, some sensitivity, emotionality of this music, also the instrumentation certainly entered my subconscious mind. Another thing is the whole post-punk era -the reflective and more 'intellectual' darker side of punk; melancholic, mysterious, claustrophobic, guitar sounds -cold -soaked with chorus delay effects, vocals that were often drowned in reverberation -it always intrigued me and touched my soul. In retrospect I think I have the greatest sentiment for the sounds of the 80s. So I probably used to hit all these post-punk sentimental notes, but as I mentioned before, I always try to put a lot of emphasis on making the music with my own recognizable sound.

What kind of work did you try to accomplish when composing "Negative"? Tell us a bit more about the writing and the lyrical themes?
I write about personal subjects, which are also universal topics, I try to touch particularly sensitive places, try to leave the listener in a certain reflection, and maybe bring some kind of relief.

When it comes to compostion Undertheskin is a solo-project, but a real 'band' on stage I think. What are the pros and cons from composing alone and how do you rearrange the studio sound to the stage?
Undertheskin is a very personal creation and in some natural way quite hermetic. I am lucky to be able to create, compose and record all instruments myself. Thanks to that I record faster and more efficiently and basically I can do all recordings in my home studio. It gives me freedom and some kind of independence. I have no inter-parliamentary problems or any human conflicts. The scheme of operation is always the same; I bring the songs to the studio, ready for release, and then we start working as a regular band on translating my studio work into a live sound. It is very cool that every rehearsal or gig brings a new life into those songs. Thanks to the work of the whole live band songs become richer and more powerful.

I noticed you already released several clips. Tell us a bit more about these experiences and especially the last clip from "Borderline"? What do you try to express in the clips?
Well "Borderline" got at least two versions and both are 100% 'fan videos'. Basically I got nothing to do with making them, but I really enjoy the final results. Apart from that, there are about three official Undertheskin videos ("Cold", "Burn" and "Poison"), which are all made by one man, the very talented Lithuanian artist Rytis Titas.
I'm very impressed with his work. I guess we have a quite similar sense of aesthetics and understand each other very well. All of the clips are dealing about some little stories and I really recommend you to check them all! I'm very proud of them!

What do you expect from the future for Undertheskin? Are there some elements from the global production you want to change and/or improve and/or experiment with new ideas?
I wish Undertheskin would play even more concerts and festivals. In the meantime I'm already working on completely new songs; I got a lot of ideas and song demos. I'm constantly investing in instruments and working on a better sound. I hope to release another album for Autumn 2020!
Stef COLDHEART
02/11/2019
---