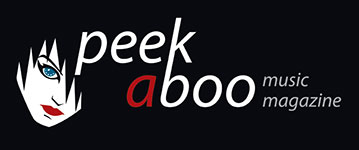 like this interview
---
DEAD HIGH WIRE
'Dead High Wire Did Not Like To Be Categorized In One Box'
24/11/2019, Stef COLDHEART
---
Dead High Wire is a Belgian trio consisting of Sacha Jennis (vocals, guitar, bass, keys), Ruben Peeters (guitar, keys, bass, backing vocals) and Davy Vanden Broecke (drums). The band is inspired by a wide range of influences, taking us back to 70s garage, 80s new/cold-wave and 90s underground rock. A first self-released single was unleashed in 2016 followed by an EP, released in 2017 on Kinky Star Records. The debut album "Pray For Us!" got released late 2018 on Wool-E Discs (CD format) and Wagonmaniac Music (digital format). Dead High Wire also self-released the album as vinyl. It's a powerful work mixing all the aforementioned influences. The work doesn't bring that much innovation, but is a powerful and fully entertaining opus, which incited me to get in touch with the band. You here can read what they've to say about their work.
Let's start with the beginning; how did Dead High Wire see the daylight? Tell us a bit more about your background, potential sources of inspiration and eventually favorite artists and references?
Originally Dead High Wire resulted as a new duo project of drummer Sammy Verstappen and singer/guitarist Sacha Jennis who met in a previous band outfit. The sound and band composition evolved gradually to the current threesome. As from the start, Dead High Wire did not like to be categorized in one box. Punk-rock, garage-punk, post-rock, grunge and post-punk music delivered the main sources of inspiration. Influences came from a wide range of bands such as Sonic Youth, Death from above 1979, Jay Reatard, The Cure, Joy Division, Corners...
You don't like to be categorized although you define yourself as 'an edgy exploration of garage & post-punk, with a sleezy indie feel'. Can you give us a few more details while linking them to the album?
I think every song of the album has its own character. Some songs, such as "Laurel Canyon", "BBGAP" and "Talk To Strangers" have a more reverberated, garage feel while the album title song "Pray For Us" clearly is drenched in 80s new-wave and post-punk. Part of it was recorded in a few hours and aims to be a punch-in-your-face punk song. The album's finishing song is a more dreamy take, Alan Vega's Suicide in mind, which was on the band's shelf for some time. It was created in true DIY fashion in Ruben's bedroom by means of a keytar, music software and a Jimmy Hendrix poster.
Let's talk about this debut-album entitled "Pray For Us"! What did you try to express by the title, the main lyrical themes and the music?
The main theme is about people wanting to be dominated by some external source, being it other people or political and sociological forces. Almost every song is a symbolic or metaphorical expression of escapism of some kind or the need for belonging at the same time. In the course of history, this need has always led to major problems and history just keeps on repeating itself. So, "Pray For Us" is kind of a call for support for mankind on the one hand. On the other hand, I call to support people choosing the lesser known and less secure paths. A support for their will of doing things in a different way than what's known and prescribed. The song "Pray For Us" is about that jump. Last but not least, the album title just calls for a wide audience to get to know and like Dead High Wire's music!
How do you look back at the writing and recording of the songs? What did you experience as the major difficulties and eventually challenges?
We choose a different recording process as the previous EP's as we did everything ourselves (except for the mastering). Our guitarist / bass player Ruben Peeters installed his huge 80s analog mixing panel and Otari tape recorder in the big rehearsal space we occupied in a garage complex in Merksem back then. It took us a while to find the best sound, but once set up, recording went quite smooth. We even recorded a song that we only had been playing for a few hours, real DIY punk style I guess. After recording, Ruben had a lot of fun with mixing everything.
I've been a bit intrigued by the front cover of the album, which has something sci-fi like. I don't really see the link with the music so can you give us more details?
It is meant to be intriguing so thank you! It's not really meant to be sci-fi. The artwork was established by means of a collaboration between artist Stefaan Theus and photographer Sacha Jennis (part of Dead High Wire and writer of all the tracks). The cover is composed by analog pictures of a Partisan monument in former Yugoslavia and a soldier in the Baltics. Stefaan (Theus) made a wonderful collage by cutting and re-composing the cover using Sacha's analog pictures. The result aims to illustrate domination and defense. There is more a link with the album's themes than with the music as such.
You already did multiple live shows and even in the UK. How do you see yourself as live band and how does a Dead High Wire-show look like?
We love to play underground shows for audiences that can relate to the music. We try to transmit the energy in the music to the audience. I never left the stage in a dry shirt, never. Come and see it for yourselves!
Stef COLDHEART
24/11/2019
---