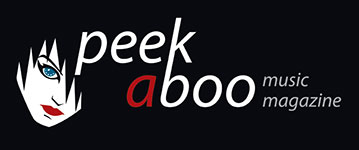 like this interview
---
DAVID GEDGE (THE WEDDING PRESENT)
'I do like to make the song as personal as possible!'
30/04/2020, Danil VOLOHOV
---
With the release of their debut LP "George Best", The Wedding Present became one of the key bands of British musical movement in the 80's. Fast guitars, fast tempo, high-level of dynamics of the songs and the lyrics of David Gedge – "the boy that wrote some of the best love songs" as John Peel later said.
This year, The Wedding Present's second album – "Bizarro" celebrates 30-years anniversary. In the interview for Peek-A-Boo magazine, David Gedge told us about the transformation from "George Best" to "Bizarro", about songwriting and the recent "Going,Going", about the 80's and coming record of The Wedding Present.

In the interview for "Something Left Behind" you're talking that from the very young age you was drown to "this culture" and you felt that you just need to be in a group. So let me ask you, what were your earlier musical influences and what role did the music of the 70's play in your artistic development?

When I was growing up, I was a big fan of radio, really. I listened to a lot of BBC Radio and pop-music radio-stations. Also, my parents had quite a big record collection. So I used to play their singles, LP's and things. That was in the 60's, really. In the 70's…I think. There was always some kind of thing I was interested in. In the 70's I took it more seriously trying to find my taste. So I started to move away from pop-music and started looking at other genres like progressive rock. I remember [myself], being a big fan of bands like Genesis and Yes and ll the progressive bands. When I was a teenager, this was a big revolution of course…Punk in 1976-1977. I found it very exciting. So I was influenced by that, really. It kind of changed through the years, to be honest. But that's kind of a little summiary I guess ( laughs ).
I think it's a well-known fact that your style is always determined by the people you're playing with. So if we'd speak in terms of this transitional phase between The Lost Pandas and The Wedding Present, what helped you to find your style, as a band and how it developed at the very beginning of your career?

At the very beginning, it was a case of finding like-minded people, I suppose; people who shared the vision and taste of music. It was quite difficult because, I had an idea of what I wanted the band to sound like. But when you first start it's difficult to find the people who're in the same frame of mind, I guess. For a few years we tried different lineups and different ideas. And then, in the mid-80's – 84-85 we got these four people together. And I think it's just clicked. Something felt like: "This was a good band!" We had our style, guitar music obviously. We all were influenced by guitar-bands. Also, influenced by punk, I suppose the ethics of punk. Even though we weren't really a punk band, we were kind of jangly-guitar-band, really. But then, the other thing we did was – we played incredibly fast music; quite aggressive. It sped up and sped up during the concerts to the point where we played as fast as we possibly can. And I think that became our style in the early days. And people knew us as this band who played this very fast music. And then, over the years, as different people came and went, that has changed what we do really. Because, as you say – I'm very open to people to come into the group and suggesting different ideas, different styles and trying different things. So I feel like I've been in 60 different groups since the 80's ( laughs ).

Your lyrics have always been very personal. And it always reacted with your music very well. With all the topics you touch upon as a lyricist, as far for songwriting, could you please tell me, what allows you to find this kind of balance between lyrics and tune that would follow it; not just as one of two components of the song, but something that would enhance the emotional effect creating the contiguity?

I think both lyrics and music are quite simple, really. I've never been particularly poetic or metaphorical. It has always been a very conversational style. I just write about things that happen to people in the way they would talk about it in the conversation. Often my lyrics could be compared to text or play or a film because, there are just two characters talking. And I think music is also parallel to that in a way. Even though, as I said before I was a fan of progressive rock and stuff, I think the music of The Wedding Present is simple. I've never been a fan of overproduction. I'd rather strip things down. Minimal. If that works – great! We don't need extra guitar, extra keyboards or extra-vocals. I think the lyrics go better with the music in that respect. It's very straightforward. It's also like rock-n-roll, really. Guitars, bass and drums – that's The Wedding Present. I do have another band called Cinerama which is different! But the style of The Wedding Present is very simple.

When you write something, are there are always things based on what you go through, as person? Or do you not associate yourself with your lyrical characters?

It's always very personal. It depends on a song to a certain extent. There are certain songs and certain records – certain LP's, which are very personal because I'm writing just about myself. With other songs, it may be the story I've heard or imagined, read in a book or seen in a film that inspired me. I kind of imagine what I'd do in that situation. It's kind of me acting a role in that lyric. I write from the point of view of how I'd be talking, reacting the things. Because, I could bring in the parts of my own experiences and my own feelings. I do like to make the song as personal as possible.

When you just started your career, it was a kind of logical thing for a band, to have a single released or an EP or a record. And when you already released many records that got mass-recognition did it become easier for you to work ? I mean, within the fact that you have nowhere to run, and you could spend your time writing songs.

I'm not sure if it's easier…More difficult, really! The whole world of music has changed really. And the idea of releasing records has even become more and more redundant. I do feel sorry for new bands. The main thing is that there's less income now. Because people don't really buy records anymore. So musicians have lost that kind of income. I think we're quite lucky in The Wedding Present. We're an established band. We've been going for 35 years or something…And, I think, because we got older fans who still want to buy CD's and LP's – things like that. It's not quite the same. But it's an interesting time. On the one hand with the internet and social media it's great! Because, you got this communication now with people. You can explore music! Somebody can mention a band and you can go online, straight away and see that video. There was none of that when we started, obviously, so we were very dependent on a records being reviewed or played on the radio, or being on TV. It's a different world now!

I think it would be interesting to touch upon the topic of your recent work – "Going,Going," which became probably the most experimental record of The Wedding Present. I mean, the introduction to the record and with such tracks as "Kittery", "Greenland", "Marblehead" and just general coloring you basically haven't tried before. So can you say that with "Going, Going" your approach to work and songwriting was different than with other records of yours?

I think, when we started working on "Going, Going", I didn't really have any plans or any ideas of what would happen really. I just started writing songs in the usual way, imagining that at some point there would be an LP – as I've always done. As the year or two of the writing passed, the project grew and I had this vision of what I wanted really – this bigger record. It's a double LP. There are 20 tracks on it. Because we had this space, it became more experimental. Every song didn't need to sound like a single or a classic Wedding Present song. We had the space to experiment with each track. I wanted to have this from the beginning to the end…A little bit like a live-set in a way but obviously longer. It's a full album! It's an interesting record as we tried a lot of ideas. But there are also some references to Wedding Present' music from 10 years ago, 20 years ago, 30 years ago. So in a way it's a combination of certain sounds we've used before with some things we've never done before. I did want to make the album a challenge for the band and for the listener as well! I've always been proud of that and never wanted to make every Wedding Present' record the same. We deliberately set everything out to make a different type of record.

After the release of "Going, Going" you continued your work on the follow- up EP – "The Home Internationals". Among all interesting things about the record there are titles: "Scotland", "Northern Ireland", "England", "Wales" – so there is a concept you've been following writing the music ?

Well, yes. When we did "Going,Going", among the things that were different for me were instrumental tracks. All the tracks on "Going, Going" are named after locations in the U.S. It's kind of a journey from the North-East all way down to Santa-Monica in California. There are 20 locations. One of those locations is Whales , which as well as being a town in United States is one of the nations in United Kingdom. Because it was instrumental and I enjoyed doing it, it was liberating; that is, not to think about a vocal melody and vocal lyric etc. I decided it would be nice to use "Wales" as starting point for another project. So we did three more instrumentals. And I just felt, because Wales is a part of United Kingdom that we should add the other three parts of United Kingdom. It inspired the rest of the EP. For the "England" track we used a friend of mine, a poet. He's a very distinguished poet in The UK. He had a poem called "The English". That was the nice coincidence. And the first LP of The Wedding Present was "George Best," named after the famous football player from Northern Ireland. So it worked quite well. Everything came together. It was a lot of friends we worked with!

Within each record, do you always have an idea about something that would tie songs together, conceptually? Or is everything kind of connected with the topics you're thinking about during a certain period of time?

Every record is different. Sometimes, I think of an underlying theme or something that would bring all the songs together. That's the case with "Going, Going" and with certain other records as well! Sometimes everything is different. We've written songs, played them live. We may feel: "Ok! We got 20 songs now! Let's record them and see what happens, really!" Sometimes it becomes a theme in itself in a way. With regard to our third LP – "Seamonsters"…That record sounds very different to the previous two. And I think that was because of the nature of the band at that time. The same people were in a band. But there was a certain darkness to the music and feel to it. That was totally different to the songs on "George Best". And that became theme of that record. Even though we didn't plan it. It was just because of the sound of the band at that time and how it influenced the recording and the arrangements.

Over the years you've been asked a lot of questions about your debut LP – "George Best". In 2017 you re-recorded it live-in-a-studio with Steve Albini. How did you get this idea, and in what way did your attitude towards these songs change?

I like the songs on "George Best". However, I wasn't always happy with the original recording. I think we were very constrained with time and budget and stuff. A few years later, when we came to play some of the songs live, I found we didn't prove that. We played them better. The singing was better. Everything sounded bigger. I just felt that it would be interesting to go in a studio and re-record it. I'm not sure if it was totally successful. Like I said, the nature of "George Best" – the tempo of the songs is really-really fast. So it's very difficult. There's no way you can reproduce it really. There is just the idea that you could play fast and at the end you'd capture the sound of the instrumentation: fast drumming, fast guitars. So when we re-recorded, it just sounded like a very good live-recording. That's what it was! It was a band playing live in Steve Albini's studio, very-well recorded but sounding like the band playing songs live which, I think is good. It's different from the first record. I didn't know whether I'd change anything or if it would it sound fundamentally different after a few years.

With "George Best," The Wedding Present became one of the bands that defined the direction of the British musical scene in the 80's. With such bands as The Smiths, you created the whole new musical standard for British music of the 80's. I guess it would be a silly question. But why was British music at that period of time so unique? With punk-rock there were American bands playing the same things. You had Sex Pistols,The Clash and The Damned. You also had Ramones, Television and Black Flag in the US. But, there were no bands like Joy Division or The Smiths or The Wedding Present….
I think in the 80's people growing up listenied to punk really…Even though they weren't really influenced by it – there was a certain attitude. And I think in the late 80's there was an explosion because these people were old enough so they started little indie-clubs or they started record labels. They did a fanzine. They started a band. It was allat the same time. We were very lucky in a way. The Wedding Present started in 1985. In the next 2-3 years certainly there was the whole scene across the UK with guitar-bands. And there was lots of places to play to develop your style and acquire the audience. John Peel was there. It was a very exciting time. And all these things happened in Britain. Back in the days we had the 70's punk-scene. Then we got this "86's scene" as it was called – the scene of late 80's. We had britpop and these little waves of fashion with some waves behind them.

This year "Bizarro" celebrates 30 years – another significant anniversary. So let me ask you a little bit about the record itself. How do you remember working on it?

It was very different from "George Best". With "George Best" we had the limits with budget and time. After that, we signed to a major record label. So it was our first full-length album for RCA records. Certainly we had as much time and money as we wanted. We had very good studios, and were spending as much time as we wanted there. I guess that's my main memory of the difference. And I don't think that it's always good to have time and money. I think sometimes it's nice to have these restraints. At the end of the day, I think it's a better sounding record than "George Best". We developed of course. "George Best" was fundamental because the songs were fast. And with "Bizarro " we looked to a exploring different arrangements and changing tempos. It was a more dynamic record. And also, we could experiment in the studio.

What was the reaction your audience had when you presented "Bizarro" to them ?

I think, there were some people that were probably disappointed that we didn't carry on with the same style as "George Best". But on the whole it was very well-received. It sold a lot…Also, it sailed around the world. With "George Best" it was our own label and really only available in UK. Sometimes people bought it on the import in America or Europe. But with "Bizarro" it was an international release. So, certainly we were getting the fans from all over the world: apan, Australia and places like that. It was a big change for us, really. Going from being an indie-band to this bigger project.

Over the years, the lineup of The Wedding Present has changed. Even within the band, with the people you're working for a long time, like Charles [Layton] or Danielle [Wadley] you had a certain changes. Danielle switched on to the guitar and you got Melanie [Howard] as your new bass-player. So if we'd speak in terms of songwriting – is there anything you're working on now ?

Yes! I'm always working, really. There are lots of ideas that are kind of flying around. But the problem I had for the last three years is that we've been very busy playing live. So "Going, Going" was out and we did concerts for that. Then we did 30-year anniversary shows for "George Best" and then 30-year anniversary of "Bizarro " shows. We're playing more around the world now. We used to play in Europe and North America. Over the last three years we've done two tours in Asia. We've been ito Australia and New Zealand a few times which is great! And I love doing it! But at the same time, it restricts my time. I need to finish writing songs really. So it's a bit frustrating. because there are a lot of ideas.. But I really need the time to sit down and work on arrangements.

https://www.facebook.com/TheWeddingPresentOfficial/
Danil VOLOHOV
30/04/2020
---