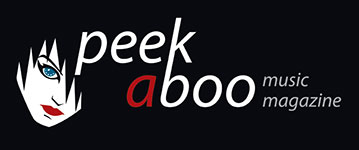 like this interview
---
EMPUSAE
One thing is for sure... I'll never stop making music!
30/04/2020, Dimi BRANDS
photos: © © Luc Luyten
---
Also in 2019 we could be proud of our Belgian compatriots. One of those releases that stood out for me last year was Iter In Tenebris from Empusae aka Nicolas Van Meirhaege. An artist who invariably guarantees to keep on releasing top-shelf quality albums, the latter was part of the prestigious Consouling In Residence concept.
In short, the ideal conversation partner to end the music year 2019.

First of all I would like to congratulate you on Iter In Tenebris, which has once again become a wonderful total spectacle. The album was released shortly after Lueur and whenever I think you can't outdo yourself anymore, you prove me the opposite. In my review I wrote you take the dark ambient genre to a higher level, and I still mean every word of that. Now confess, what's that secret recipe that you seem to have a patent on?
Thank you for these words. I can only say that my last two albums are the result of the pact with my demons. We don't have to look any further than this, I think.

Iter In Tenebris was released as part of the Consouling in Residence project, which you are part of together with Monnik and dustbug. An ambitious project that asks itself how a record label can adapt to the rapidly changing music landscape. Just giving ready-made answers to this is impossible, but what are your ideas as a musician, and how do you experience the Consouling concept?
What Consouling Sounds has set up and has in store for the future is the logical consequence of how a label should evolve. They are incredibly resourceful, ambitious and passionate. I am proud to be part of that.
We have been given carte blanche to work out our concept (Augmented Reality artwork) and be ourselves completely, with some adjustments where necessary. It is very pleasant to work with such human and professional people at the same time. Hats off for what they have done because the Consouling in Residence project is much more than just releasing 3 releases. Each release has its own limited edition concept, which required a lot of thinking and research. Many internal meetings, also with other artists / partners with whom we have worked … Setting up a series of performances (new events will be added at different locations next year)… and lots of PR and promotion. All this combined with many other events (24 hours of deep listening, etc) and releases from other artists and managing a store and webshop. It was quite chaotic at times and we have all learned a lot about how to do it even better in the future (this is just the beginning).

On Iter In Tenebris you deal with demons, let's dig a little deeper into this. The first demon is Shabriri. In the Jewish culture the devil of blindness. A logical choice after fate hit you hard with this handicap some years ago. Your life suddenly took a dramatic turn due to your loss of sight. Meanwhile you moved on, how did you deal with it in the meantime, and what is your thought on the future?
It's very difficult to deal with, to be honest. My vision has deteriorated quite a bit in recent months. It is not easy to get used to it as the condition gets worse over time. So I can hardly imagine a future, since I don't know how quickly I will go blind, how long I will be able to do certain things. I had to quit my job recently. But one thing I know for sure, I never stop composing. I do not know how I will proceed within the future, but I will never stop.
But you probably hear it in my answer; I have music as an outlet and salvation. Empusae has become more therapeutic than ever and actually vital.

The second demon you tackle is called Purah, and some research taught us that he is one of the many fallen angels, the angel of oblivion. He would also have to do something with stirring up the dead. As an good angel he can clear your head in a positive way, but as a demon he creates hopelessness with this quality,feelings of loss and loneliness manifest themselves. Can we connect this Purah seamlessly with Shabriri? In the sense that the deterioration of vision also fuels the fear that oblivion will also be fueled?
Actually, I didn't really want to elaborate on the demons in question. Iter in Tenebris is, as I said, very therapeutic and very personal. It was not my intention to literally convey a personal story. My demons and how I deal with them are not really relevant to the listener. What it means to me and what it does to me, however, can be filled in individually by each listener. For me, every demon has a personal link and every piece of music has a way to deal with it. I invite everyone to fill in that link themselves.
Of course, I can't really avoid it if I want to talk about the record, so let's say the relationship with this demon is indeed about my fears, both related to my coming blindness and other fear, apart from that.

As for demon Iso, we found no information about this one. Therefore, please clarify this entity, what relationship does it have with the other devils at Iter In Tenebris?
The title refers to the Japanese Isogashi. My relationship with Isogashi is very personal again, sorry if I have to disappoint you. But again, I invite everyone to discover a personal link with the demon while looking it up.

Aesma is the fourth and last demon, in Zoroastrianism the devil of wrath. Again a quality that we effortlessly connect to the first devil, which also completes the circle. How do you deal with feelings of anger?
Aesma is indeed a demon I have been confronted with not so long ago. It has to do with the negative feelings associated with my disability. The fact that it is incurable. How I and my environment, people around me and society deal with this in themselves. But this is yet another demon that can be interpreted widely and is different for everyone. However, I am convinced that these four entities harass everyone among us and haunt us, no matter what culture you are.
Jewish tradition seems to be an important inspiration for Iter In Tenebris, how did you come across it?
Coincidentally. I have been inspired by different mythologies. The demons were already there. I only looked up which name I could best give them.
Which demons from other stories still appeal to your imagination and would you still like to introduce them to the Empusae world?
At the moment I have enough work with these four. Both Lueur and Iter in Tenebris were very targeted therapy for me. What I currently compose has a different angle. However, it has the same effect on me, to my pleasant surprise.
I'm done with it now, with those demons. The pact that I made with them will last for a while, so I can focus on other things.
But those things also come from the dark, elusive depth. Things you shouldn't mention if you want to keep your mind and spirit.

Thanks for the interview Nicolas, and we wish you a lot of strength in your tough battle with these demons.
Allright. Thanks.
Sorry for not answering some questions as you might have expected. I struggle a bit with the fact that my current work is sometimes very personal, hence my sometimes evasive answers.
All understanding for that, and as you say your music appeals to the imagination in such a way that it is possible for the listener to give it his own interpretation.
We also consulted Nicolas' life partner Christel, who is also active in Empusae for the visual aspect. Since this interaction is essential in the Empusae story, we found it only logical.
CM: (enthusiastic) Cool that you think of me too! This is my first interview ever!

A bit strange though, because we think your share in Empusae is inextricably linked to the whole, which is why we would like to elaborate on this.
Well, first of all thank you for that!

Not only did Nicolas exceed the already very high standards that he had previously set at Empusae, it seems you also did a great job with the stunning visual interpretation on Iter In Tenebris. For instance by using the augmented reality technique. How did you get the idea to use this technique?
I had been thinking about creating some AR illustrations for Empusae for a while... I had previously experimented with this technology together with EyeJack (the company that created the app that we also use for the album) and I really enjoyed it a lot because it combines my two favorite ways of expression: illustration and animation.
It also brings a new level of "immersion". I wanted to give people the opportunity to listen to the album and watch the animation at the same time. I wanted the demons to come to life, and for people to be able to touch them.
For me, the goal in illustrating an album has always been to enhance the mood and emotions of the music, as an accompaniment, and I think with this technique we can sublimate the music like never before.

I would like to ask you the same question that I also asked Nicolas: how did you experience the Consouling In Residence concept?
CM: Just under a year ago, Nele (Consouling Sounds) asked me if I wanted to be responsible for the artistic aspect at a special event that would unite 3 artists. The original idea, back then, was really just a sketch, but it immediately seduced me. We came together to work on the concept, both in its globality and in its individual parts. Knowing the position of each person involved brings so many new ideas and true coherence. Thanks to Nele, who worked very hard to get some governmental support for this project, we were finally able to pull it off. It gave us the opportunity to have creative free will. I made a special illustration and animation for the project that you could see during the events, and all three projects had a special edition of their release, proposing something a little bit different for the audience.

Christel, you are also responsible for the visuals during Empusae concerts, will you also integrate the AR technology?
Just like for the illustrations, the live visuals are a way for me to immerse people in the music and take them along.
With the technique I have developed so far, I can now imagine a full live experience that interacts completely with the music. That makes it different every time and therefore unique.
We wanted to create a full audiovisual experience and present something new to the audience. We wanted to take them into our fantasy world to share them in our journey. The AR illustrations do indeed come back in the live videos, while the demons come back and haunt the music. The illustrations, the AR and the live videos are all interconnected, and still all different, making it a full cycle.

Where do you get your inspiration as a visual artist, and which artists have influenced you?
CM: For inspiration, I usually listen to my nightmares! I also like to be inspired by mythology and I often use esoteric references in my work.
In general, the dark and the weird inspire me the most. I think of Japanese horror, David Lynch, Clive Barker, Murakami,...
But above all, my main source of inspiration has always been music. I let the images come in, while I am listening. Here too I am mainly in love with dark music. I like it when wicked and not shy of a bit of experimentation. As with Ulver, Murcof, Atrium Carceri, Dehn Sora, Colin Stetson,...
It works especially well with Empusae. Nico's music is so good that I always visualize images when I listen to it! (I'm actually happy to be able to share a little bit of what I see during the live shows with other people.)
For the pictorial part, Giger has had the greatest influence on me, because he made me realize what I wanted to do with my life (after I first saw an exhibition of his), but also Tsutomu Nihei, James Jean and Vania Zouravliov fascinate me, among many others!

Finally, regarding the Iter In Tenebris concept, which female demon do you most identify with?
With none and with all of them, they are all part of me! And I have many more demons to share...
Bring them on!
Dimi BRANDS
30/04/2020
---
U kan de Nederlandstalige versie van dit interview HIER nalezen bij onze collega's van Dark entries Magazine!
Dimi BRANDS
30/04/2020
---