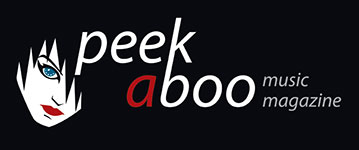 like this interview
---
MORE EPHEMEROL
An Interview With Los Angeles Synth Act MORE EPHEMEROL
12/04/2020, William ZIMMERMAN
---
Los Angeles synth act More Ephemerol consists of members Sea Fjerstad and Tamara Sky. Though the project has one previously released LP, Fractal Bath, featuring an array of experimental compositions by Sea, the new material ditches all digital instruments and adds the voice and presence of Sky to the equation, establishing More Ephemerol as a strictly analog synth duo, delivering a newly focused sound inspired by the likes of proto-new wave/minimal wave favorites such as Experimental Products, The Modern Mannequins, Turquoise Days, Oppenheimer Analysis, and early Human League. We'd like to thank More Ephemerol for their time for the interview.
For the unfamiliar readers, can you tell us a little bit about the history of More Ephemerol and the meaning behind the name?
Around 2007 I began toying with synth-centric compositions and chose the name More Ephemerol for my works. Ephemerol is the fictional drug which plays an important role in David Cronenberg's 1980 film, Scanners. In the most specific sense, the name More Ephemerol means "more to attain less", considering the drug is primarily used as a suppressant to suppress the psychic abilities of individuals. Though the name feels like some sort of glimmering juxtaposition, it's about finding balance. In a broader sense, the name focuses on drugs as a wider concept. The purpose of drugs are to stimulate us, and for so many of us, whether it's through drugs or through other sources, the mission to stay stimulated or find greater forms of stimulation is one that will last us a lifetime. More Ephemerol represents that mission & that desire.
The new video, "Obituary Templates" has a very 80's appearance to it. Were there any particular videos in the 80's that sparked your inspiration or that you found to be particularly unique?
There's no specific video that inspired this. However, it is unabashedly a nod to the styles and aesthetics of several groups from the beginnings of new wave. A couple of acts I haven't mentioned prior to this that seem relevant would be Gary Numan and Rational Youth. And, I feel like it goes without saying, but the legendary music videos of both Eurythmics and The Human League will always be an inspiration.
Can you tell us a little bit about the making of the video?
There's not much to it. It was a really quick production. We had the smallest crew possible - just us, a camera man, and a P.A. I wanted to do something minimal. We're just introducing our new band to the world. Right now, it's "Hello. Hi. This is the band & this is what we intend to do".
There's actually a fairly deep meaning behind the song. Can you discuss that a bit?
"Obituary Templates" is a song in tribute to loved ones who have passed. The lyrics discuss how no words alone could ever be enough to encapsulate an individual's entire existence when that individual was such a quintessential part of shaping your world. When my father died about a year ago, my sister and I were asked to write the obituary - it's a really surreal thing to have to do, to decide, "ok, these words are worthy".
Your press release notes that your new material ditches all digital instruments and "adds the voice and presence of Sky to the equation." Can you expand on that?
This is referencing Tamara Sky, who is currently a member of the band. She used to throw these Lil Death parties in L.A, which I'd attend frequently. It didn't take me long to realize that her and I had a strikingly similar taste in synth music, wave, techno, and the likes. I've referred to her as "my favorite DJ" for years now. When I expressed an interest in expanding my project, she expressed an interest in being a part of it, and I knew she'd understand precisely what would be unfolding here. There was no question in my mind.
Other than ditching the digital instruments, how do you feel on a personal level that the new material is different from that which is on the previous album, Fractal Bath?
Fractal Bath is basically a collection of early experiments. It wasn't made to fit into any particular genre, nor was it made for any specific audience. In fact, most of the songs featured on it weren't even made with an LP in mind, nor were they made with live performance in mind. The new material is being approached entirely differently: These new songs belong together, they're all from the same litter. These are songs that I would want to go see a band perform live. They're being composed with a very specific energy, a very focused energy - a singular energy that I look forward to channeling and sharing.
Some might think that your music is inspired by 80's new wave. But it goes deeper than that. You note that "proto-new wave favorites" like Experimental Products, The Modern Mannequins, Turquoise Days, and Oppenheimer Analysis were influences. What was it about these artists in particular and not so much the traditional 80's new wave artists that inspired you?
These bands had an unmatched punk sort of energy to them that seemed to dwindle once new wave blew up and started getting bigger budgets, glossier production, and radio attention. These bands represented the perfect middle-ground between a purist minimal wave sound and full-on new wave. The pop sensibility and synth-centric instrumentation of new wave was there early on, but the gritty production and often ungraceful vocal performances give them their unique blend. The synth leads pierced and shredded, like guitar solos - they were louder than everything else. These bands weaved in and out of minor and major scales like composition had no rules, and in their own bizarre planes of neutralism they managed to conjure up a very special romanticism that I've not found or felt in any other sub-genre pockets.
What do you do to stay mentally healthy in such a chaotic city like Los Angeles?
This.
What plans do you have in the forthcoming months in 2020?
Perhaps exactly what you would expect. We plan to start performing live in early 2020, and of course, we aim to do a new LP as soon as possible. A tour would be a dream.
For more information:
https://www.facebook.com/MoreEphemerol/
William ZIMMERMAN
12/04/2020
---