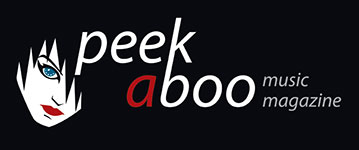 like this interview
---
NZ
Attitude And Passion
09/04/2020, Stef COLDHEART
photos: © Benny Serneels
---
I discovered the Austrian NZ-duo a few years ago. The band got signed on the now defunct Emmo.biz Records and released the impressive EP-trilogy "Aggressions", "Raw And Pure" and "Against You". Daniel and Jürgen are dealing with old-school EBM, which is reminding some of the Masters in the genre. NZ last year joined hands together with Infacted Recordings and unleashed the album "One Of Us". This work features reworked songs from the EP's plus a small amount of new tracks. "One Of Us" is without a shadow of a doubt one of the best EBM albums from the past year while NZ is for sure one of the most talented projects in their music genre. I'd a chat with both protagonists.

First things first, how did you guys meet and tell us a bit more about your music background, the way you got contaminated by the EBM virus, the name NZ and Nitzer Ebb, which appears to be an important source of inspiration?
We know each other for a long time and of course electronic based music was and is our common passion. We met as teenagers at the most famous underground club in town. We were not really friends from the beginning. But electronic music brought us together when we realized we like the same things.
This aspect was definitely the reason for the start of our friendship and our project NZ. It was this development from music consumers through music presenters to music creators. We didn't live in the same area, but we both started DJ'ing and organizing parties apart from each other. We wanted to present to the people that kind of electronic music we liked. And of course we started to know us better after a while.
Sometime in the 90's we decided to start making music by our own and of course at this time Nitzer Ebb was an inspiration as other bands like DAF or Laibach. We had a very experimental approach using some old analogue vintage synthesizers and samplers. It was indeed a really good time to explore and discover everything around our own demands without having plans to publish or release something. It was just for fun and just for us.
Yes, the name… We guess for a band it's always difficult to find a name that fits. And it really took us quite a long time until we found ours. The search for the band name started before we even knew we would release something. And the name changed during this period a few times. Finally it was a coincidence.
When Daniel went to the school of arts and crafts he created a logo as a design study based on a local newspaper called "Neue Zeit". After years he found this NZ-logo again and with its simplicity, minimalism, reduction and deconstruction it seemed to be a good visual example for the style of our music. So we tried to find a fitting name with an "N" and a "Z". But all the names we tried to create felt a bit artificial and factitious. At least it was Jürgen's suggestion to keep it simple and just to take the "NZ" as the name. And that made absolutely sense with its simplicity, minimalism and reduction -so the name NZ was born.
We had a lot of inspiration during our search for the right sound of our music. But finally in best case you produce the music you like if you take it serious. For us Nitzer Ebb was always more than just a band. We see Nitzer Ebb as a specific style of music with its minimalistic, but strong and aggressive sound and this is the music we like.

In a massive interview about EBM I now made a few years ago you claimed EBM to you is 'attitude and passion'. Can you give us a bit more details and especially about the 'attitude'? Do you see it a different way today?
No, nothing changed since we answered your question. It's a special kind of powerful and energetic electronic dance music, which needs to be done with 'attitude and passion'. If we link these words to NZ and our own standards we always try to do it with attitude and passion to get the results we want to achieve. I think we are our own main critics with a high effort to fulfill our own demands. That's our attitude!

Things went really fast for NZ. You released 3 official EP's from 2014 till 2015 on Emmo.biz featuring a total amount of 14 songs. The EP's got released next as a collector's box CD edition in 2015, but we next had to wait till 2019 to get you back with new work. How do you look back at your early work and what explains this silence till the "One Of Us"-album?
We look back at this early work in a very positive way, because all things worked very well for us after releasing our EPs. But the release of our "Raw And Pure – Aggressions – Against You!"-trilogy was just the first step we did; followed by a lot of things we worked on since 2015. After getting booked to play live at bigger festivals like "WGT" and "Bodyfest" we needed to work on and prepare our live performance. Additionally we did some quite nice remix works for great bands like Die Krupps, Nitzer Ebb, Sarah Noxx, Orange Sector, Alien Vampires, Amnistia and Trilogy.
In 2017 the end of our former label Emmo.biz caused also a longer break in our planned timetable to release "One Of Us" by the need to search for a new label. So there was less silence than people may expect.

I heard from Orange Sector they put you in touch with Infacted Recordings. How did it really happen and tell us something more about your 'relation/friendship' with Orange Sector? And is there something like an EBM community? What are your experiences thus far?
As a part of the scene and playing live on stage at some festivals it's pretty normal to get in touch with other bands. Already from our beginning at Emmo.biz Records, Martin from Orange Sector liked our music and at the "E-Only"-festival in Leipzig in 2017 we had the possibility to meet him in person. At this time we already knew that Emmo.biz would stop its activities and so we had to find another label. So what's easier than talking to other bands and asking them about their own experiences? At the end of 2018 we met Martin again and he told us only good things about Torben Schmidt's label Infacted Recordings. And yes, it was Martin who put us in touch with Torben. We are really grateful therefore.
And now we are a part of Infacted Recordings beside Orange Sector and a lot of other fantastic bands and artists. In general it's always good to get in touch with other bands and artists within and outside the scene. We made a lot of great friendships over the past years. We are grateful therefore too.

"One Of Us" is a selection from reworked and remastered songs from the three aforementioned EP's plus new songs. How did the production of this album happen? What did you try to improve in the 'old' songs and tell us something about the new ones and especially the surprising track with Sara Noxx?
NZ: The release of "One Of Us" was already planned for a long time as the next step after the Trilogy Collectors Box of our EPs. But with the loss of our former record label we needed to shift the release date until we had a new label in 2019. On one hand it was not planned of course to have a delay like this because we knew people wanted to have some new NZ stuff, but on the other hand we got the chance to rework and rethink some aspects of the album within a longer period of time. Retrospectively it was good to have more time to produce the new songs, do some rework on some already known tracks and do the whole mixing and mastering by us this time.
One main focus on "One Of Us" was five new tracks. It was always our plan in relationship to our released EP's to produce new tracks with the names of the EPs. So there is not only an EP called "Raw And Pure", there should be also a new song on the album called "Raw And Pure". And it was the same with "Aggressions" and "Against You!". With these new tracks on the album we wanted to complete and fulfill this first 'era' of NZ. Additionally the album "One Of Us" contains the new tracks "S.F.R.Y." and "Without You – feat. Sara Noxx".
The cooperation with Sara Noxx was based on a remix request from her management three years ago. They asked us for a danceable club-version of the song "My World Doesn't Revolve Without You", which was released on Sara's limited edition of "Entre Quatre Yeuxx". The original version was a quite slow and piano based track. We did this remix on the basis of a NZ track, which was only a short sequence-idea at that time. Finally we created a whole new song and combined her great voice with our idea of a danceable club-version. It was definitely one of our favorites and that's why we made an own version for our album with the approval of Sara Noxx. That's the story behind "Without You".
For the other tracks, which were already released on our EPs we did it in a totally different way. As you know time doesn't stand still and within the last years we always tried to improve our knowledge, skills and our possibilities in the studio. So it was a perfect chance to improve these songs and let them sound in newer versions. At the end we did everything by our own and that's an aspect we are very proud of!

You clearly pay some importance to the artwork of your releases, which reveal some uniformity and artistic sobriety. Here again it's easy to make a link with early Nitzer Ebb artwork while the colors you're using might remind some historic propaganda. What can you tell us about the artwork and its meaning?
NZ: If people think we just wanted to remind some historic propaganda with the chosen colors, they are on a totally wrong way. The whole story started we wanted to get the artwork fitting to our music; minimalist, reduced and simplified as possible just like our songs. 'What you see is what you get' was the intension. First we thought about just using black and white but then there was something missing. It wasn't intense and strong enough, as we wanted. So the color red was the perfect addition. To use it as a signal color. Red means danger and red is an aggressive and powerful opposite to black and white. The combination of these three colors fits that perfectly to our concept to release three EP's by varying these colors. We didn't want to use any additional symbols or something else. So we put the colors and 'NZ' in the focus of our artwork.
Yes, it's easy to make the link to Nitzer Ebb's imagery –and that's okay. Influences? Yes, of course! What you see is what you get. Perfect! But in our opinion that's much too easy considering the whole artwork-concept we did for the three EP's and the album. Our second choice was orange, but do you think we could do that? (lol)
Maybe it's not the best property within the scene to compare everything new with something old and characterize it just by that. It's lousy and boring to discuss about that. It makes people blind for new things. They should be more open-minded regarding new bands who created something with 'attitude and passion'. It's not needed to compare everything, but it's needed to listen to. In general there should be more curiosity and respect, especially between people who like the same things or same music.
We do what we like and we will not change that.
Thank you for this interview! And cheers to all of our fans out there! You are 'One Of Us'!
Stef COLDHEART
09/04/2020
---