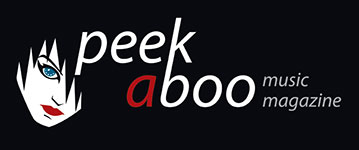 like this interview

---
EMPUSAE
Het wordt een heel intense trip doorheen donkere wouden, gelukzalige natuur, bedrukkende menselijke nederzettingen, complete donkerheid met dan heel af een toe een dwalend lichtje...
01/06/2017, Jurgen BRAECKEVELT
---
With the Leipzig Wave Gothic Treffen kicking off in the next days we decided to have a chat with the Belgian band delegation who will be present and performing at this year's WGT. We proudly present to you: Empusae!
Empusae has been an establised value for almost 20 years in the dark electronica scene. Recently, the new album Lueur was released. What is this album about?
Lueur (glow) is a very personal record that I wrote as exorcism / therapy, in order to cope with an incurable eye disease that has recently been identified. Retinitis Pigmentosa is a rare genetic disease that eventually blinds (between 2 and 20 years). The two numbers describe everything that I feel, fear, experience, think about the condition.
What evolution do you see through the 20 years that you are active with Empusae and what were / have been important eras for you personally?
Looking back at the last 20 years, I notice that my music style might have evolved, but it still has the same character. A combination of the dark melancholy, ugliness vs beauty, tragedy vs. hope, etc. Each record was exactly what I wanted to express at that given time.
Nicolas, on the last album you work with Colin H Van Eeckhout (including Amenra, Sembler Deah, Kigdom,...). How did this collaboration come about and what does it bring to your music?
When I was composing Guiding Light I discovered at some point something was missing, it became quite clear what it was; Colin's voice. I needed that expression and emotion that I myself could not express. When he reacted enthusiasticly to this idea I decided to compose the rest of the record with his contribution in mind. He completely understood what I wanted to express, so he perfectly embodied what I had in my mind, both vocally and lyric wise.
What are the topics and themes you want to bring to our attention, by and with your music?
Empusae was and remains a project to express my personal feelings and thoughts, as a "soundtrack for the imaginary". The beginning might have been less conceptual, and more pure atmosphere creation. With 'The Hatred Of Trees, the music in my mind became more visual and more thematic. My album Lueur speaks for itself I guess.
Your music is a melting pot of influences and styles, yet you have a very distinctive sound. What is the secret ingredient that gives Empusae this distinctive taste?
I think it's the combination of electronic and acoustic instruments, the typical melancholy in the melodies and the orchestral rhythms and compositions. The contrast between beauty and the dark, disturbing and threatening character. And the fact that it is very narrative is also typical.
In addition to the spherical music, the visuals are also a part of Empusae. Are they essential to you, and what do they add?
Since some time, but especially now since 'Lueur', the visuals by Christel Morvan (Nesisart) have a major (mutual) influence during the production process. Since Christel is my life partner, both creation processes are a symbiosis. She therefore perfectly captures the music and translates into images (cover art and live visuals). What she did for this release made me cry and was even terrifying because she seemed to be able to penetrate my mind so deep. There is so much symbolic and conceptual effect in her images that they touched me so deeply, I was very surprised and moved by them. She managed to extracts certain things from my compositions and concepts that I myself was not aware of. Scary!
WGT 2017. Empusae on stage. What can we expect from the performance of Empusae?
For WGT, Christel and I will present 'Lueur.' It's going to be a very intense trip through dark forests, blissful nature, depressed human settlements, complete darkness with a very dull light. Visual and musical "sadness", fear, pain, hope, passion, creative as well as crushing energy.
When you are in Leipzig, what bands do you want to see yourself and do you have tips for bands that the visitors should see there?
In any case, I can recommend another project that I'm part of, playing on the same night in the Kuppelhalle, Ordo Rosarius Equilibrio. The line-up of this venue on that night (June 2nd) is a must! Sylvgeist Maelstrom, I really want to see too. My friend "Peter Bjärgö" (Arcana, Sophia,...) with whom I started the 'Onus' project a number of years ago is also definitely recommended. That guy is a genius, beautiful compositions of pure melancholy with a phenomenal voice!
Jurgen BRAECKEVELT
01/06/2017
---
We gaan even op de koffie bij Belgische bands die ten dans spelen op WGT 2017. We proudly present to you: Empusae !
Empusae is al bijna 20 jaar een vaste waarde in de donkere electronica-scene. Recentelijk verscheen het nieuwe album Lueur. Waarin zit de eigenheid van dit album?
Lueur (gloed) is een heel persoonlijke plaat die ik geschreven heb als exorcisme/therapie, om te kunnen omgaan met een ongeneeslijke oogziekte die onlangs is vastgesteld. Retinitis Pigmentosa is een zeldzame genetische ziekte die op termijn (tussen 2 en 20 jaar) blind maakt. De twee nummers beschrijven alles wat ik voel, vrees, ervaar, denk omtrent de aandoening.
Welke evolutie zie je zelf doorheen de 20 jaar dat je met Empusae bezig bent en welke waren/zijn daarin belangrijke momenten voor jou persoonlijk geweest?

Als ik nu terugkijk op die afgelopen 20 jaar merk ik dat het qua stijl best wel geëvolueerd is, maar nog steeds dezelfde eigenheid heeft. Een combinatie van het donkere met het melancholische, lelijk vs mooi, tragiek vs hoop, etc. Elke plaat op zich was op het moment dat die uitkwam een concrete uitwerking van wat ik toen wou uitdrukken.

Nicolas, op het laatste album werk je samen met Colin H Van Eeckhout (o.a. Amenra, Sembler Deah, Kigdom,…). Hoe is die tot stand gekomen en wat doet dat met jouw muziek?

Toen ik Guiding Light aan het componerenwas, ontdekte ik op een bepaald moment dat er iets ontbrak. Wat dat was werd vrij snel duidelijk: Colins stem. Ik had die nodig voor een bepaalde expressie en emotie die ikzelf niet kon uitdrukken. Toen hij enthousiast was over het project, is de rest van de plaat uitgewerkt met zijn bijdrage in gedachten. Hij snapte helemaal wat ik wou uitdrukken en voerde dan ook perfect uit wat ik in mijn hoofd had, zowel vocaal als tekstueel.

Wat zijn vandaag de thema's en onderwerpen die je in, door en met je muziek onder de aandacht wil brengen?

Empusae was en blijft een project om me persoonlijk te uiten via het componeren van een "soundtrack for the imaginary". In de beginperiode was het minder conceptueel, puur sfeercreatie. Met "the hatred of trees" werd de muziek in mijn hoofd iets visueler en meer thematisch. Bij Lueur spreekt het voor zich.

Je muziek is een melting pot van invloeden en stijlen, en toch heb je een heel aparte sound. Welk ingrediënt dat geeft Empusae die aparte smaak?

De combinatie van electronica en akoestisch. De typische melancholie in de melodieën. De orkestrale ritmiek en composities. Het mooie dat contrasteerde met het donkere, storende, dreigende karakter. En het feit dat het heel verhalend is, is ook wel typerend.

Naast de sferische muziek, zijn ook de visuals een deel van het Empusae gebeuren. Zijn die essentieel en wat brengen die extra?

Sinds een aantal releases van Empusae, maar vooral bij Lueur, zijn de visuals door Christel Morvan (Nesisart) een grote (wederzijdse) invloed tijdens het proces. Aangezien Christel ook mijn levenspartner is, zijn beide creatieprocessen een symbiose. Ze vat dan ook perfect de muziek, die ze vertaalt in beelden (cover art en live visuals). Wat ze voor die plaat heeft gemaakt, heeft me doen wenen en was op bepaalde momenten zelfs angstaanjagend, omdat ze zo diep in mijn geest kwam. Er zit zoveel symboliek en conceptuele uitwerking in haar beelden die me zo diep hebben beroerd, verrast en ontroerd. Ze haalt dingen uit mijn composities en concepten waarvan ik geen weet had dat ze aanwezig waren. Scary!

WGT 2017. Empusae on stage. Wat mogen we van het optreden van Empusae verwachten?

Op WGT gaan Christel en ik Lueur voorstellen. Het wordt een heel intense trip doorheen donkere wouden, gelukzalige natuur, bedrukkende menselijke nederzettingen, complete donkerheid met dan heel af een toe een dwalend lichtje. Visuele en muzikale "tristesse", angst, pijn, hoop, passie, creatieve alsook verpletterende energie.

Als je toch in Leipzig bent, welke bands wil je zelf gaan bekijken en heb je tips voor bands die de bezoekers volgens jou moeten zien aldaar?

Ik kan jullie in ieder geval een ander project aanraden waarvan ik deel uit maak, op dezelfde avond in de Kuppelhalle: Ordo Rosarius Equilibrio. De line up van deze venue op die avond (2 juni) is een volledige aanrader. Sylvgeist Maelstrom wil ik absoluut ook gaan zien. Mijn vriend "Peter Bjärgö" (Arcana, Sophia,..) met wie ik een het project "Onus" ben gestart een aantal jaren geleden is een absolute aanrader. Die gast is een genie: prachtige composities van pure melancholie met een fenomenale stem!
Jurgen BRAECKEVELT
01/06/2017
---