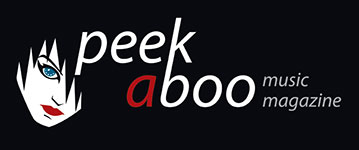 like this interview
---
SOLDOUT
'We never think about what we want to do before'
12/04/2017, Stef COLDHEART
---
Charlotte Maison and David Baboulis, better known as the Brussels indie-pop duo Soldout, recently released their sixth studio album "Forever". The band started with the album "Stop Talking" in 2004, which according to me was a bit like the Belgian answer to Miss Kittin & The Hacker. Quite progressively the sound evolved towards a more electro-pop and indie-like approach while Soldout gained a serious reputation in the Belgian indie-pop and a growing interest from other countries. I got in touch with the really kind and accessible Charlotte Maison.
From the debut album "Stop Talking" (2004) towards the new opus "Forever" I cannot help but observe that you guys have seriously evolved in style and global sound production. How do you analyze this evolution?
Charlotte: I hope we're getting better!!! (laughs) Well we are not the same persons than 10 years ago, we are constantly evolving as human beings, we are learning, travelling, testing new things, changing our minds, so I guess that naturally translates into an evolution in our music.
It would be so boring for us to make the same album all over again, we like to test new things, and to bring a new sound each time. This time we wanted to focus more on my voice, so the tempo slows down a bit, and my voice sits differently on the music. We also were open to collaborations; we collaborated on the single "Do It Again" with Goose, with Darko on "Opression", with Victor le Masne (on drums and hammond organ) on "Oppression", "Forever" and "Fallen"… and of course with Maya Postepski (Austra), who co-produced a whole part of this album with us.
Maya, who was the 'outsider' as a producer, just arrived in Belgium that year, and didn't know our band before, so she had no judgement on what we made before, she totally fell in love with our demos, so it was very easy working with her.
So it's the first time we let other artists so far in the production process. I guess that as a young artist you wanna keep everything to yourself, and you're scared of collaborations, but now we're more mature, and we like to work with others.
You already referred to the collaboration with Maya Postepski from Austra who's a bit like an extra member now, right?
Charlotte: I can add that when we finished the album, Maya came with us on a tour in China, we played 7 shows in China with her on the drums, and it was amazing, you can see videos of this crazy tour on our facebook page.
https://www.facebook.com/wearesoldout/videos/10154192688003779/
https://www.facebook.com/wearesoldout/videos/10154206644363779/
https://www.facebook.com/wearesoldout/videos/10154221086053779/
How the hell did you go on tour in China and what stayed in your mind from this experience?
Charlotte: It was the first time we were going to Asia. We last Summer were contacted by a Chinese music label. At first we thought it was a spam, then we realized it was a real offer, and we signed with them. Soon after, they offered to organize a tour, 7 shows in 8 days, it was very exciting.
We decided to go with Maya, so we could play together before she would leave on tour with Austra. It was also a great way to prepare the new tracks, and test things. The tour was crazy, people were really responsive, and we played in really cool alternative venues. We travelled a lot, took a lot of airplanes, and train, we ate really good things, and really bad things too… Overall it was a great experience and we hope we'll be back in China one day

What kind of album did you have in mind when starting the writing of "Forever" and what have been the main difficulties you encountered?
We never think about what we want to do before, we just write things and we see what comes out. After writing a lot of tiny bits of ideas, we organize everything into what could be an album. We never consciously decide the direction we take, it's something that comes to us naturally…
We didn't have so much difficulties in the production process, for me the mix is more complex. David does a lot of mixing before the mix, so it's already halfway there, so it's sometimes hard to let go his ideas and let another mixer do his own thing. So it's a bit more tricky cause we want another mixer to do his thing, but at the same time we want to keep our sound!! It took a bit of time and a lot of concentration and communication to get exactly where we all wanted.
From a pure technical point of view "Forever" appears to me your most professional album so far. Tell us a bit more about the production process and what are your criteria/references when producing your music?
Technically David is getting better with the production process, we also had the input of all the other artists who collaborated with us, so I guess 'l'union fait la force'. On the mix, we worked with an amazing mixer called Marta Salogni. She lives in London and was introduced to us by David Wrench (another great mixer). She is still young, but she already has so much experience! We were very impressed by her work, she mixed half of the album.
We also worked with Bart Demey (Nid and Sancy), Elsa Grelot, and Jean Vanesse, they are all very talented, and they certainly brought our tracks further.
About our references, we didn't have any clear reference in mind, but we wanted a wider sound, specially for the more minimal tracks like "My Love", there is not a lot of elements in this track, a big bass, a beat and a harp… so we wanted these to sound big.

Even if I noticed an evolution in influences on "Forever" your sound remains driven by good-old analogue sound treatments. I guess you don't really like working with easy software synths getting a sound like numerous other bands. What do you think?
We actually like to work on software synths too!! But we have to chose them wisely. Of course we have a few good analog synths, the Moog Voyager (you can hear it on "Breaks" spaceship sounds), the Roland SH101 (that we liked to have out of tune on the track "DUNE"),….

Your previous album "Puppylove" (2014) was a soundtrack for the same-titled movie from Delphine Lehericey. Congratulations by the way as this soundtrack got a 'Magritte'-award, but what did you experience as the main difference between working on a soundtrack and a regular album?
We loved it so much! We really want to work more on movies. Delphine is an great director who knew exactly why she wanted to work with us. She had a precise idea of the music she wanted, so she worked with us like another member of the band. Even if she can't do music, it was really fun to work with her. We wrote the demos just on the script, with no images, then they shot the film, and we worked closely with the editor and Delphine to fit the scenes perfectly.
We also felt more 'free' cause it was not our own album, so we dared things that we wouldn't have done for ourselves. I'm not sure I would have get the idea of a cover of Pet Shop Boys (cf. "It's A Sin") if it wasn't for this movie!!!
The track "To The Ocean", was written for a 'teenage dance party scene' so we tried our best to have this naïve and danceable pop track and it is now one of my favorite tracks on this album ;)

Writing music for films, documentaries, but still video games and advertisements probably is a less familiar side of Soldout. What fascinates you about this subject?
We like to write music on images, so of course the movies and documentaries are great ways to write new music. Sometimes we get a call to try something for a trailer, they ask us, and a dozen other artists, so it's kind of a contest…. and we write something very fast, cause it's very inspiring. In the end, even if the track doesn't make it, we still have it, and we can use it for something else.
For instance we were asked to write something for the trailer of "Assassins Creed" new game, and we started a track that was turned down for the game, but we modified it, turned it into a song, and it ended on our album….

I think that except your debut albums released on Anorak Supersport all self-released albums on Flatcat Recordings were next to the CD-version still released on vinyl. What do you like about the vinyl format?
It's probably because people like more and more to buy vinyls, and I think it's a nicer object to have than a CD. The sound is different, the way you listen to music is different, with the two sides, the way you used it etc… It's like a luxury piece of merch…. It's the most beautiful format that exists right now, quite expensive to make but it's worth it!
SOLDOUT on Facebook
www.soldout.be
Stef COLDHEART
12/04/2017
---