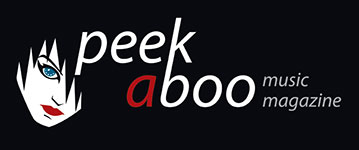 like this interview
---
FROZEN NATION
2017 Dark Demo(n)s candidate
17/03/2017, Fred GADGET
---
As we at Peek-a-Boo are all about supporting the alternative and underground scene we thought it was only right to put our shoulders underneath the ambitious Dark Demons project initiated by BodyBeats Productions. As opportunities to play under the best conditions for smaller or lesser known bands out there are few and far between we feel the need to support this in the best way we can... So we decided to interview all the 2017 Dark Demon Night candidates and let them present themselves to you one-by-one.
So here we go!
Band:
FROZEN NATION

Style:
Dark Belgian Disco
Location:
Brussels

Short Bio:
D&D Moss and Elvis met upon Brussels' hills at Spector Studio, winter was harsh it was the perfect time to create Dark Belgian Disco. Frozen Nation released their 1st single "I Failed For You" a few months later and played their first concert when they had only 2 songs. "I Failed For You" was playlisted on many dark, goth and synthpop radio programs all over the world, receiving critical acclaim but waiting for further tracks to make a proper judgement, the band's first LP is now almost completely recorded so we have to stay tuned to know more about their music.
The Dark Demons Interview:
Can you please introduce yourself/your band to our readers?

Hi, we are Frozen Nation, Moss on vocals, D&D on drums, guitar & synth and Elvis the unique modular synthesizer built by an unknown inventor during the 70s. We invented a new musical style: Dark Belgian Disco, it consists of dark vocals on a disco beat and it's made in Belgium.


When and why did you decide to start your own musical project?
D&D and Moss met at Spector Studio in Brussels, they realised they shared the same passion for post-punk and cold-wave artists. 2 years ago D&D jammed with Moss on an Elvis' sequence making the basic tracks for what would become I Failed for You, our first single. Since then we composed many other tracks and we are currently finishing our debut LP.


Why did you choose this bandname and what does it mean (to you)?

D&D had the idea of making some really cold music, they went to Belgium for that and lived in an unheated place during winters because they thought music is the reflection of a way of life. Moss had already been a true Nervian for several generations. Thus : Frozen Nation.


What are the major topics you tend to write and compose about?

Music! We build catchy melodies and riffs on the foundation of dance music with sombre and melancholy lyrics in an electronic way with real drums.


Can you tell our readers why they should vote for you?

We thought we were Dark, but when we listened to the other candidates who are all very industrial we realised we were like f**ing Ed Sheeran compared to them, vote for us you'll have something different! Discover the Dark Belgian Disco, it's sad and it's fun!
Vote for FROZEN NATION here!

More info about Dark Demons NIGHT III @ Oude Badhuis - Antwerp - B on June 17th
Fred GADGET
17/03/2017
---
Aangezien het bij Peek-a-Boo allemaal draait om het steunen van de alternative en underground scene, vonden we het niet meer dan normaal om onze schouders te zetten onder het ambitieuze Dark Demons project dat opgestart werd door BodyBeats Productions. Omdat er voor de kleinere of minder bekende bands weinig gelegenheden zijn om te spelen in goede omstandigheden, voelden we de nood dit zo goed mogelijk te ondersteunen... Dus beslisten we om alle kandidaten voor de Dark Demon Night te interviewen en hen zich een voor een te laten voorstellen.
Hier gaan we dan!
Band:
FROZEN NATION

Stijl:
Dark Belgian Disco
Locatie:
Brussel

Korte Bio:
D&D Moss and Elvis ontmoetten elkaar in het Brusselse in de Spector Studio. De winter was streng en het was de perfecte tijd om Dark Belgian Electro te maken. Frozen Nation bracht enkele maanden later de eerste single uit en trad een eerste keer op toen ze nog maar 2 songs hadden. "I Failed Failed For You" haalde de playlists van vele dark, goth en synthpop radioprogramma's over de hele wereld. Het kreeg goede kritieken maarhet was wachten op meer tracks om een degelijk oordeel te vellen. De eerste LP van de band is nu bijna volledeg opgenomen, dus we moeten blijven luisteren om meer te weten te komen over hun muziek.
Dark Demons Interview:
Kunnen jullie jezelf/jullie band even voorstellen aan onze lezers?
Hallo, wij zijn Frozen Nation, Moss voor de zang, D&D drums & synth en Elvis de unieke modulaire synthesizer die in de jaren 70 gebouwd werd door een onbekende uitvinder. We hebben een nieuwe muziekstijl uitgevonden: Dark Belgian Disco, die bestaat uit donkere vocals op een disco beat en die is made in Belgium.



Wanneer en waarom zijn jullie zelf met een muzikaal project gestart?
D&D en Moss leerden elkaar kennen in de Spector Studio in Burssel. Ze beseften dat ze hun passie voor post-punk en cold-wave artiesten deelden. Twee jaar geleden waren D&D aan het jammen met Moss op een sequence van Elvis en toen werd de basis gelegd voor wat later I Failes for You zou worden, onze eerste single. Sindsdien hebben we veel andere tracks gecomponeerd en momenteel leggen we de laatste hand aan onze eerste LP.
Waarom kozen jullie deze naam voor jullie band en wat betekent die (voor jullie)?
D&D wilden heel erg koude muziek maken. Ze gingen daarom naar België en woonden in een plaats zonder verwarming in de winter omdat ze dachten dat muziek een manier van leven reflecteert. Moss was al verschillende generaties lang een echte Nerviër. Vandaar: Frozen Nation.
Wat zijn de belangrijsket thema's waarover jullie schrijven en componeren?
Muziek! We maken catchy melodieën en riffs op een basis van dansmuziek met sombere en melancholische teksten, op een electronische manier met echte drums.

Kunnen jullie onze lezers uitleggen waarom ze op jullie moeten stemmen?
We dachten dat we Dark waren, maar toen we naar de andere kandidaten luisteren, die allemaal heel erg industrial zijn, beseften we dat we in vergelijking met hen f**ing Ed Sheeran zijn. Stem op ons en je zal iets anders hebben. Ontdek de Dark Begian Disco, die is droevig en vrolijk!
Fred GADGET
17/03/2017
---