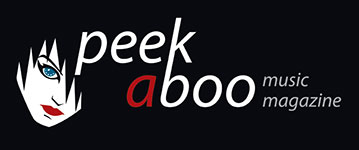 like this interview
---
ROTERSAND
'SOME BANDS ARE A COMPLETE PRESET, IN THEIR LOOK, IMAGE, SOUND LYRICS, PERFORMANCE, VISUALS, EVERYTHING…'
17/02/2017, Stef COLDHEART
photos: © Marquis(pi)X
---
'SOME BANDS ARE A COMPLETE PRESET, IN THEIR LOOK, IMAGE, SOUND, LYRICS, PERFORMANCE, VISUALS, EVERYTHING…'
The new Rotersand album "Capitalism TM" definitely was one of the main releases from late 2016. The German duo released their first new opus since "Random Is Resistance" (2009). The album has been released on Trisol and was an excellent opportunity to get in touch with sound maker Krischan Wesenberg.

'Capitalism TM' is the first 'new' Rotersand album since 'Random Is Resistance' (2009) so how do you explain this long 'break' and how does it feel now to be back?
Krischan: There's nothing to explain. We were just busy doing other things in life and music. We constantly played live during this time, but of course it feels good to actively write and produce Rotersand-tracks again.

The title of the album sounds interesting and seems to hide a critical perception about our Western world and its way of living. What did you try to express and eventually transpose in the front cover of the album?
From our point of view it's more about the sociological aspects, about the impact of the Western economical system on society and the individual. The cover tries to display a bunch of aspects out of this field: e.g. the state of being surrounded by so many material things that you feel lost in a stream of item-noise; the state of defining yourself (and your value) through brands and money...

The global production of 'Capitalism TM' again reflects a real passion and fascination for sound creation, which always has made the particularity of Rotersand! Can you tell us a bit more about the creation of your sounds?
It's an organic process; particular sound-spectra are evolving, growing, getting shaped, deleted, carved out. A bit of trial and error, a bit of it focused on a vision for a certain kind of feel or mood we want to create (which mostly is infused by the lyrics)

The song 'Welcome Home' is not exactly one of my favorites although it's an intriguing track reminding me of David Bowie (in an electronic version). What can you say about this song?
Thanks for the Bowie-reference; this makes us proud. It's a song describing a situation where someone (in this case a girlish-avatar we named Sarah) gets lost in consuming goods and starts defining herself through the resonance in social media (stuff that we daily face on Instagram or Youtube), up to point where this kind of shopping-and-presentation-habit becomes a home to her, a safe place to gain attention or even respect.

Krischan, I think you're one of the very few underground artists who really cares about sound creation. I mean you're not into cheap preset sounds and soft synth programs so what do you think of all these bands today sharing the same sound?
We are also using presets. They can be a good source of inspiration (alongside other sources); there are so many presets for synths out there that sometimes creating a sound from scratch is faster than searching for that one particular fitting preset.
So my main point about the bands you are referring to isn't their use of preset-sounds (or sounds that sound like preset-sounds), it's more about their mindset. To me it feels like some bands are a complete preset, in their look, image, sound, lyrics, performance, visuals, everything… like a copy of a copy of a copy (I know it's a cheeky quote).

You've been asked often to (co-)produce albums of other bands. What's your real impact in this production process and do you have favorite producers (as reference or source of inspiration)?
Obviously sound design, production and programming (mostly beat-programming), mixing, mastering. But also dramaturgical questions about song-structures. and -what gets usually forgotten- social management within the band I am working for, moderating the different characters and expectations.
I have a bunch of producers I like and respect a lot for different reasons, so I just mention a few that pop into my mind now:
In the 'scene' I really enjoy Olaf Wollschläger's (Mesh, In Strict Confidence, Beyond Obsession...) productions for being as close to pop-, mainstream-production-quality as it gets without losing a scene-touch, very professional and hi-quality.
Outside the scene I really enjoy Gui Boratto's (as artist and as producer for e.g. Bomb the Bass) work. He has got a certain kind of fascinating lushness and emotional warmth to his sound.
And I also have to mention Robert Hood and Kenny Larkin who are always able to catch me with nearly everything they release. I am bound to their detailed way to boil a track down to a minimal and nearly pure structure without losing emotional content and impact (at least for me).
Stef COLDHEART
17/02/2017
---
"SOMMIGE BANDS ZIJN VOLLEDIG VOORGEPROGRAMMEERD, IN HUN LOOK, IMAGE, GELUID, TEKSTEN, OPTREDEN, VISUALS, ALLES..."
Het nieuwe album Capitalsm TM van Rotersand was zonder twijfel een van de belangrijkste releases van eind 2016. Het Duitse duo bracht hun eerste nieuwe opus uit sinds Random Is Resistance uit 2009. Het album is uitgebracht door Trisol en vormde een uitstekende gelegenheid om contact op te nemen met geluidsmaker Krischan Wesenberg.
"Capitalism TM" is het eerste "nieuwe" Roterdand album sinds "Random Is Resistance" uit 2009. Vanwaar deze lange "pauze" en hoe voelt het om weer terug te zijn?
Krischan: Er valt niets uit te leggen. We waren alleen maar bezig met andere dingen in het leven en de muziek. We hebben gedurende deze periode voortdurend live gespeeld, maar natuurlijk voelt het goed om weer actief Rotersand tracks te schrijven en produceren.
De titel van het album klinkt interessant en lijkt een kritische blik op onze Westerse wereld en zijn manier van leven te verbergen. Wat probeerden jullie uit te drukken en uiteindelijk om te zetten naar de cover van het album?
In onze ogen gaat het meer om de sociologische aspecten, over de impact van het Westerse economische systeem op de maatschappij en het individu. De cover probeert een hoop aspecten uit dit veld in beeld te brengen, bijv. omringd zijn door zo veel materiele zaken dat je je verloren voelt in een stroom van voorwerp-geluid; jezelf (en je waarden) definieren door merken en geld...
De wereldwijde productie van "Capitalism TM" geeft ook een echte passie en fascinatie voor geluidscreatie weer, een van de kenmerkende eigenschappen van Rotersand. Kun je ons iets meer vertellen over het onstaan van jullie geluid?
Het is een organisch proces: bepaalde geluidsspectra evolueren, groeien, worden gevormd, verwijderd, uitgesneden. Een proces van vallen en opstaan enerzijds en een focus op de visie voor een bepaald gevoel, een bepaalde stemming die we willen creeren anderzijds (en die meestal door de tekst wordt versterkt).
"Welcome Home" is niet direct mijn favoriete nummer, alhoewel het een intrigerende track is die me doet denken aan David Bowie (in een electronische versie). Wat kun je over dit nummer vertellen?
Bedankt voor de Bowie-verwijzing; daar zijn we trots op. Het nummer gaat over een situatie waarin iemand (in dit geval een meisjes-achtige avatar die we Sarah hebben genoemd) verdwaalt in de consumptie van goederen en zichzelf begint te definieren aan de hand van haar echo in de social media (wat we dagelijks zien op Instagram of Youtube), tot het punt waarop deze manier van kopen-en-presenteren een thuis voor haar wordt, een veilige plek waar ze aandacht en zelfs respect krijgt.
Krischan, ik denk dat jij een van de weinige underground artiesten bent die werkelijk geeft om geluidscreatie. Ik bedoel, je doet niet aan goedkope voorgeprogrammeerde geluiden en soft synth programma's dus wat vind jij van al die bands vandaag de dag die allemaal dezelfde geluiden gebruiken?
Wij gebruiken ook voorgeprogrammeerde geluiden. Ze kunnen een goede bron van inspratie zijn (naast andere bronnen): er zijn zoveel pre-sets voor synths dat het soms sneller is je eigen geluid vanuit het niets te maken dan om die ene passende pre-set te vinden.
Mijn voornaamste punt over de bands waar jij aan refereert is niet hun gebruik van voorgeprogrammeerde geluiden (of geluiden die zo klinken), het is meer hun manier van denken. Voor mij lijken sommige bands volledig voorgeprogrammeerd, in hun look, image, geluid, teksten, optreden, visuals, alles... als een kopie van een kopie van een kopie (ik weet dat dit een brutale uitspraak is).
Je wordt vaak gevraagd om albums van andere bands te (co-)produceren. Wat is you inbreng in dit productie proces en heb je favoriete producers (als referentie of als bron van inspiratie)?
Mijn inbreng is uiteraard geluidsdesign, productie en programmeren (vooral beat programmeren), mixen, masteren. Maar ook dramaturgische vragen over song structuur en (wat vaak wordt vergeten) het sociale management in de band waar ik voor werk zelf, het temperen van de verschillende karakters en verwachtingen.
Er zijn een heleboel producenten waar ik van hou en die ik respecteer om een heleboel verschillende redenen, dus noem ik er slechts een paar die me nu te binnen schieten:
In de "scene" geniet ik vooral van Olaf Wollschläger (Mesh, In Strict Confidence, Beyond Obsession..) zijn producties omdat ze zo dicht mogelijk bij pop- en mainstream productie kwaliteit liggen als maar mogelijk is maar zonder hun scene-touch te verliezen, zeer professioneel en hoge kwaliteit.
Buiten de scene waardeel ik Gui Boratto (als artist en als producent voor bijv. Bomb the Bass) zijn werk. Hij heeft een bepaalde fascinerende weelderigheid en een emotionele warmte in zijn geluid.
En ik moet ook Robert Hood en Kenny Larkin hier noemen, die altijd in staat zijn me te raken met bijna alles dat ze uitbrengen. Ik ben verknocht aan hun gedetailleerde manier om een track tot het minimum terug te brengen, tot een bijne pure structuur maar zonder de emotionele inhoud en impact te verliezen (voor mij in elk geval).
Stef COLDHEART
17/02/2017
---