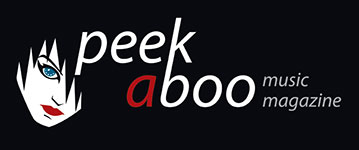 like this interview
---
DEAD WHEN I FOUND HER
'The universe of dark industrial music takes me somewhere I want to be'
18/04/2017, Stef COLDHEART
---
Dead When I Found Her is a solo-project driven by the creative spirit of Michael Holloway. The name of the band comes from a Tom Waits performance, where he is complaining about staying in motels; something like , "it's always the same story, the cops bust in the door, there I am saying 'officer I swear, she was dead when I found her!'" Holloway is deeply into 'Noir' films, novels and music. His music is an elaborate and dark, haunting electro style, which has been often compared to Skinny Puppy and related bands. All productions have been released on Artoffact Records. The fourth full length "Eyes On Backwards" wasreleased at the end of 2016 revealing a new obscure and fascinating work.

I noticed you previously got involved in other music projects (Greebo, Pet Of The Future). Tell us a bit more about this earlier period and what incited you to set up Dead When I Found Her?
Michael: Well you definitely did your homework there! Greebo was my handle as a teenager back in the days of online chat rooms, the whole BBS / dial-up era of the early internet. Pet Of The Future was my first industrial project, also back when I was still a teenager. There are a few songs on some local (Portland) compilation releases but that's about it. I was young and figuring things out.

You claim to be inspired by bands like Skinny Puppy, Gridlock, Haujobb, Doubting Thomas etc. I think it's an easy noticeable element in your own sound but what fascinates you in their sound and approach?
For me it's all about atmosphere. My primary interest with music - both as a listener and as a composer - is that it takes me somewhere. Just like a good movie or a good book, the best music takes you out of time and space, transports you somewhere else fascinating, nostalgic, maybe scary, maybe totally other worldly. So my favourite bands are always the ones who are best at creating that level of depth in the atmosphere. Take "Last Rights" by Skinny Puppy: that doesn't feel like a collection of mere songs, it feels like a whole world with its own unique history and (sonic) language, documented in sound. That's also why I'm not very interested in pop music, just on a personal taste level. It doesn't take me anywhere interesting, it's too concerned with immediate reactions, instant hooks (that doesn't mean I don't love a good melody, though!)

What are the different phases you're going through when writing an album and tell us a bit more about your studio equipment?
I make all of my music with a keyboard controller and software instruments/effects. So I'm 100% 'in the box' as they say. I'm only mildly interested in hardware-basically I see it as cool but expensive and inconvenient. I prefer software. As long as I have physical keys to actually play on (I use a Novation controller), I'm good to go. I do everything in Ableton Live, it's practically my best friend at this point! I tend to prefer older soft-synths to the newer generations ones - Absynth, FM8, Korg Legacy are still my favorites and my most used. So much new stuff has come out but nothing that has improved on those! Though in large part that's because the industry is so focused on analog emulation rather than coming up with new ideas. That's ok (I do love U-he's analog style synths)…but for industrial, I prefer weirder, more obtuse instruments. Absynth has zero concern with emulating the past, and as a result is unlike anything else out there. It might be my favourite. I also use samplers a lot - Kontakt and the one's in Ableton. Samplers are just as important (arguably more so!) for industrial music as synths. It's easily a 50/50 mix with DWIFH.

Last year you released your fourth album "Eyes On Backwards". How do you look back on this work right now and do you see an evolution compared to the previous releases?
I've loosened up a bit - which allows me to be more aggressive and chaotic in my approach to the music, and definitely to the vocals as well but I'm still working, generally speaking, within the same old school industrial music. I'm always learning new production tricks and trying new effects/techniques, so things stay interesting and fresh but the basic genre I'm writing in hasn't really changed at all. That's because of how much I love old school electro-industrial! I haven't tired of it yet, and it seems I perhaps never will…

"Eyes On Backwards" also is the first album, which next to the usual CD format is also available as vinyl. More and more artists are getting back to the vinyl format. Is it pure nostalgia or are there other reasons?
Michael: The vinyl thing was entirely a decision made by the label, Artoffact. They wanted to do it, I said that sounded cool to me, and they handled the rest from there. I think it turned out wonderfully, it's really fun to have the art on that scale, and it does feel weirdly nostalgic to have a modern album in vinyl form. For the label, I think it's simply smart: vinyl is popular, it's selling. Give the people what they want etc!

Your sound is always accomplished with tormented atmospheres. What does this dark (horror) side stand for and what does it reveal about the person behind the musician?
Well, that's asking for a peek behind the curtain and that would be spoiling the mystery, wouldn't it? But I kid; as with all art, it's dangerous to assume anything about the artist based on the fictions they've created…maybe it reflects them, maybe it does not. But honestly, there's no inner-tormented-soul stuff going on here, my pursuit as a musician is an artistic/aesthetic one and also primarily a 100% positive one, even if the themes are often negative. Maybe my love for horror movies and music about death is the gasping voice of some buried, existential dread deep inside me - I don't know. Again, for me it's all about atmosphere. The universe of dark industrial music takes me somewhere I want to be.
Stef COLDHEART
18/04/2017
---