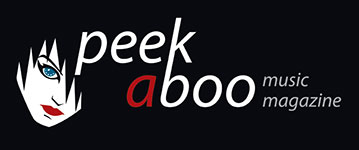 like this interview
---
AROMA DI AMORE
A poetic, quirky, totally un-radio-friendly band. Music for the head, heart and legs. The Flemish Fall, Wire, P.I.L. and Spinvis all in one.
23/03/2012, Filip VAN MUYLEM
photos: © Jan Weynants
---
Aroma Di Amore is not just a band. Brilliant lyrics, rebellious, alternative, sometimes hard to fathom... Everyone is chuffed that they're back, and coming to the Shadowplay Festival! We had a short chat with Elvis Peeters
Aroma di Amore has been in existence for years but was, for a long time, inactive. Was it eating at you?

We where hungry again and eager to restart during the rehearsels for the promoter of 'Onverdeeld', our best of. Seems like we had enough idea's to make a complete new album.
During that time, you've been busy with all sorts of things?
Well, we encountered a lot of other people and worked with them when it felt right. We all did different things. Fred Angst has produced albums with Peter Slabbynck (Red Zebra), Elvis Peeters gave literary concerts, with Dett Peyskens and Gerrit Valckenaers, and Koen Van Roy, worked on albums for Perverted, The Legend, Schmoll and has been writing novels, like 'Dinsdag' which has had a pretty good reception in the press.
Aroma di Amore has been synonymous with very bizarre and special lyrics, how do you come up with them?
One word: inspiration. And secondly: wonder, we all look in amazement at the world around us. That's our vantage point.
Do you think there are Aroma di Amore rip-offs (eg Gorky) or is this a bit harsh?
I think so.
My personal favorites are: 'ik schaamhaar', 'Voor de dood', and 'gorilla danst de Samba'. Any idea what the crowd favorites are?
Perhaps 'Voor de dood'. But "Het Gestich't" is also often requested, as is 'Sporen van Lisa'. I think our cover of Wire also leaves a good impression during gigs.
I could only listen, for the moment, to 'Hoor hoe weent mijn ziel' and 'Hartslag', both sound very good and are great appetizers, is there more?
We have ELEVEN new songs on the new album called 'Samizdat'! Release is on 16th of April
How many groups do you know yourself at Shadowplay and who are you looking forward to seeing?
I only know a few, and fortunately, I'll be able to get to know the other bands. I'm particularly looking forward to Carlos Peron.
Can the fans expect a best-off and there will be a guest singer?
No best of! Many new songs and some surprises from the past.
We're look forward to it!
Filip VAN MUYLEM
23/03/2012
---
Aroma Di Amore is niet zomaar een band. Geniale teksten, opstandig, alternatief, moeilijk te vatten soms... Iedereen is echter maar al te blij dat ze terug zijn. Binnenkort te zien op het Shadowplay festival!
Aroma di Amore bestaat al een hele tijd, zat even in de koelkast, maar na al die jaren eindelijk terug. Kriebelde het teveel?
We kregen er weer zin in, ja, tijdens de repetities voor de promotour van Onverdeeld, ons verzamelalbum, bleek dat we nog genoeg ideeën hadden om iets volledig nieuw te maken.
Jullie zijn al die tijd bezig geweest met allerlei zaken, vertel is?
Je komt andere mensen tegen, dat klikt en je werkt samen, in de periode dat Aroma di Amore on hold was gezet, hebben wij allemaal andere dingen gedaan, Fred Angst heeft platen geproduced, o.a. met Peter Slabbynck, Elvis Peeters gaf literaire concerten, o.a; met dett peyskens, maar ook met Gerrit valckenaers en Koen Van Roy, werkte mee aan platen van Perverted, De Legende, Schmoll en schreef romans , zoals nu Dinsdag dat over het algemeen goed onthaald werd in de pers.
Aroma di Amore staat al jaren voor bizarre en soms grappige teksten, hoe komen jullie er toch telkens op?
Eén woord: inspiratie. En een tweede: verwondering, met een open blik naar de wereld kijken.
Zijn er volgens u ripp offs van Aroma di Amore (bijv. Gorki) of zie ik dit te scherp?
Dat denk ik wel.
Mijn persoonlijke favorieten zijn: 'ik schaam haar', 'Voor de dood', en 'gorilla dans de Samba'. Enig idee wat de publiekslievelingen zijn?
Wellicht 'Voor de dood'. Maar om 'Het gesticht' wordt ook vaak geroepen, en ook om 'Sporen van Lisa'. Ik denk dat onze cover van Wire live ook wel indruk maakt.
Voorlopig kon ik enkel naar 'Hoor hoe weent mijn ziel' en 'Hartslag' luisteren, zijn er nog andere nieuwe nummers? Wat mij betreft is het alvast een geniale aanzet dit smaakt naar meer.
Op de nieuwe plaat Samizdat staan E L F nieuwe nummers! De release is voorzien op 16 april 2012!
Hoeveel groepen ken je zelf op het Shadow play festival en naar wie kijk je zelf uit?
Ik ken er maar een paar, en gelukkig, dan kan ik de andere bands leren kennen. Ik kijk vooral uit naar Carlos Peron.
Mogen de fans zich aan een best off verwachten en komt er een guest meezingen?
Geen best of! Veel nieuwe songs en enkele verrassingen van vroeger.
Wij kijken er alvast naar uit!
Filip VAN MUYLEM
23/03/2012
---