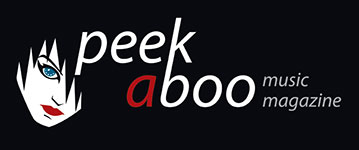 like this interview
---
AROMA DI AMORE
Each record is a different project and another step forward for us
14/01/2016, Didier BECU
photos: © Marquis(pi)X
---
Zin is the brand new album by the Belgian band Aroma Di Amore, released on Starman Records. Jet black, hard, cynical, energetic, rock'n roll, funny and confronting. In short: Aroma Di Amore! We spoke with the most eccentric trio of Belgian pop!
Aroma Di Amore exists 35 years and was formed during the black 80s. And yet, Zin is probably the most socially critical record of your career. Explain!
Lo Meulen: I don't know whether this record is the most socially critical of our career, but it is clear that some things are wrong in our society which we like to give some comment about. We don't see many involvement in (Dutch) lyrics. It should not always be about love or the birds and the bees.
Elvis Peeters : With Aroma Di Amore, we always want to make songs about life, and pay attention to what's going on in our society. Even on our first single Gorilla, Dans De Samba, we talked about loneliness, solidarity and imprisonment. But besides these subjects, we always had an eye and an ear for humor. I don't think our new record is sharper than Koude Oorlog or Harde Feiten.
A few months ago, I interviewed Marcel Vanthilt of Arbeid Adelt!, and now I must ask the same question. You are children of the 80s too, but the problems of that decade seem more relevant than ever before. Isn't it like you're reliving everything (from war threats to nuclear disasters!)?
Lo: It's always something new...
Fred Angst: Now we live in more dangerous times than in the 80s.
Elvis: Well, I still wear my badge that says "Nuclear power? No thanks! We already spoke about these problems in the 80s. Back then, European socialism chose for the so-called third way by embracing the free market. They could do everything they wanted, so it's normal that the items of that time remain valid now. Their Europe was based on a complete freedom for entrepreneurs, investors and speculators. The social aspect and solidarity wasn't important, the free competition would regulate it all. Explain that in Greece now!
You certainly will agree that you are outsiders in Belgium. In fact, have you ever been part of any scene or is Aroma Di Amore just a world of its own?
Lo: We never felt part of any scene. Of course, we have our musical heroes and influences, but they are very diverse.
In 1982 you participated in the Rock Rally (an important Belgian rock contest-ed.). Have you ever thought that the band would be around in 2016, or was it more a punk feeling that said "we'll see what comes of it!"?
Elvis: Now we can see what has come of it!
Fred: I can not remember (laughs).
During some years, you disappeared from the spotlight. Was it because you were bored of the rock 'n roll life, or was it because of some kind of writer's block?
Lo: That was a coincidence. People moved abroad. Each one did his own creative projects. And at some point, the circumstances were right to start again.
I recently saw the movie Brak that is based on the book De Ontelbaren by Elvis Peeters. A brilliant movie with a topic to think about, just a shame that the film was showed at film festivals only. What's your opinion about the movie?
Fred: I have not seen it yet.
Elvis: The film is very different, because the premise is that Westerners have to emigrate to the North themselves and what they have to give up for that. For me as a writer, it is obviously good to see how someone else interprets my work, in this case a film director. Everything blends together in a perfect way because our track Overleven is the ending of the movie.
In my opinion, this is the most energetic album you've ever made. Do you feel that way too?
Lo: We're happy that this is your opinion! We are very happy with it ourselves. Each record is a different project and another step forward for us. We think it's a strong record and indeed different than the last one. That's what makes it fun. The fact that we are different and re-creative keeps us going.
I also hear a lot of cynicism on Zin. Sometimes it seems as if you laugh with people, just because they're so stupid.
Lo: We laugh with no one... But if we look at the politicians and the rulers of this world, then sometimes we are cynical.
Did you never have problems with the fact that you are leftists? Could that not be the reason why you always were underground artists?
Lo: We are who we are!
Fred: Many artists are leftists, but it is mainly our uniqueness that made us a cult band.
I am not very young myself, and when I heard Zin, I hope that young bands listen to it. I mean, bands play in such a safe way these days, it seems as if they compose songs that have to fit on the radio. Does Aroma Di Amore also reach youngsters?
Lo: When you visit our gigs, you'll see that we reach a younger audience. Getting played on the radio is more difficult. But, that's never been different. Everything has to fit in a box (and we don't fit in any). Fortunately, there are the social media that make it possible to reach a new audience.
Soon you'll play some gigs. Can you say something about that?
Lo: It will be good! Because we don't play that many gigs, it stays fun to do! That won't be different now.
Fred: Come and see us, that's all I can say!
Elvis: Now, we have such a varied catalogue that again it will be difficult to choose what to play!
What is your favourite album of all time?
Fred: I have hundreds of favourite records, choosing one would be unfair to the others.
Elvis: I'd say an album by De Kift, because they're both musically and lyrically a very strong band and they sing in Dutch.
With whom wouldn't you mind to be alone in elevator for 8 hours and what would you do then?
Fred: Eight hours in an elevator seems like an unbearable torment, with anyone!
Elvis: With my writing partner Nicole Van Bael, we would take the time to write a new novel.
Thanks a lot!
Didier BECU
14/01/2016
---
Zin is de gloednieuwe plaat van Aroma Di Amore die op Starman Records verscheen. Gitzwart, bikkelhard, cynisch, energiek, grappig, confronterend. Kortom: Aroma Di Amore! Wij spraken met het meest eigenzinnige trio uit de Belgische pop!
Aroma Di Amore is al meer dan 35 jaar bezig en ontstaan in de zwarte jaren 80. Toch is Zin waarschijnlijk de meest maatschappijkritische plaat uit jullie carrière. Leg uit!
Lo Meulen: Of deze plaat de meest maatschappijkritische is uit onze carrière weet ik niet, maar het is duidelijk dat er in onze maatschappij een en ander fout loopt waarop we dan graag commentaar leveren. We zien veel te weinig maatschappelijke betrokkenheid in (Nederlandstalige) teksten. Het moet niet altijd over de liefde, de bloemetjes en de bijtjes gaan.
Elvis Peeters: We hebben met Aroma di Amore altijd songs willen brengen die in het volle leven staan, die dus ook aandacht hebben voor het reilen en zeilen in de samenleving. Zelfs onze eerste single Gorilla, Dans De Samba had het al over eenzaamheid, solidariteit en gevangenschap. Maar daarnaast hebben we toch ook steeds oog en oor gehad voor humor en speelsheid. Ik vind deze plaat niet scherper dan Koude Oorlog of Harde Feiten.
Het toeval wil dat ik het een paar maanden geleden ook aan Marcel Vanthilt vroeg, en nu moet ik het ook aan jullie vragen. Jullie zijn wel kinderen van de jaren 80, maar door de huidige problemen lijken jullie actueler dan ooit. Lijkt het niet of je nu alles herbeleeft (van oorlogsdreigingen tot kernrampen!)?
Lo: Het is toch telkens nieuw…
Fred Angst: We leven nu in veel gevaarlijkere tijden dan in de jaren 80...
Elvis: Tja, ik draag nog steeds mijn badge met "Kernenergie? Nee, bedankt!" De huidige problemen zijn jaren geleden al in de steigers gezet. In de jaren 80 heeft het Europese socialisme gekozen voor haar zogenaamde derde weg, en eigenlijk het principe van de vrije markt omarmd. Die heeft dan ook de vrije hand gekregen, logisch dat de items van toen actueel blijven. Er is toen gekozen voor het Europa van het ongebreidelde ondernemen, beleggen en speculeren. Aan het sociale en zeker het solidaire is minder aandacht besteed, de vrije concurrentie zou dat wel reguleren. Ga het maar uitleggen in Griekenland.

Jullie zijn het er wellicht mee eens dat jullie een buitenbeentje zijn in wat men de Belpop noemt. Voelen jullie je verbonden met de één of andere scène of is Aroma Di Amore gewoon een wereldje op zich?
Lo: We voelen ons inderdaad niet verbonden met een of andere scène. Natuurlijk hebben we onze muzikale helden en invloeden, maar die zijn zeer uiteenlopend.
Jullie zaten in 1982 in de Rock Rally. Hadden jullie toen gedacht dat de band tot op vandaag nog zou meedraaien, of was het eerder een punkgevoel dat zei "we zien wel wat ervan komt!"?
Elvis: We zien nu inderdaad wat er van gekomen is.
Fred: Ik kan me dat niet meer herinneren (lacht).
Jullie hebben ook een tijdje stil gezeten. Was dat omdat je eventjes genoeg had van het rockleven, of was het gewoon omdat de creativiteit er eventjes uit was?
Lo: Dat was door een samenloop van omstandigheden. Mensen verhuisden naar het buitenland. Ieder deed zijn eigen creatieve projecten die dan voorrang kregen. En op een bepaald moment waren de omstandigheden rijp om er opnieuw aan te beginnen.
Ik zag onlangs de film Brak dat op het boek De Ontelbaren van Elvis is gebaseerd. Een briljante film met een onderwerp dat tot nadenken stemt, alleen verschrikkelijk jammer dat de film alleen de filmfestivals haalde. Wat vind jijzelf van de film?
Fred: Nog niet gezien.
Elvis: De film is heel anders dan het boek, omdat het het uitgangspunt is dat wij, westerlingen, zelf moeten emigreren, naar het noorden en daarvoor alles hier moeten opgeven. Voor mij als auteur is het natuurlijk knap om te zien hoe een andere kunstenaar, een filmregisseur in dit geval, een van mijn romans interpreteert. Alles valt ook mooi samen omdat hij voor de eindgeneriek onze song Overleven heeft gekozen. Zo blijken onze muziek en mijn literatuur elkaar te versterken.
Eventjes over de nieuwe plaat. Het is zonder slijmen dat ik het zeg, maar ik vind het de meest energieke plaat die jullie ooit hebben gemaakt. Ervaren jullie dat zelf ook zo?
Lo: Fijn dat je dat vindt! We zijn er erg blij mee. Iedere plaat is een project op zich en is weer een stap vooruit voor ons. We vinden het zelf een sterke plaat en inderdaad weer anders dan de vorige. Dat maakt het juist leuk. Het feit dat we anders en opnieuw creatief bezig kunnen zijn houdt ons ook draaiende.
Ik ontdek ook zeer veel cynisme op de plaat. Soms lijkt het wel alsof jullie op Zin de mensheid uitlachen wegens zijn domheid.
Lo: We lachen niemand uit… maar van deze wereld, zijn politiekers en machthebbers zou je soms wel cynisch worden.
Hebben jullie nooit geen problemen gehad met het feit dat jullie een band zijn met een zeer linkse inslag? En zou dat ook niet de reden zijn waarom jullie eigenlijk altijd underground zijn gebleven?
Lo: We zijn wie we zijn…
Fred: Veel artiesten zou je links kunnen noemen, maar het is vooral onze eigenzinnigheid die van ons cult heeft gemaakt.
Zelf ben ik ook niet meer zo piepjong, en toen ik Zin hoorde, koesterde ik de hoop dat jonge bands er ook naar zouden luisteren. Ik bedoel, tegenwoordig wordt er zo veel op veilig gespeeld, het lijkt wel alsof men nummers componeert die in het kader van Studio Brussel moeten passen. Hebben jullie de indruk dat jullie met Aroma Di Amore ook het jonge publiek bereiken?
Lo: Op onze optredens is het duidelijk dat we ook een nieuw jonger publiek aanboren. Op de radio gespeeld worden is inderdaad moeilijk. Maar dat is nooit anders geweest. Alles moet inderdaad in een hokje passen (en we passen in geen hokje). Gelukkig zijn er de sociale media waarlangs we een nieuw publiek kunnen aanboren.
Binnenkort staan er wat optredens op stapel. Kun je daar wat over vertellen?
Lo: Het zal weer goed zijn! Omdat we onze optredens beperken, blijven we er met veel plezier tegenaan gaan. Dat zal nu niet anders zijn.
Fred: Komen kijken is de boodschap!
Elvis: We beschikken ondertussen over zo'n gevarieerd en groot oeuvre dat het weer moeilijk kiezen zal zijn.
Wat is je favoriete plaat aller tijden en kun je zeggen waarom?
Fred: Ik heb honderden favoriete platen, er één uitkiezen zou de andere tekort doen.
Elvis: Ik zou een plaat van De Kift durven noemen, omdat zij zowel muzikaal als tekstueel ijzersterk zijn en bovendien in het Nederlands.
Met wie zou je het niet erg vinden om 8 uur alleen in een lift te zitten, en wat zou je doen?
Fred: 8 uur in een lift zitten lijkt me een ondraaglijke kwelling, met wie dan ook.
Elvis: Met mijn schrijfpartner Nicole Van Bael, we zouden de tijd nemen om aan een nieuwe roman te beginnen.
De laatste woorden zijn natuurlijk voor jullie…
Elvis: We hebben er Zin in.
Didier BECU
14/01/2016
---