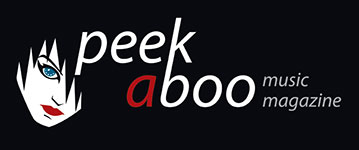 like this interview

---
SCHONWALD
Through icy synth lines, throbbing beats and twisted guitar work, we offer a moody look into the darker side of shoegaze.
07/01/2016, Didier BECU
---
On 6th February 6 the Italian duo Schonwald plays in Brussels as part of a new edition of Fantastique Nights. Obviously, a lot of songs from the latest CD (Between Parallel Lights) will be played, an album that you can categorize as sublime post-punk and shoegaze. Time for a chat!
Schonwald exists for 6 years or so, but I think that everything exploded recently. I mean in the underground you're a bit like the talk of the day. Even if there are many brilliant Italian bands now, I think that Schonwald has a different sound?
Luca :Yes, I definitely agree with you because in recent years great bands like Kirlian Camera, Winter Severity Index, Ash Code and Be Forest got more success abroad than here in Italy. In fact, if you compare it with the situation 10 or 20 years ago, then the current alternative underground Italian scene seems very healthy.
In your biography I read that you take your inspiration from your hometown Ravenna. Explain that, I was in that beautiful city myself, but I would never associate it with noisy shoegazepop.
Alessandra : Ravenna is a small town in North-East Italy, not far from Venice, which is characterized by fog, marshes and swamps. Especially in winter, these places are very suggestive and rich of gloomy atmospheres. So it's very easy to get inspiration for creating our kind of music.
In fact, do you think noisy shoegaze pop is a good term?
Alessandra: Our music lurks in the unnerving, spectral corners of the genre. We use a minimalist approach that would not be out of place in a horror film. Through icy synth lines, throbbing beats and twisted guitar work, we offer a moody look into the darker side of shoegaze.
Please help me to solve a mystery, why does an Italian band opt for a German band name?
Luca: A lot of people asked us about the meaning of our name. In German, Schonwald means something like "protected woodlands" and it also has a personal connection because it's a variation of my mother's family name, in fact I'm of German descent, the correct surname is Schönwald
It is difficult to describe my feelings when I hear Schonwald, it makes me happy, but at the other hand also melancholic…
Luca: We agree with you, especially if you talk about the melancholic approach. We love to mix dark emotional structures with a diametrically opposed clinical coldness.
Excuse me if I'm wrong, but I read that you are a couple. Is that an advantage for the creative process?
Alessandra: Yes, you are right, we are a couple and we are getting married next month. When we play music, it is a sort of emotional waterfall that is created by the feelings between me and Luca, so it's an advantage to the creative process!
In fact, who does what in Schonwald?
Alessandra: Luca starts with composing some patterns with the drum machine and the bass, then I add synths followed by a bass guitar. Afterwards Luca proceeds with the guitar and finally adds my vocals. We usually test the new songs with a lot of home demos, then we go to the recording studio.

Your latest album Between Parallel Lights is a killer. I'm sure you're proud of it. How are the reactions and am I right that this album does it well world wide?
Luca: We are really satisfied with the final result of this album. Now we are home as the first half of the European tour is done. It was great! The audience appreciated the new songs and afterwards it bought the album. At the moment we are having a break so we can arrange our wedding. Afterwards we'll go ahead with the second half of the tour with gigs in Belgium, Holland, Germany, France, Greece and, last but not least, Italy.
Sometimes people put you in the same category as The KVB, She Past Away and The Soft Moon. In some way I understand that link, do you?
Luca: Yes I can. Perhaps, we all have the same taste in music and the same background.
What's your favourite record of all time and why?
Alessandra: Movement by New Order. This is an amazingly dance act. I remember spending whole afternoons dancing to this album in my bedroom. Definitely it was love at first sight: tight drum rhythms, stunning melodies, cutting guitars, one of my favourite albums ever!
Luca: Obviously my favorite band ever is The Cure, so it is very difficult to choose the best album. Anyway, Faith shows an unique spectral sweep of gray and the awesome sense of decadence. Other Voices, Primary and The Drowning Man are the highlights of the album for me.
With whom would you not mind to be in an elevator for eight hours and what would you do?
Alesandra: Robert Smith and Sean Penn. It would be great talking about the movie This Must be the Place.

You soon play in Brussels during Fantastique Nights. What can we expect?
Luca: We are working on a new live set and we are very excited to play with Winter Severity Index, Starcontrol and Phantom Love. We can't wait to come back to Brussels and play there !

The last words are yours.
"At night, always softly, a way to understand, to understand each other. When the day has just ended and a new day has just begun. A day to love, to dream, to live".
Didier BECU
07/01/2016
---
Op 6 februari staat het Italiaanse duo Schonwald op de planken van de Brusselse Botanique tijdens de nieuwste editie .van Fantastique Nights. Uiteraard zullen heel wat nummers uit hun nieuwste telg (Between Parallel Lights) worden gespeeld, een album dat je gerust mag onderbrengen in het vakje van sublieme postpunk en shoegaze. Tijd voor een gesprekje dus…
Schonwald bestaat bijna 6 jaar, toch denk dat ik dat het pas nu is dat alles ontploft. Ik bedoel in de undergroundscène ben je tegenwoordig het gesprek van de dag. En ook al zijn er tegenwoordig veel briljante Italiaanse bands, vind ik dat Schonwald een ander geluid heeft, niet?
Luca: Ja ik ben het zeker met je eens. In de afgelopen jaren hadden grote bands als Kirlian Camera, Winter Severity Index, Ash Code en Be Forest meer succes in het buitenland dan hier in Italië. In feite, als je het met de situatie van 10 of 20 jaar geleden vergelijkt, lijkt de huidige alternatieve Italiaanse scène heel gezond.
In je biografie las ik dat Ravenna één van je inspiraties is. Leg dat eens uit, ik was zelf in deze mooie stad, maar ik zou die nooit met luidruchtige shoegazepop associëren.
Alessandra: Ravenna is een klein stadje in het noordoosten van Italië, niet ver van Venetië, dat wordt gekenmerkt door mist en moerassen. Deze plaatsen hebben vooral in de winter een sombere atmosfeer die ons heel gemakkelijk inspireert.
Denk je zelf dat lawaaierige shoegazepop een goede term is?
Alessandra: Onze muziek verschuilt zich in de zenuwslopende, spectrale hoeken van het genre. We toveren met een minimalistische aanpak een geluid tevoorschijn dat niet zou misstaan in een of andere horrorfilm. Door de ijskoude synthesizerlijnen, de beats en het gitaarwerk bieden wij een andere kijk op de donkere kant van de shoegazemuziek.
Het is moeilijk om te beschrijven wat ik voel als ik Schonwald beluister, enerzijds maakt het me blij, aan de andere kant ook melancholisch...
Luca: We zijn het met je eens, vooral wat de melancholie betreft. We houden ervan om donkere emotionele structuren te mengen die diametraal tegenover de klinische koude staan.

Help mij eens om een mysterie op te lossen, waarom kiest een Italiaanse band voor een Duitse naam?
Luca: Veel mensen vragen ons naar de betekenis van onze naam. Schonwald betekent in het Duits zoiets als "een beschermd bos". Het heeft echter ook een persoonlijke betekenis, want het is een variant van de familienaam van mijn moeder. In feite ben ik van Duitse afkomst, de juiste familienaam is Schönwald

Excuseer me als ik het mis heb, maar ik lees dat jullie een paar zijn. Dit is een voordeel voor het creatieve proces?
Alessandra: Ja, je hebt gelijk, we zijn een stel en we trouwen volgende maand. Als we muziek spelen, is dat als een soort emotionele waterval als resultaat van de gevoelens tussen mij en Luca, dus het is een voordeel voor het creatieve proces!
In feite, wie doet wat in Schonwald?
Alessandra: Luca stelt eerst een aantal patronen op de drummachine en de bas samen, daarna voeg ik er de synths en de basgitaar aan toe. Daarna werkt Luca aan de gitaar en ten slotte voegt hij er mijn zang aan toe. Meestal testen we de nieuwe nummers met demo's die we thuis opnemen, daarna gaan we naar de opnamestudio.
Uw laatste album Between Parallel Lights is gewoon fantastisch. Je bent er zonder twijfel trots op. Hoe zijn de reacties?
Luca: We zijn erg tevreden met dit album. Nu zijn we thuis, de eerste helft van de Europese tour zit erop. Het was geweldig! Het publiek waardeerde de nieuwe songs en achteraf kochten ze het album. Op dit moment nemen we een kleine pauze zodat we onze bruiloft kunnen regelen. Daarna gaan we verder met de tweede helft van de tour met optredens in België, Nederland, Duitsland, Frankrijk, Griekenland en, last but not least, Italië.
Soms zetten mensen jullie in dezelfde categorie als The KVB, She Past Away en The Soft Moon. In zekere zin begrijp ik dat, jij ook?
Luca: Ja, hoor. Misschien, hebben we dezelfde muzikale smaak en wie weet dezelfde achtergrond.
Wat is jouw favoriete plaat aller tijden en waarom?
Alessandra: Movement van New Order. Het blijft verbazingwekkend dat dit eigenlijk een dance-act is. Ik herinner mij zeer goed al die middagen toen ik op mijn slaapkamer op dit album stond te dansen. Het was liefde op het eerste gezicht: strakke drumritmes, prachtige melodieën, snijdende gitaren, één van mijn favoriete albums ooit.
Luca: Uiteraard is The Cure mijn favoriete band, dus is het zeer moeilijk om hun beste plaat te kiezen. Hoe dan ook, Faith is een unieke spectrale veeg grijs, maar de plaat straalt tevens een enorme decadentie uit. Other Voices, Primary en The Drowning Man zijn voor mij de hoogtepunten van het album.
Met wie zou je het niet erg vinden om acht uur in een lift te zitten en wat zou je doen?
Alesandra: Robert Smith en Sean Penn. Het zou geweldig zijn om te kunnen praten over de film This Must Be The Place.
Binnenkort spelen jullie in Brussel op een nieuwe editie van Fantastique Nights. Wat kunnen we verwachten?
Luca: We werken aan een nieuwe liveset en we zijn erg enthousiast om met Winter Severity Index, Starcontrol en Phantom Love te spelen. We kunnen niet wachten om naar Brussel te gaan en daar op te treden!
De laatste woorden zijn die van jullie.
's Nachts, altijd zachtjes, een manier om te begrijpen, om elkaar te begrijpen. Als de dag net is beëindigd en een nieuwe dag begint. Een dag om lief te hebben, om te dromen, om te leven.
Didier BECU
07/01/2016
---