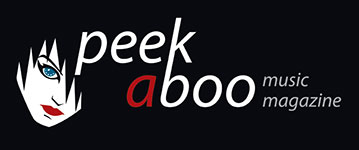 like this interview
---
END OF THE DREAM
Netherlands is of course our territory, but it is indeed our intention to go international.
03/01/2016, Ruben SAEY
photos: © Tania Devroe
---
End Of The Dream is a new Dutch symphonic metal band. During Liv Kristine's Winter Tour they played three times as a support act. Just before their show in Roeselare (Belgium), Peek-A -Boo had a conversation with singer Micky Huijsmans and Pim Geraerts.

Hello , you are a new band in the metal scene, so can you tell us something about your musical past?
Micky : The other members already played with End Of The Dream. I joined in 2010. At that time Armen Shamelian started writing and slowly we were growing.

Micky, you have a high vocal range. I guess you had a vocal training or are you just a natural talent?
Micky: I 've been singing since I was fourteen. Afterwards I got some music lessons, so it certainly helps.

I do not like to put music in categories, but sometimes it is useful. You often hear terms like female fronted metal and power metal when people speak about End Of The Dream. Do you agree?
Micky: We certainly are more than that. Personally, I think the term female fronted metal is too narrow minded, simply because it doesn't say much about our music.

Have you chosen this style or is just the way the band evolved?
Micky : It's definitely a conscious decision to play (and to use that term) female fronted metal as Armen wrote the music and I was the singer.

How does a new band conquer its place in the metal scene?
Micky: In the first place, we are trying to distinguish through our music and make something that does not exist yet. We have a lot of progressive influences, and I think this makes us a bit unique. Also, there is the combination of progressive and melodic classical ballads. And of course you have to be able to perform a good gig.

There's a nice duality between the deep tones of the guitars and the high vocal tones. In addition, there are a lot of strings, drums and synths. I guess it is not that easy to compose.
Pim : The music is mainly made by lead guitarist Armen. He does most of the writing and he decides if a track is good or not. When for example a drum part does not sound good, then it can be refined by someone else, but most of the times Armen is the man! The tracks can be adjusted during the rehearsals, but those are just small details. If you 're a writer, then you're often a double writer. First you write the base and after rehearsing you add the refinements.

So others can add their own contribution to a song?
Pim: If we agree that in a certain way a song sounds better, then there is space for interpretation.

Did you need some time before you were ready to do some gigs and record your first album?
Micky: Yeah, it definitely took a long time. Initially we didn't have the idea to record an album with this band, we just wanted to make music. Slowly, we became more professional and we composed more songs, and then you can make a plan. It is also difficult. It is not a written or existing plan, for every band it is different.

I read many good reviews. I suppose this is a huge push factor.
Micky : Sure, Armen is already busy writing new songs and we plan to play more gigs!This is your third concert with Liv Kristine.

I read that there are upcoming gigs planned with Van Canto and Delain. These are all fine names.
Micky: Yes. Today the lineup of the next Femme Fest Festival for September is announced. And yes, we're on it too, with bands like Arch Enemy and Xandria.

Are you in contact with the bands you support?
Micky : Backstage you do have contact with each other, but we have not been that often at festivals with big names.
Pim: We surely don't have experience with big bands, and most things are controlled by a company anyway. That's a good thing as we can do other things, but indeed we see each other backstage, as with Liv Kristine, that was quite nice.

I guess playing with a big name has its benefits?
Micky: Sure, people who saw us with Liv Kristine check our Facebook page and think: "Hey, they played with Liv Kristine" In recent days we found some new things on our Facebook.
Pim: There are also people who come to you after the gig and say things like: "I never heard of you before, but it was a great performance." Such comments are always nice to hear.
Until now you only played in the Netherlands and the nearby countries. Do you hope to play in the rest of Europe as well?
Micky: Yes, we are planning a small tour in May next year. I can't say too much about it, but it certainly will be outside the Netherlands.
Pim: Netherlands is of course our territory, but it is indeed our intention to go international.

I thank you for this interview.
Micky: Thank you.
Ruben SAEY
03/01/2016
---
End Of The Dream is een nieuwe Nederlandse symfonische metalband die tijdens de Winter Tour van Liv Kristine driemaal het voorprogramma mocht verzorgen. Net voor het optreden in De Verlichte Geest in Roeselare had Peek-A-Boo een gesprek met zangeres Micky Huijsmans en Pim Geraerts.
Hallo, jullie zijn nog een vrij nieuwe band in de metalscène. Hoe is deze band ontstaan. Hebben jullie een muzikaal verleden in andere bands?
Micky: De andere leden van de band waren er al bij. Ik ben in 2010 bij de band gekomen. Toen is Armen Shamelian beginnen te schrijven en zo zijn we langzaam aan gegroeid tot wie we nu zijn.
Micky, je hebt een hoog stembereik dat je goed kan aanhouden zonder te schreeuwen. Ergens vermoed ik dat je een zangopleiding hebt genoten of ben je gewoon een natuurtalent?
Micky: Ik heb zangles gekregen vanaf mijn veertiende. Nadien kreeg ik ook muziekles, dus dat helpt zeker.
Ik plaats niet graag muziek in hokjes, maar soms is het handig. Je hoort vaak powermetal en female fronted metal als men het over End Of The Dream heeft. Gaan jullie daarmee akkoord of vind je deze term te bekrompen?
Micky : We zijn zeker ruimer dan dat. Ik vind de term female fronted metal inderdaad wat te bekrompen. Het zegt niet veel over onze muziekstijl.
Hebben jullie zelf bewust voor deze stijl gekozen? Is die spontaan gegroeid of denk je dat de band nog verder zal evolueren?
Micky : Het is zeker geen bewuste keuze geweest om, om toch maar die term te gebruiken, female fronted metal te spelen. Het kwam eerder omdat Armen de muziek schreef en ik toevallig zong.

Hoe is het om als nieuwe band je plaatsje in de metalscène te veroveren en die ook te behouden?
Micky : Dat proberen we eerst en vooral door via onze muziek het onderscheid te maken en iets te maken wat nog niet bestaat. We hebben ook wel veel progressieve invloeden, en ik denk dat dit ons ook een beetje uniek maakt. Ook is er de combinatie van progressief, met melodische en klassiekere ballads. Live moet je natuurlijk ook een goeie show brengen en je onderscheiden van de rest.
Er is een mooie dualiteit tussen de diepere tonen van de gitaar- en baslijnen en de hogere vocale tonen. Daarbij komen er nog heel wat strijkers, drums en synths. Dat lijkt me niet zo eenvoudig om te componeren. Doen jullie dat als groep samen?
Pim : De muziek wordt voornamelijk door leadgitarist Armen gemaakt. Hij doet het meeste schrijfwerk en bij elk nummer wordt gekeken of dat goed zit. Als ik bijv. een drumpartij hoor die niet goed klinkt, dan kan daaraan gewerkt worden, maar het is echt wel Armen die de meeste nummers maakt. Tijdens de repetities kunnen de tracks worden aangepast, vaak kleine details. Als je schrijver bent, dan ben je vaak een dubbele schrijver. Eerst de grote lijnen en na het repeteren merk je of je er nog dingen kan toeveogen.

Dus er is echt wel ruimte voor de muzikanten voor een eigen inbreng.
Pim: Als we het erover eens zijn dat een nummer op een bepaalde manier beter klinkt, dan is er wel ruimte voor interpretatie.
Is er veel tijd over gegaan alvorens jullie begonnen op te treden en jullie je eerste album opnamen?
Micky: Ja, het heeft zeker best lang geduurd. We hadden in het begin nog niet het idee om met deze band een album op te nemen, we wilden gewoon samen muziek maken. Langzaam aan werden we professioneler en we hadden meer nummers, en dan pas kan je een plan maken. Het is ook moeilijk. Het is geen uitgeschreven plan dat je ergens kan opzoeken, voor elke band is het anders.
Ik las heel wat fijne recensies. Ik veronderstel dat dit een stimulans is om op dit elan door te gaan.
Micky : Zeker, Armen is nu al bezig met het schrijven van nieuwe nummers en we zijn van plan om in de toekomst nog meer op te treden.
Dit is jullie derde concert met Liv Kristine. Ik las dat er nog optredens gepland zijn met Van Canto en Delain. Dat zijn allemaal mooie namen om mee op een affiche te staan.
Micky: Jazeker. Vandaag is ook de line-up van het volgende Femme Fest-festival in september bekend gemaakt. Wij zullen daar ook zijn, tussen bands als Arch Enemy en Xandria.

Hebben jullie contact met deze bands of blijft alles strikt gescheiden?
Micky: Backstage heb je wel wat contact met elkaar; maar we hebben het nog niet zo vaak meegemaakt om samen met veel grote bands op een festival te staan.
Pim: Die ervaring met grote bands hebben we zeker nog niet, en je hebt sowieso ook het feit dat veel door een bedrijf of kantoor wordt geregeld. Zo kunnen we ook andere dingen doen, maar we komen inderdaad elkaar wel in de gang tegen. Net zoals bij het vorige optreden delen we samen met Liv Kristine de backstage, op die manier is het best gezellig.

Pluk je daar nadien ook de vruchten van? Merk je bijv. dat je op deze manier nieuwe fans bereikt?
Micky : Toch wel, ook de mensen die bijv. voor Liv Kristine komen of die op de Facebook-pagina van Liv kijken en denken: "Die hebben met Liv Kristine gespeeld." We hebben de afgelopen dagen ook weer wat nieuwe dingen op onze Facebook gekregen.
Pim: Er zijn ook mensen die je na het optreden aanspreken en vertellen: "Ik kende jullie niet, maar ik vond het een tof optreden." Zo'n commentaar is natuurlijk altijd fijn om te horen.

De optredens beperken zich voorlopig nog tot Nederland en de buurlanden. Hopen jullie om in de rest van Europa te kunnen spelen?
Micky: Ja, we zijn bezig met het plannen van een kleine toer in mei volgend jaar. Ik kan er nog niet teveel over zeggen, maar het zal zeker ook buiten Nederland zijn.
Pim : Nederland is natuurlijk wel ons grondgebied, maar het is inderdaad de bedoeling om internationaal te gaan.

Ik dank jullie voor dit interview en wens jullie veel succes in de toekomst.
Micky : Dank je wel.
Ruben SAEY
03/01/2016
---