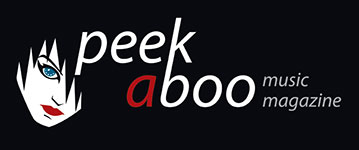 like this interview
---
BLACK LIGHT ASCENSION
I literally just can't understand how people can ignore such obvious realities as the accelerating and irreversible destruction of the place in which we live.
30/11/2015, Didier BECU
---
Post Future Recordings is the latest album by Black Light Ascension, and it's simply fantastic. If you think that today no synthpop-wave anthems aren't being made, then you haven't checked out the project of Andrew Trail.

I know it's the job of the reviewer to introduce you, but as I consider myself a music fan, I ask you to describe your music!
Black Light Ascension is the sound of machines writing nostalgic odes to a long perished race. It is the fading digital memories of orchestras that never existed, narrated by a single human voice. It is the churning blades of abbotoirs and the pumping heartbeat of sex, the frail hands and voices of a desperate humanity using its own flesh, blood and sinew to clog the cogs of the systems which live to crush all dreams. I hope that helps
Black Light Ascension sounds like a tribute to 80s new wave sound, but with a contemporary sound, do you think this makes sense?
There has been a strange almost reverent attempt to replicate this kind of minimal 80s electro recently. I feel this is a misstep. I know Hunter uses soft synths and such for all the parts he plays. I usually prefer hardware to create the songs. I think song based electronic music that refuses to simply be about love and desire tends to sound that way. Historically, I think the purely hedonist years are over, and it is again the duty of music to attempt to be about more challenging concepts than 'I love you, lets dance. Lets fuck'.

All the featured songs on your CD sound like old friends, synthpop/new wave anthems like Fad Gadget. Were these artists an inspiration?
Well, I did very much like Fad Gadget, Hula, Clock DVA etc. I did also like a lot of more epic guitar music, Swans, Godspeed You! Black Emperor. The love I have for drones and repetition comes primarily from that. Finally I think the biggest inspiration though was the 10 years or so doing Knifeladder. I was suddenly interested in writing more structured songs again, after so many years of more abstract and challenging material.
Is there any reason why the album is called Post Future Recordings?
I am fascinated by different concepts of time, alternate universes, alternative histories. I also like the idea of something like an artifact. How many times have whole concepts of history become undone or revisioned by the discovery of a single object or a new technique for analysis? If we can't be sure about things that happened a few thousand years ago, how can we know how we will be represented. Humankind has been through several near extinction events and I wonder what will be left, what will be remembered, and what will be relearnt.

Even if Black Light Ascension has a very dark undertone, the music isn't that heavy. I mean, the other musical projects you were involved in were something totally different and more experimental?
It depends how far back we go. Many of my projects in Australia were more song based electronics. Ministry of Love in Australia, and Knifeladder here were really in fact the only things I have done which I consider experimental. In reality I think it is better to deliver harsh truths in a digestable format, and we like tunes! No shame in that. Hunter and I still have the project Antivalium for when we want to get our noise on!
About these texts, already from the first song (Ten Minutes To Midnight) it's crystal clear that you don't have much faith left in humankind, not?
I literally just can't understand how people can ignore such obvious realities as the accelerating and irreversible destruction of the place in which we live. The short-sightedness, the sleepwalking distraction in which we choose to live. Strangely enough, the anger and despair stems from the fact that everyone is convinced that there is no other way to live.

In a way it feels like the 80s are back, I mean people are paranoid and it feels like every second a war can start, and so (maybe it's just me) I think it's no coincidence that music like Black Light Ascension is made these days.
I think I agree with you there. There seems to be an innate cycle of destruction in the human race like.. hmmm things are a bit peaceful for a while, let's start poking our neighbors with sharp sticks for absolutely no reason.

You're operating from Britain, I guess with an ignoring press, a band like Black Light Ascension must be quite underground, not?
Well, we are not invisible, but there is no real dialogue between underground and mainstream music any more. Maybe I don't understand the rules, but it seems things come from absolutely nowhere, to be massively hip and popular, to being invisible again in a very short space of time. Coupled with that the uniform disgust and contempt that the music media has for anything remotely 'dark', and it is no surprise we live in the shadows. Luckily we have allies like Andrew King, Naevus, etc. to gang up with.

I know it's a question of money, but any changes to see Black Light Ascension overseas on stage?
Ah well, we are still booking for next year, but a few festivals for sure. The first priority though is to get the new album completed. We don't want the same amount of time to elapse as did between Ashes and Post Future Recordings.

What's your favorite record of all time and please state why!
Horse Rotorvator by Coil. It is an amazing combination of experimental, orchestral and occult references. I have probably bought it 5 times in different formats. It can be listened to as surface music, but becomes more bizarre and interesting the more attention you give it.
With whom wouldn't you mind to be alone in an elevator for 8 hours and what would you do then?
This question is surely sexual in nature??? My partner may kill me! Seriously though, my good recently deceased friend John Murphy. He could tell me all his great and hysterically funny stories just one more time. That may take longer than 8 hours though.
The last words are yours.
These are dark times, but weren't they always? Love is a beautiful thing ,and stronger than steel.
Didier BECU
30/11/2015
---
Post Future Recordings is het nieuwste album van Black Light Ascension, en dat klinkt gewoon fantastisch. Indien je denkt dat men vandaag geen synthpop-wave klassiekers meer maakt, dan heb je zeker het project van Andrew Trail nog niet gecheckt.

Ik weet wel dat het de taak is van de recensent, maar ik beschouw mezelf als een muziekfan, daarom vraag ik om zelf je muziek te beschrijven!
Black Light Ascension is het geluid van machines die nostalgische odes schrijven voor een reeds lang uitgestorven ras. Het zijn vervagende digitale herinneringen aan orkesten die nooit hebben bestaan en wat door een menselijke stem wordt verteld. Het zijn de messen uit een slachthuis, het is het pompend hart van seks, de zwakke handen en de stemmen van wanhopige mensen die met hun vlees, bloed en pezen de tandwielen willen stoppen van de systemen die alle dromen verpletteren. Ik hoop dat deze uitleg je voorthelpt!
Ik ben niet zeker dat ik begrijp wat je bedoeling is, maar voor mij klinkt Black Light Ascension bijna als een eerbetoon aan de new wave uit de jaren 80, ook al heb je een eigentijds geluid.
Men heeft pogingen gedaan om dat minimale electrogeluid uit de jaren 80 na te bootsen. Ik heb het gevoel dat dat een misstap is. Ik weet dat Hunter geregeld softsynths gebruikt, terwijl ik toch de voorkeur geef aan hardware om de nummers te maken. De jaren van "Ik zie je graag, laten we dansen en daarna neuken" zijn allang voorbij, het is de taak van de muziek om weer met uitdagende concepten voor de dag te komen!
Al de nummers op de cd klinken als oude vrienden, van die waveklassiekers zoals van Fad Gadget. Waren zij een inspiratie of niet?
Ik hield echt van Fad Gadget, Hula, Clock DVA of dat soort dingen. Maar ik hou ook van epische gitaarmuziek zoals Swans of Godspeed You Black Emperor. Mijn liefde voor drones en repetitieve muziek komt daaruit voort. De grootste inspiratiebron blijft toch 10 jaar Knifeladder. Na het maken van zoveel abstracte en moeilijke dingen, was ik opeens geïnteresseerd in het schrijven van meer gestructureerde liedjes.
Waarom heet die plaat Post Future Recordings?
Ik ben gefascineerd door de verschillende concepten van tijd, de talrijke universums en de verschillende alternatieve geschiedenissen. Het idee van een artefact spreekt me aan. Hoe vaak is het al niet gebeurd dat hele concepten van de geschiedenis ongedaan zijn gemaakt of herbekeken worden door de ontdekking van een nieuw gevonden object of een nieuwe analysetechniek? Als we niet zeker zijn over dingen die een paar duizend jaar geleden zijn gebeurd, kunnen we het ons ook nauwelijks voorstellen. De mensheid is al door verschillende voorvallen met uitsterven bedreigd en ik vraag me af wat er uiteindelijk van zal overblijven, wat herinnerd zal worden, en wat men eruit zal leren.
Black Light Ascension heeft wel een donker toontje, maar de muziek is niet zo zwaar. Ik bedoel jouw vroegere bands waren toch heel wat experimenteler, niet?
Het hangt ervan af hoe ver je teruggaat in de tijd. Veel van de projecten waarbij ik betrokken was toen ik in Australië woonden waren meer gebaseerd op elektronica. Ministry Of Love in Australië, en Knifeladder (wat ik hier in England deed) zijn eigenlijk de enige dingen die ik als experimenteel beschouw. Eigenlijk denk ik dat het beter is om harde waarheden in een verteerbare vorm te gieten, en we houden van liedjes! Je moet je daar niet voor schamen. Trouwens, Jager en ik heb nog steeds het project Antivalium als we ons willen uitleven met lawaai!
Over die teksten wil ik het nog even hebben. Vanaf de eerste track (Ten Minutes To Midnight) is het duidelijk dat je niet te hoog oploopt met de mensheid.
Ik kan het gewoon niet begrijpen hoe mensen niet willen inzien dat ze op een versnellende en onomkeerbare manier deze planeet om zeep helpen. De manier waarop nu geleefd wordt is gewoon kortzichtig en men ontwijkt de essentie. Het is vreemd om te zien, maar de woede en wanhoop komt voort uit het feit dat iedereen ervan overtuig is dat je op geen andere manier kan leven.
Soms denk ik dat de jaren 80 terug zijn. Mensen lijden masala aan paranoia, en je zou zweren dat er iedere minuut een oorlog kan uitbreken! Ik vind het dan ook geen toeval dat je vandaag opnieuw bands zoals Black Light Ascension hebt.
Ik denk dat ik het met je eens ben. Het lijkt wel dat de mensheid met een cyclus van vernietiging is verbonden. De dingen zijn voor een tijdje rustig, en dan beginnen ze elkaar te porren met stokken zonder dat daar een reden voor is.
Heb je als Engelse band niet af te rekenen met een pers die jullie volkomen negeert, ik bedoel je moet toch wel erg zoeken om een band als Black Light Ascension te vinden, niet?
Nou, we zijn nu ook niet onzichtbaar, maar er is al lang geen dialoog meer tussen de underground en de mainstreammuziek. Misschien begrijp ik de regels niet, maar het lijkt wel alsof dingen uit het absolute niets komen, en dan plots hip en populair worden, en dan opnieuw weer verdwijnen. Als je dat koppelt aan de afkeer, zeg maar minachting die de muziekmedia heeft voor de donkere muziek , is het geen verrassing dat we in de schaduw leven. Gelukkig hebben we bondgenoten zoals bijv.Andrew King of Naevus.

Ik weet dat het voornamelijk een kwestie van geld is, maar bestaat er een kans dat we Black Light Ascension buiten England op het podium zien?
Ach, we zijn nog volop concerten aan het vastleggen voor volgend jaar, maar er zitten zeker een paar festivals tussen. De eerste prioriteit is echter dat we ons nieuwe album kunnen afwerken. We willen niet dat er een ellenlange tijd verschil zit tussen Post Future Recordings en de nieuwe, zoals dat de vorige keer het geval was.
Wat is je favoriete plaat aller tijden en zeg waarom!
Horse Rotorvator van Coil. Het is een geweldige combinatie van experimentele , orkestrale en occulte vondsten. Ik heb het waarschijnlijk 5 keer in verschillende formaten gekocht. Je kan de muziek op een oppervlakkige manier beluisteren, maar hoe meer aandacht je eraan geeft, hoe meer bizar en interessant het wordt!
Met wie zou je het niet erg vinden om 8 uur vast te zitten in een lift en wat zou je dan doen?
Ik veronderstel dat je een antwoord wil horen waar seks bij te pas komt, niet? Ik zal maar mijn mond houden, want mijn partner zal me doden! Maar serieus, ik kies voor mijn onlangs overleden vriend John Murphy. Dan kan hij mij nog een keer zijn leuke en hysterische verhalen vertellen. Maar met 8 uur hebben we waarschijnlijk niet genoeg!
Ik geef jou het laatste woord!
Het zijn donkere tijden, maar dat is altijd zo geweest. Liefde is een mooi iets, en sterker dan staal.
Didier BECU
30/11/2015
---