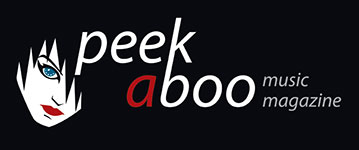 like this interview
---
AHRAYEPH
I'm just doing what all good musicians try to do, which is to surpass what they've done before.
26/11/2015, Didier BECU
---
AnimAElegy is the newest CD by Ahrayeph, and the result is quite stunning. But is it prog rock or goth rock, or perhaps goth rock with prog rock? We asked Raf!
I know it's kind of strange, regarding the fact that you're so long in the music business, but please introduce yourself!
Let's see... I became a professional musician in 1996. That's when I started this whole story with Crucifire, a goth metal band I founded with some mates. We recorded one - poorly produced - demo. In the same year, I also joined Ancient Rites for the first time, and left that band after six months. With them, I toured Europe for the first time. After some botched alternative projects and some studio and live sessions, I resurrected Crucifire again, inspired by some friends who had heard the demo. After one year, I rechristened the project to Ahrayeph, because even then it was my personal project. And that's what I've been doing ever since, aside of another stint in Ancient Rites between 2004 and 2007, because they were looking for a song writer. I wrote most of the music for their previous album, Rubicon. One year later, I released the first Ahrayeph album Marooned On Samsara and now there's AnimAElegy.
Last year colleague Jurgen interviewed you, and you really sounded bitter and quite angry because the band members left you alone. When hearing the new album, I think you can forget that, the result is stunning and you can do it all by yourself!
Thank you, I'm very pleased with the end result myself. Concerning that interview: yes, I was angry. Bitter... Perhaps it appeared that way, but let me tell you that I'm not wasting my time thinking about those people. It's just when I'm being asked about it in interviews, that I have to talk about it and of course, the anger resurfaces. I will always be angry because of all the missed opportunities, because they were wasted due to often banal and trivial things, but also because of ego trips that were the detriment of the band's live reputation. I've only worked with two people whom I consider to be true musicians in all my time in Ahrayeph : Ness and Alex Martin.
Is there any chance that we see you on a stage?
Never say never. I really, really, really would love to play live again; the more the merrier. But at this point in time, it honestly doesn't look like I will be able to. You need musicians to be able to do that, preferably musicians who take their tasks seriously; we've already talked about that. Add to that the fact that gothic musicians are rare in Belgium, so it is not easy to find another guitar player and a bass player who are into the music and can also cope with the technical aspects of playing live, because Ahrayeph is no jam band. We're working with ear monitors and play with digital amp simulations, and that's not a luxury choice. Alex would definitely play drums, he already let me know he would. But anyway, hope is eternal...
Getting back to the album: nothing really changed compared to Samsara, because even then, I did most of it myself, except for a few bass parts. But since we were trying to be a band at that time, the others are featured in the booklet. Still, aside of bassist Alex, they aren't featured on any of the songs.
I don't mean it in an ironical way, but is not easier to work alone?
In certain respects, you're right, of course. But I still often miss the exchange and creative tension generated by collaboration. The key is good communication. I'm currently working on a metal project, Trans World Tribe, in which I'm working together with American singer Staci Heaton, and that's an entirely different dynamic, in the sense that we bounce ideas off each other and the end result is that we stimulate each other's creativity so much, that we end up with a lot more ideas than we started with at the beginning of a brainstorm session. So it works that way too. And that's something I haven't experienced since the early Crucifire days. I can only be happy about that.
I guess you'll be pleased when I admit that I hear more prog rock than goth rock in your sound…
Hahaha! Well, I can't argue with you there. Prog rock has always had a big influence on me. My Scottish friend James Blast already called Ahrayeph 'Prog Goth' at the time Samsara was released and his opinion hasn't changed when it comes to AnimAElegy, on the contrary.
How does Marooned On Samsara differ from your newest CD? I mean, we all know it took 7 years because of many personal reasons, but I guess you have evolved musically too, not?
I'm the last person to say anything sensible about that, honestly. I'm just doing what all good musicians try to do, which is to surpass what they've done before. You raise the bar for yourself and hope that the fans and press notice and appreciate it. I've always had a very eclectic taste in music, I feel I owe it to myself to have that, if I am to take my craft seriously. And of course that will have an impact on Ahrayeph's music.

In a way I think AnimAelegy is a very introvert album, it's like someone who is reflecting on life, or am I wrong?
No, not at all, that's an astute observation. The album actually starts with a reflection in, well, Reflection, and the whole story then unfolds from the next song, from Maiden By The Sea onwards. I'm not going to elaborate on the story; it's up to the listener to discover what it's all about. Only the last four songs aren't part of that story, even though you could find a common thread in those as well, even if I wasn't aware of that myself when I chose them to be the album's bonus tracks.
And while we're talking about the title, please explain that strange title: AnimAelegy.
There are a few aspects to it. First off, 'anima' is the Latin translation for the Greek word 'psyche', the human mind. Then there's the 'animus and anima' aspects to human nature, according to Carl Jung; i.e. the male and female aspects that every person has. And 'elegy' is, of course, an elegy. That's all I'll give you, but I think the origin of the title is pretty much obvious with this explanation.

On the album you got the help of Alex Martin, can you tell us something about that?
I happened upon Alex through John Carter, the former Nefilim and Fields of the Nephilim bass player. He was immediately interested in recording live drums for the songs. In the end, we had to shelve that, but I did recreate several of his drum parts with my drum sampler, and hence he gets credit on the album. A nice guy and a good musician. He'll also contribute to Trans World Tribe.
What's your favorite album of all time and why?
That's the hardest question of all time! I don't have just one favorite album, I've got so many. Even those ten albums I listed for your Albums That Changed Your Life series are just a small sample, and a temporary snapshot as well, because after handing it in, I just smashed my head because I forgot this album, and that one... It's just absolutely impossible for me to choose just one.
With whom wouldn't you mind to be alone in an elevator for 8 hours and what would you do then?
I've had to give this one some thought. I could name some people I'd like to get to know, but you obviously wouldn't know whether you'd last eight hours in such a confined space. And I wouldn't necessarily need to spend that much time in an elevator with my friends. Or they with me either, hahaha! Oh well, let's go for New Zealand actress Hannah Marshall. She's a babe and I'd love to get to know the person behind the actress and find out what makes her tick.
The last words are yours
Th-th-th-that's all, folks!
Didier BECU
26/11/2015
---
AnimAElegy is de nieuwe plaat van Ahrayeph, en die is lichtjes fantastisch. Maar is het nu progrock of gothrock, of gewoon gothrock met progrock? We vragen het aan Raf!
Dag Raf. Het lijkt een beetje oneerbiedig voor iemand die al zo lang in het vak zit, maar stel je toch maar eens aan onze lezers voor!
Even kijken... Ik ben in 1996 professionele muzikant geworden. Toen begon dit hele verhaal bij Crucifire, een gothmetalband die ik met enkele vrienden uit de grond stampte. We maakten één - slecht geproduceerde - demo. In datzelfde jaar stapte ik voor de eerste keer in de blackmetalband Ancient Rites, om er na een half jaar weer uit te stappen. Met hen toerde ik voor het eerst door Europa. Na wat mislukte alternatieve projecten en een aantal studio- en livesessies, begon ik op advies van vrienden die de demo hadden gehoord opnieuw met Crucifire, maar na een jaar doopte ik de naam om in Ahrayeph, omdat het zelfs toen al mijn persoonlijk project was. Daar ben ik sindsdien mee bezig, op een tweede doortocht in Ancient Rites na tussen 2004 en 2007, omdat ze verlegen zaten om een songschrijver. Ik schreef het grootste gedeelte van de muziek voor hun voorlaatste album Rubicon. Een jaar later bracht ik mijn eerste Ahrayeph-album uit Marooned On Samsara en nu is er dus AnimAElegy.
Toen collega Jurgen je vorig jaar sprak, klonk je tamelijk verbitterd en boos over het verleden bijv. over muzikanten die jou in de steek lieten. Als je de nieuwe plaat hoort, is dat niet meer nodig. Je kan het alleen en het klinkt bovendien perfect!
Dankjewel, ik ben zelf ook erg blij met het eindresultaat. Wat betreft dat interview : boos was ik wel. Bitter... Misschien leek dat zo, maar laat ik je zeggen dat ik geen gedachte meer wijd aan die mensen. Enkel als me zoiets word gevraagd in interviews heb ik het daar nog over en dan komt die boosheid natuurlijk weer boven. Ik zal altijd boos blijven wegens de gemiste kansen, omdat ze moesten wijken voor vaak banale en triviale zaken, maar ook egotripperij die ten koste ging van de livereputatie van de band. Ik heb in Ahrayeph eigenlijk nog maar met twee mensen samengewerkt die ik als echte muzikanten beschouw : Ness en Alex Martin.

Om op het album terug te komen : in feite is er niets veranderd ten opzichte van Samsara, want zelfs toen deed ik alles al zelf, op een aantal baspartijen na. Maar omdat we destijds een echte band probeerden te zijn, staan de anderen ook in het boekje. Maar op bassist Alex na, zijn er geen partijen van hen op het album terug te vinden.
Eigenlijk, zonder ironie, is alleen soms niet vaak eenvoudiger? In de zin dat je rekening moet houden met anderen…
In bepaalde opzichten wel, natuurlijk. Maar toch mis ik vaak die wisselwerking en die creatieve spanning die een samenwerking oplevert. De sleutel is goede communicatie. Ik ben nu bezig aan een metalproject, Trans World Tribe, waarin ik samenwerk met de Amerikaanse zangeres Staci Heaton, en dat is een geheel andere dynamiek, omdat we ideeën bij elkaar aftoetsen en dan blijkt telkens dat we elkaars creativiteit zodanig stimuleren dat we na een breinstormsessie met veel meer ideeën eindigden dan waarmee we waren begonnen. Zo kan het dus ook. En dat is iets wat ik al sinds de Crucifire-dagen niet meer heb meegemaakt. Ik kan daar alleen maar blij om zijn.
Ik weet dat je de eerste zult zijn om het te beamen, maar toch… als ik Ahrayeph hoor, dan ontdek ik meer progrock dan gothic rock.
Hahaha! Wel, ik kan je geen ongelijk geven. Progrock heeft nu eenmaal een grote invloed op me gehad. Mijn Schotse vriend James Blast noemde Ahrayeph al 'Prog Goth' ten tijde van Samsara en zijn mening is niet veranderd wat betreft AnimAElegy, wel in tegendeel.
In hoeverre verschilt de nieuwe cd van Marooned On Samsara? We weten ondertussen dat het zeven jaar duurde als gevolg van allerlei factoren, maar ik veronderstel dat je op die tijd ook muzikaal een evolutie hebt doorgemaakt, niet?
Ik ben de laatste die daar iets zinnigs over kan zeggen, eerlijk waar. Ik doe wat alle goede muzikanten proberen te doen, en dat is te overtreffen wat ze al hebben gedaan. Je legt de lat hoger voor jezelf, en je hoopt dat fans en pers dat opmerken en waarderen. Ik heb altijd een heel eclectische muzieksmaak gehad, ik vind dat ik dat aan mezelf verplicht ben, wil ik mijn métier ernstig nemen. En dat zal uiteraard ook wel zijn invloed hebben op Ahrayephs muziek.
Als je het mij vraagt vind ik AnimAelegy een ingetogen plaat, bijna iemand die weemoedig terugblikt, of zie ik dat compleet verkeerd?
Nee, helemaal niet, je hebt dat heel goed gezien. Het album begint met een terugblik in Reflection, en het hele verhaal dat ik in de eerste tien songs vertel ontvouwt zich vanaf het volgende nummer Maiden By The Sea. Veel ga ik niet over het verhaal vertellen; dat moet de luisteraar zelf maar ontdekken. Alleen de laatste vier songs maken er geen deel van uit, ook al zou je met enige goede wil ook daar een soort van verhaallijn in kunnen ontwaren, ook al was ik me daar niet van bewust toen ik ze uitkoos als bonussongs.
En tja, terwijl we toch bezig zijn, leg ons eens die vreemde titel (AnimAelegy) uit!
Er zitten veel kanten aan. Ten eerste is 'anima' de Latijnse vertaling van het Griekse woord voor 'psyche', de menselijke geest. Verder heb je nog de 'animus en anima' kanten aan de menselijke natuur volgens Carl Jung: de mannelijke en vrouwelijke aspecten die ieder mens in zich heeft. En 'elegy' is Engels voor 'klaagzang'. Daar zal je het mee moeten doen, maar ik denk dat de verklaring voor de titel daarmee wel voor de hand ligt.

Je kreeg de hulp van Alex Martin op je nieuwe plaat. Vertel daar eens iets meer over.
Ik kwam in contact met Alex via John Carter, de voormalige bassist van Nefilim en Fields of the Nephilim. Hij zag het onmiddellijk zitten om de songs van livedrums te voorzien. Uiteindelijk hebben we dat moeten afblazen, maar ik heb verschillende van zijn drumpartijen wel nagemaakt met mijn drumsampler, en daarom wordt hij uiteraard ook op het album vermeld. Een fijne man en een goede muzikant. Hij zal overigens ook meewerken aan Trans World Tribe.

Zit er een kans in dat we je op een podium kunnen zien?
Zeg nooit nooit. Ik zou echt, echt, écht graag opnieuw willen optreden, hoe meer hoe liever. Maar op dit ogenblik ziet het er eerlijk gezegd niet naar uit. Je hebt daar muzikanten voor nodig, liefst muzikanten die hun taak ernstig nemen; daar hadden we het eerder al over. Daar komt nog bij dat de gothic rock-muzikanten in België erg dun gezaaid zijn, dus is het niet eenvoudig om nog een gitarist en een bassist te vinden die ook nog eens voor de muziek te vinden zijn en ook met de technische aspecten van het livespelen meekunnen, want Ahrayeph is geen jamband. Zo werken we met oormonitoren en spelen op digitale versterkersimulaties, en dat is geen luxe. Alex zou sowieso drummen, dat heeft hij al laten weten. Maar goed, hoop is eeuwig...
Wat is je favoriete plaat aller tijden en vertel ons waarom!
Dat is de moeilijkste vraag aller tijden! Ik heb niet één favoriete plaat aller tijden, ik heb er zo veel. Zelfs de tien albums die ik opgaf voor jullie reeks Albums That Changed Your Life zijn maar een klein deel daarvan, en overigens ook een momentopname, want achteraf sloeg ik mezelf voor het hoofd dat ik dié plaat nog was vergeten, en déze ook nog... Het is voor mij gewoon onmogelijk om er één uit te kiezen.
Met wie zou je het niet erg vinden om acht uur in een lift te zitten, en wat zou je dan doen?
Ik heb daar even over moeten nadenken. Ik zou wel een paar mensen kunnen noemen die ik zou willen leren kennen, maar dan weet je natuurlijk nog niet of je het er acht uur mee zou uithouden in zo'n kleine ruimte. En met mijn vrienden hoef ik niet noodzakelijk zo lang in een lift te zitten. Zij ook niet met mij, trouwens, hahaha!
Ach, doe maar de Nieuw-Zeelandse actrice Hannah Marshall. Het is een mooie madam en ik zou de mens achter de actrice wel eens beter willen leren kennen en te weten komen wat haar drijft.
De laatste woorden zijn de jouwe…
Th-th-th-that's all, folks!
Didier BECU
26/11/2015
---