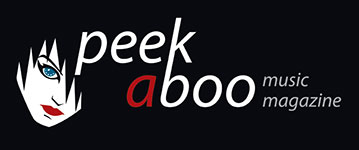 like this article review
---
RAF (AHRÁYEPH)
Ten Albums That Changed My Life
Article
23/08/2015, Didier BECU
---
Last year our magazine had a chat with AHRAYEPH or simply Raf for the friends. AHRAYEPH is one of the sole Belgian gothrockers, even if he's still quite underrated after all these years! Anyway, the time has come for Raf to tell us which ten albums changed his life…
1. Creedence Clearwater Revival - Mardi Gras
It featured the song 'Sweet Hitch-Hiker', which was the first song I sang along, even if I didn't know a word of English as a four year old. It alerted me at a very young age that there was this thing called 'rock' and made me realise that that's what I wanted to do with my life.
2. The Doors - Morrison Hotel
I discovered this gem at a boy scouts summer camp. It featured 'Waiting For The Sun', of which the haunting melancholy and splendour struck me in an instant, more than any Doors song I knew at the time, which were just their career bookends 'Light My Fire' and 'Riders On The Storm'.
3. Pink Floyd - The Wall
I didn't understand it the first time I heard it, beyond the anti-school sentiments of 'The Wall Pt. II', because I was just a tad too young to fully grasp the breadth of the story. But I kept listening and it seeped in and lodged itself firmly in my musical brain and resonated with my own feelings of alienation in relation to society and the world at large. It also made me delve into their back catalog, where I discovered 'Dark Side Of The Moon', which to this day remains my favourite Floyd album.

4. Metallica - Kill 'Em All
OK, so 'Master Of Puppets' to me, is the pinnacle of all things Metallica. But 'Kill 'Em All' was a life changer, in the sense that it had a punk attitude mixed with a metal structure. And it was goddamn fast. And while Kiss' Ace Frehley had made me want to play guitar, Kirk Hammett made me want to play lead guitar. 'Kill 'Em All' was a big 'What The Fuck?!' moment. It hit me like a two ton heavy thing.

5. Marillion - Misplaced Childhood
One of the most misunderstood bands in the history of music, in both incarnations. When the single 'Kayleigh' drew me in with those first delayed guitar chords, I discovered a hallucinatory world, inhabited by loss and heartache, and it projected itself onto my virtual retina in all its dark Technicolor. Fish is a master lyricist, whose lyrics - past and present - still continue to reveal hidden gems to me to this day, and this result of one hell of an LSD trip put to words and music is one of his and his former band's finest moments. The band, with their new singer Steve Hogarth, actually managed to repeat, at least musically, making such a profound concept album with 'Brave', an album I still can hardly listen to, because it's darker and more depressing than many a goth album this side of Joy Division, even at its lighter moments.
6. The Sisterts of Mercy - First And Last And Always
Temple Of Love' introduced me to them. FALAA drew me further into the dark world they had created. With songs like 'Marian', 'Black Planet' and 'Some Kind Of Stranger', I was hooked forever to all things dark and goth.
7. Queensrÿche - Operation : Mindcrime
Queensrÿche, at the time, never wrote the same album twice. With every album, their fans had to readjust their musical knowledge of the band, in true prog fashion. Their previous album 'Rage For Order', had been influenced by the goth scene in Vancouver, where they recorded it, and had some early industrial leanings. This, however, is the band's 'The Wall', and it features their most gothic songs : 'The Mission' and 'Suite Sister Mary', as well as a solid storyline, with some inflammatory social commentary on American society they, or any other band, might not even get away with today. Still, a prostitute-gone-nun being raped on an altar by a priest on a weekly basis... That's some pretty heavy shit, even for the late 80s, and it's just the tip of the ice berg...

8. Cure - Disintegration
A long standing affection for The Cure came to its peak with this album. I love the quirkiness of 'Lullaby', the haunting melody of 'Pictures Of You', and the atmospherics of songs like 'The Same Deep Water As You' and 'Prayers For Rain'. And the bass on 'Fascination Street'. Especially the bass on 'Fascination Street'.

9. Fields Of The Nephilim - Elizium
Even though I'm sick of the comparisons between Ahrayeph and FOTN, I can't deny being influenced by this band, especially because of this album. Although 'The Nephilim' was my introduction to the band, and a fine one at that, this album just resonated with me on a whole new level. Maybe it was also the drugs I used at the time, but that album's universe totally immersed me and for the next couple of years, it was on my daily play list. I still listen to it, although a lot less than I used to. But it remains a magnificent album.
10. The God Machine - One Last Laugh In A Place Of Dying
For a band that only released two albums and a hand full of EP's, TGM sure put a lot of great music out, because I can't find a weak song among them. Their second and final album, released after the sudden death of bass player Jimmy Fernandez due to an undiagnosed brain tumor, is another album that was life altering and which became my daily 'go to' album for at least two years straight. The honesty of Robin Proper-Sheppard's lyrics and his delivery, as well as the marriage between beauty and brash, jarring dissonance just took me in and altered my soul. It is that powerful an album, only missing the song 'Pictures Of A Bleeding Boy', which was slated to be on it, but was left off due to time constrains, so Robin told me later. Oh well, it made a fine EP...
Didier BECU
23/08/2015
---
---