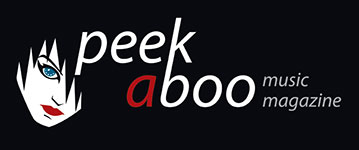 like this movie review
---
ANDRE VAN DUREN
De Bende Van Oss
Movie
Crime
[72/100]

E1
20/08/2015, Didier BECU
---
Every place on earth has a black side. Oss, the North Brabant town in the Netherlands, had barely 20,000 inhabitants before the Second World War, but it got the nickname "Chicago on the Maas River'. 160 people were arrested in Oss in 1934. It was not until 2011 that a film was made about this well known gang, and although not everyone had friendly words for director André Van Duren, The Gang Of Oss is nonetheless a must.
Despite the Dutch dialect, The Gang Of Oss really looks like an American Hollywood movie. The story is told from the perspective of a female protagonist. A perfect choice, because the pub owner Johanna van Heesch (Sylvia Hoeks), who earns some extra money as a hooker, is a very interesting character. Johanna is married to Ties (Matthias Schoenaerts), who has just been discharged from prison. Ties is a very brutal and dangerous guy, he thinks it's normal to kick the baby out of Johanna's womb when she refuses an abortion. Crime is in his blood, and he is a member of the feared gang of Oss that is led by Wim de Kuiper (Marcel Musters). Even the Royal Military Police can't prevent that the mafia boss controls Oss.
Our Dutch readers might not be happy to read this, but unfortunately the number of good Dutch films can be counted on ten fingers. The Gang Of Oss is totally different, and that is mainly due to the excellent performances. It feels a bit strange to see Schoenaerts performing in a Dutch dialect, but not only does it sound funny, it also works! Sylvia Hoeks is more than just a beauty, as she proves in this crime drama that she is able to carry a whole film. Marcel Musters is hilariously funny (but dangerous) as mafia boss, that it seems as if he comes from a scene of Boardwalk Empire. If you have the chance to watch the movie, then do it!
Didier BECU
20/08/2015
---
Iedere plek op aarde heeft wel een zwarte zijde. Ook al zou je dat niet meteen zeggen van Oss, het Noord-Brabantse stadje in Nederland. Toch kreeg deze plaats, die voor de Tweede Wereldoorlog amper 20.000 inwoners telde niet voor niets de bijnaam "Chicago aan de Maas". Slik niet als je weet dat er in 1934 ruim 160 Ossenaren werden aangehouden. Ideaal voer dus om een film over deze bende te maken, ook al duurde dat tot 2011. Maar wachten loont, ofschoon niet iedereen even vriendelijk was met zijn pen voor regisseur André Van Duren, is De Bende Van Oss een aanrader.
Er wordt wel plat Limburgs gesproken en het gaat er wel een tikkeltje vulgair aan toe (zoals in zo veel andere Nederlandse films), toch ziet De Bende Van Oss er als een Amerikaanse Hollywoodfilm uit. Het verhaal wordt vanuit het standpunt van een vrouwelijke protagoniste verteld. Een perfecte keuze, want de café-uitbaatster Johanna van Heesch (Sylvia Hoeks) die als hoertje wat centen bijverdient, is immers een zeer interessant personage. Johanna is getrouwd met Ties (Matthias Schoenaerts) die net uit de gevangenis is ontslagen. Ties heeft losse handjes en vindt het normaal om de baby uit Johannas buik te schoppen als zij een abortus weigert. Misdaad zit in Ties bloed en hij is dan ook lid van de gevreesde bende van Oss, die wordt geleid door Wim de Kuiper (Marcel Musters) die de plak zwaait in de hele stad. Zelfs de Koninklijke Marechaussee kan niet verhinderen dat deze maffiabaas de handel en wandel van de Ossenaren controleert.
Onze noorderburen zullen het misschien niet al te graag horen, maar het aantal goede Nederlandse films kan je helaas op tien vingers tellen. Dat is geen probleem voor De Bende Van Oss, en dat komt voornamelijk door de puike vertolkingen. Het voelt een beetje vreemd aan om onze nationale trots Matthias Schoenaerts plat Brabants te horen praten, maar het klinkt niet alleen grappig, het werkt nog ook! Sylvia Hoeks is meer dan bloedstollend mooi, ze bewijst in dit misdaaddrama ook dat ze in staat is om een film te dragen. Marcel Musters is als maffiabaas dan weer zo hilarisch grappig dat het lijkt alsof hij uit een scène uit Boardwalk Empire komt. Als je de film ooit eens kan bekijken, beslist doen!
Didier BECU
20/08/2015
---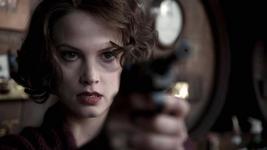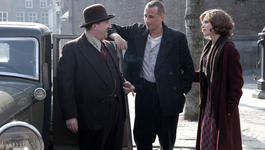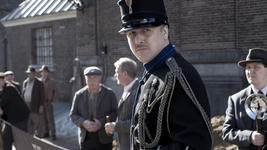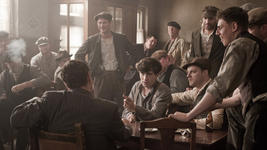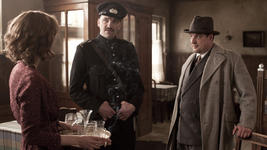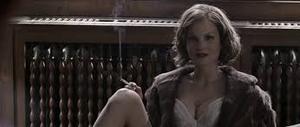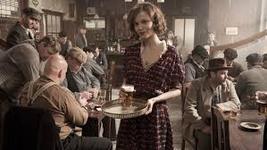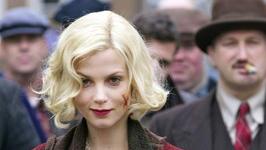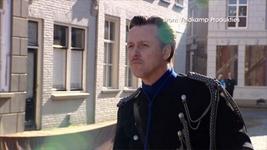 ---