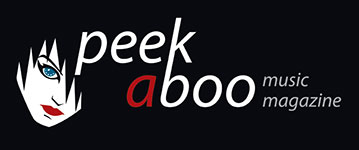 like this movie classics review
---
DAVID BRADLEY
Harry Brown
Movie
•
Movie classics
Crime
[78/100]

03/08/2015, Didier BECU
---
Fancy a game? Take twenty film fans and give them a sheet of paper. Ask them to pen down twenty famous actors within two minutes. I bet that not one list will mention the name of Michael Caine! Strange, because if you list all his movies, then you get an impressive filmography that will make many actors jealous. Because of his age, we know him these days for roles such as the butler Alfred Pennyworth in the Batman-series, but in the 60s and 70s he was a dream name if you needed a spy or a bad boy (Get Carter, The Ipcress File or the original version of The Italian Job).
Daniel Barber's film debut Harry Brown reintroduces Caine's old image. He is a gentleman, let's say an example, it is a bad idea to make him angry. Harry Brown is a retired Marine. He spends his old days in the pub or by playing a game of chess at home with his only friend Leonard (David Bradley, who you certainly have seen in Game Of Thrones or Harry Potter). The neighbourhood in which they live is daily plagued by young rascals, who sells drugs and destroy the properties of others. Harry gives his old friend the advice to go to the police, but they do not listen to his story. After another humiliation, it is all too much for Leonard. The outcome is dramatic: after a altercation, he is stabbed by one of the youngsters. Harry Brown, who has nothing to lose, takes the law into his own hands.
Although the film is completely unbelievable (especially the end looks too much like a scene that's been taken from Mad Max), Harry Brown remains one of the best revenge movies of recent years. In pure Death Wish-style, Caine uses hus gun without pity. Those who are directly or indirectly involved with Leonard's death get a free ticket to hell.
Despite his glittering Hollywood career, Michael Caine stays a Brit at heart and in a British films that is always a plus. Caine stars as an avenger without mercy. It is therefore no exaggeration to say that this movie is almost like a one-man show of Michael Caine. It is kind of weird to see him play on his old age a Steven Seagal-like role, but it works. The film is sadly enough overlooked, but you can find it regularly at cheap price bins. So next time, just take it home!
Didier BECU
03/08/2015
---
Zin in een spelletje? Neem twintig filmfans en geef ze een blaadje papier. Verplicht ze om binnen de twee minuten twintig acteurs neer te pennen. Wedden dat daar geen enkele keer de naam van Michael Caine in voorkomt? Vreemd, want als je al zijn films opsomt, dan heb je een aardig lijst waarop heel wat acteurs jaloers zouden zijn. Door zijn hoge leeftijd kennen we de Londenaar tegenwoordig uit rollen zoals die als butler Alfred Pennyworth uit de Batman-reeks, maar in de jaren 60 en 70 was hij de droomnaam voor het vertolken van een spion of zware jongen (Get Carter, The Ipcress File of de oorspronkelijke versie van The Italian Job).
In Daniel Barbers debuutfilm Harry Brown grijpt men terug naar Caines oude imago. Hij is een gentleman, een voorbeeld zeg maar, alleen maak je hem beter niet boos. Harry Brown is een marinier op rust. Hij brengt zijn dagen door in de kroeg ofwel door thuis een partijtje schaak te spelen met zijn enige vriend Leonard (David Bradley, een karakterkop die je zeker uit Game Of Thrones of Harry Potter kent). Een rustige oude dag is het voor de twee niet geworden, want de wijk waarin ze wonen wordt dag in dag uit geteisterd door de wandaden van jong gespuis dat drugs verkoopt. Harry geeft zijn oude vriend de raad om langs te gaan bij de politie, maar de wethouders hebben geen oren naar zijn verhaal. Na de zoveelste vernedering wordt het allemaal te veel voor Leonard. De afloop is dramatisch: na een flinke woordenwisseling wordt hij door één van de jongeren doodgestoken. Harry Brown, die toch niets meer te verliezen heeft, neemt het recht in eigen handen.
Alhoewel de film compleet ongeloofwaardig is (vooral het einde lijkt net iets te veel op een scène uit Mad Max), is Harry Brown toch één van de betere wraakfilms van de laatste jaren. In pure Death Wish-stijl hanteert Caine zonder medelijden het geweer. Wie rechtstreeks of onrechtstreeks bij Leonards dood betrokken is, krijgt zonder omzien een gratis kaartje voor de hellepoort.
Ondanks zijn glansrijke Hollywoodcarrière, is Michael Caine een Brit in hart en nieren en in een Britse film is hij dan ook een meerwaarde. Ook hier schittert Caine volop als wraaknemer zonder genade. Het is dan ook niet overdreven als we zeggen dat deze actiefilm bijna een onemanshow van Caine is geworden. Caine die op hoogbejaarde leeftijd schittert in een Steven Seagal-achtige rol, wie had dat ooit gedacht? De film is misschien een beetje vergeten, maar daarom niet minder goed. Je vindt hem met de regelmaat van een klok tegen een spotgoedkope prijs in de uitverkoopbakken. Volgende keer dus gewoon meenemen!
Didier BECU
03/08/2015
---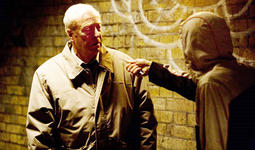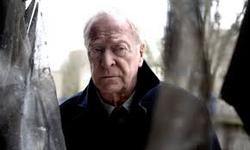 ---