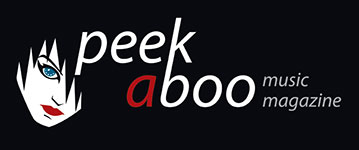 like this movie review
---
LEN WISEMAN
Total Recall (2012)
Movie
[60/100]

SONY SPHE
02/08/2015, Didier BECU
---
No, we are not talking about Total Recall from 1990. And yes, that one is (much) better, but we will talk about that one on another occasion. The film by Paul Verhoeven is a bit dated because of the special effects, but it has remained a science fiction classic of the best kind. So we were very curious to see the remake of it. Not that the answer isn't predictable, because there is no one who can erase Arnold Schwarzenegger, certainly not the non–talented Colin Farrell. Worse is director Len Wiseman who transformed his wife Kate Beckinsale in Underworld into an irresistible playmate for science fiction freaks, but he is also responsible for the fourth part of the Die Hard-franchise.
As it is often the case in science fiction stories, the world is in bad shape in Total Recall. Many chemical wars made our planet almost uninhabitable. Housing space has become scarce and expensive and you can only find it in the United Federation of Britain (UFB) and the Colony (what used to be Australia). The rest of the world is totally destroyed. With The Fall (an ultra-modern transport system that rushes right through the earth) you can travel in fifteen minutes from London to the Colony. Douglas Quaid (Colin Farrell) is a worker who has to go every day to the Colony to make robot soldiers. He is happily married to his wife Lori (Kate Beckinsale), but he regularly asks himself whether life is just hard work. Moreover, the man suffers from terrible nightmares that return every night. He doesn't know exactly what happens, but a woman plays a very important role in that dream. Douglas thinks Rekall can solve his problem, the company is indeed specialized in making the dreams of their clients come true. The colleagues of Douglas advise him not to do such a dangerous brainwashing, but his desire is too strong. He agrees to do a session. In the dream he plays the role of a secret agent. At the moment that an injection needle is pricked in his arm, the police arrives. In no time Douglas kills fifteen armed policemen. Is this the beginning of an unfulfilled childhood dream or is it the start of a nightmare? Poor Douglas does not know what to believe as his whole life seems to be one big lie. He's not, as he thinks, married to Lori for nine years, because the handsome brunette only knows him for six weeks. Even his own identity turns out to be wrong, Douglas Quaid seems to be Carl Hauser, who is the right hand of terrorist leader Matthias (Bill Nighy). No one can be trusted, not even Lori. Suddenly the mysterious woman (Jessica Biel) from his dream shows up.
This film is based on the short story We Can Remember It For You Wholesale by Philip K. Dick. The remake has become too much of a modern copy of Verhoeven's film and that is the weak point. Verhoeven himself was asked several times to do a remake, but the director declined consistently as he refuses that kind of stuff. Wiseman's love for the Arnie version is so big that it seems as if he has just copied the funniest moments. Although the scenery is stunning, it doesn't offer the film real extra value. Colin Farrell doesn't seem interested in his role and Biel is always superficial. Beckinsale just repeats her Underworld-role: being sexy and perform acrobatic stunts. Wiseman is not a master storyteller like Verhoeveneither. The result is a complicated story that is occasionally a mess. As expected: the Total Recall-remake is enjoyable, but totally unnecessary.
Didier BECU
02/08/2015
---
Neen, we hebben het niet over Total Recall uit 1990. En ja, die is (veel) beter, maar die nemen we wel een andere keer onder de loep. De film van Paul Verhoeven is door zijn belabberde special effects weliswaar een beetje gedateerd, doch is hij door de genialiteit van de Nederlander een sciencefictionklassieker van het beste soort. We waren dan ook ontzettend benieuwd hoe de remake het ervan af zou brengen. Niet dat het antwoord lang op zich laat wachten, er is immers niemand die Arnold Schwarzenegger kan doen vergeten, zeker het non-talent Colin Farrell niet. Nog erger is het dat de regie in handen van Len Wiseman werd gestopt. Deze cineast toverde zijn echtgenote Kate Beckinsale in Underworld om tot een onweerstaanbare stoeipoes, toch is hij ook verantwoordelijk voor het vierde (en weinig geslaagde) luik van het Die Hard-verhaal.
Zoals dat vaak het geval is in sciencefictionverhalen, is ook in Total Recall de wereld er slecht aan toe. Heel wat chemische oorlogen hebben onze planeet herschapen tot een bijna onbewoonbaar gebied. Woonruimte is door zijn schaarste het kostbaarste op de wereld geworden en alleen in de United Federation of Britain (UFB) en de Kolonie (wat vroeger Australië was) te vinden. De rest van de wereld is totaal verwoest. Met de Fall (een ultramodern transportsysteem dat door de aarde raast) reist men in een kwartiertje van Londen naar de Kolonie. Douglas Quaid (Colin Farrell) is een arbeider die alle dagen naar de Kolonie trekt om in een fabriek robotsoldaten te maken. Hij is gelukkig getrouwd met zijn vrouwtje Lori (Kate Beckinsale), doch vraagt hij zich geregeld af of het leven alleen maar hard labeur is. De man heeft bovendien last van verschrikkelijke nachtmerries die elke nacht terugkeren. Hij weet niet wat er precies gebeurt, doch speelt een vrouw een heel belangrijke rol in zijn droom. Douglas denkt dat Rekall soelaas kan bieden voor zijn probleem, de firma is er immers in gespecialiseerd om z'n klanten de herinneringen van hun dromen te bezorgen. De collega's van Douglas raden hem zo'n gevaarlijke hersenspoeling ten stelligste af, doch is zijn drang naar de waarheid sterker. Hij schrijft zich in voor een sessie. In de bestelde droom speelt hij de rol van geheimagent. Op het moment dat een injectienaald in zijn arm wordt geprikt, valt de politie binnen. In geen tijd schiet Douglas vijftien zwaarbewapende agenten neer. Is dit het begin van een onvervulde jongensdroom of is het de aanvang van een echte nachtmerrie? De arme Douglas weet niet wat hij moet geloven, wel lijkt zijn hele leven één grote leugen te zijn. Hij is niet zoals hij denkt negen jaar met Lori getrouwd, want de knappe brunette kent hem amper zes weken. Zelfs zijn eigen identiteit blijkt niet te kloppen, Douglas Quaid is immers Carl Hauser. Carl is de rechterhand van terroristenleider Matthias (Bill Nighy). Niemand is nog te vertrouwen, zelfs Lori niet. Wel duikt plotseling de mysterieuze vrouw (Jessica Biel) uit zijn droom op.
Deze film is op het kortverhaal We Can Remember It For You Wholesale van Philip K. Dick gebaseerd. De remake is op sommige momenten een bijna hondstrouwe kopie van Verhoevens film geworden en dat is meteen het zwakke punt ervan. Men heeft Verhoeven zelf verschillende keren gevraagd of hij het zag zitten om een remake te maken, doch weigerde de cineast steevast omdat hij een grondige hekel aan dat soort dingen heeft. De liefde van Wiseman voor de Arnie-versie is zo groot dat het erop lijkt alsof hij de leukste momenten gewoon heeft gekopieerd. Weliswaar krijg je de verbluffende decors erbij als bonus, toch bieden ze de film geen echte meerwaarde. De decors uit het origineel waren wel sullig, maar wat heb je aan een oogverblindende achtergrond als de cast niet kan acteren? Colin Farrell is geen seconde in zijn rol geïnteresseerd en Biel speelt zoals altijd oppervlakkig. Beckinsale haalt gewoon haar Underworld-rolletje opnieuw uit de kast: sexy wezen en veel acrobatische stuntjes uitvoeren, maar van acteren is er weinig sprake. Wiseman is bovendien geen meesterverteller zoals Verhoeven. Het resultaat is dan ook dat het ingewikkelde verhaal af en toe een zooitje is. Het verdict is dan ook zoals we hadden verwacht: de remake vanTotal Recall is genietbaar, maar eigenlijk overbodig.
Didier BECU
02/08/2015
---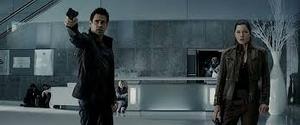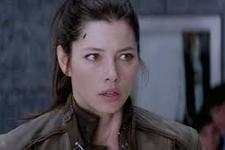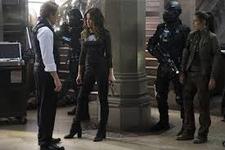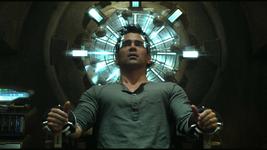 ---