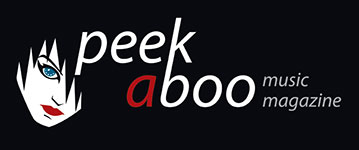 like this tv series review
---
BOARDWALK EMPIRE SEASON 4
Movie
•
TV series
Crime
•
TV Series
[80/100]

Warner Home Video
29/08/2014, Didier BECU
---
Some months ago, the producers from HBO surprised everyone by announcing the end of Boardwalk Empire: the excellent gangster epos from Terrence Winter that's been produced by Martin Scorsese. After five seasons this decision was made on double ground. First of all, there was the public. Critics were raving about, but average Joe didn't care about those crooks from Atlantic City. Secondly, the makers wanted to end in beauty. Without any doubt, Boardwalk Empire is one of the best crime series of all time and every season they were setting the sight higher and higher, just like they did with the 4th season that is now out on both DVD and Blu-ray.
We still follow Enoch Thompson (Nucky for friends, Steve Buscemi) who has gathered a real kingdom during the bootlegging-years. This didn't happen just like that. You have to need a thick book to include all those who are gunned down. Even Nucky himself went through the eye of the needle. Despite his money, he's a sad loner. His faithful wife Margaret Schroeder (Kelly McDonald) already left him a long time ago, and also with brother Eli (Shea Whigham) things aren't going well. Nucky's new lover is Sally Wheet (Patricia Arquette). Well, perhaps Nucky might not be the regular family man some wants him to be, but they always come knocking on his door when someone's in trouble: like for instance his nephew who "accidentally" poisoned his rival.

America is wild about jazz and Chalkie (Michael K. Williams) wants to introduce the roaring 20's-sound in Atlantic City. Nucky not only gets his fortune from nightclubs. There's the booze too, even if drugs are coming up. The mobster is still chased by the FBI, he still has to be careful for rival Al Capone (Stephen Graham) and also his loyal servant Eddie (Anthony Laciura) plays an important role in the puzzle of his life.
It's still impossible to summarize the essence of Boardwalk Empire in a nutshell. But then again, why should we do that? The magic from this series is to be found in the ingenious scripts, or in other words: top television just like we want to have! Boardwalk Empire is of course the series from Steve Buscemi, but the whole cast acts splendid. All characters are cruel, but they all have become a legendary part of television history. In case you're a dummy, we recommend you to begin with the start. Well, that seems normal, but the first three seasons are available in one box, so why wait? The others have no excuse: this 4th season belongs to your collection.
Now out on HBO via Warner on both DVD and Blu-ray. A tip? More than that!
Didier BECU
29/08/2014
---
Een paar maanden geleden nog kondigde kwaliteitszender HBO aan dat er een einde aan Boardwalk Empire zou komen, het excellente gangsterepos van Terrence Winter dat ook nog eens door Martin Scorsese is geproduceerd wordt na vijf seizoenen definitief opgedoekt. De beslissing is deels te wijten aan het feit dat het grote publiek niet echt viel voor de misdadigers uit Atlantic City, anderzijds wilden de makers ook in schoonheid eindigen. Want jawel, Boardwalk Empire is zonder enige twijfel één van de allerbeste misdaadseries ooit waarbij de lat ieder seizoen wat hoger wordt gelegd. Zo ook in het vierde, en dus het voorlaatste luik.
We volgen nog steeds het relaas van maffiabaas Enoch Thompson (Nucky voor de vrienden, Steve Buscemi) die tijdens de drooglegging een gigantisch misdaadrijk wist aan te leggen. Dat gebeurde zeker niet zonder enige slag of stoot. Je hebt al een heel dik boek nodig om iedereen die aan flarden is geschoten erin te kunnen noteren, en ook Nucky zelf is door het oog van de naald gekropen. Ondanks zijn majestueuze rijkdom is hij eigenlijk niet meer dan een zielige eenzaat. Zijn trouwe echtgenote Margaret Schroeder (Kelly McDonald) heeft hem al lang verlaten en komt in dit seizoen nog amper in beeld. Zij wordt tegen Sally Wheet (Patricia Arquette) ingeruild. Ook met zijn bloedeigen broer Eli (Shea Whigham) botert het niet echt meer, ook al komt men maar al te graag bij Nucky aankloppen (bijv. als zijn neefje "per ongeluk" een klasgenoot vergiftigt) indien men zijn invloed wil gebruiken. Het is ondertussen 1924 en de jazz is volop aan zijn opmars bezig. De man die dat allemaal in Atlantic City wil introduceren is Chalkie (Michael K. Williams).
Nachtclubs zijn niet de enige bron van Nucky's royaal inkomen. Er is natuurlijk ook de drank, ofschoon de drugs meer en meer in trek komt. De maffiabaas wordt nog steeds opgejaagd door de FBI, moet nog steeds opletten voor rivaal Al Capone (Stephen Graham) en ook zijn trouwe dienaar Eddie (Anthony Laciura) speelt in dit seizoen een belangrijke rol van Nucky Thompson's levenpuzzel.
Het blijft een bijna onmogelijke opdracht om het verhaal van Boardwalk Empire te vertellen. Nu ja, waarom zouden we dat ook doen? De scenario's zitten boordevol intriges en op het van iedere aflevering blijft de kijker verbaasd omdat hij deze wending niet onmiddellijk had verwacht of m.a.w. toptelevisie in al zijn glorie. Boardwalk Empire is misschien wel een beetje dé serie van Steve Buscemi geworden, maar de rest van de cast speelt minstens even sterk. Alle personages zitten fantastisch in elkaar (ook al zijn het allemaal stuk voor stuk onwrikbare snoodaards die geen greintje medelijden verdienen). Mocht je een beginner zijn dan is het misschien best om eerst de drie seizoenen (verzameld in één box) te bekijken wil je het allemaal een beetje willen volgen. Wie vertrouwd is met Nucky en de zijnen kan zich zorgeloos het vierde seizoen aanschaffen.

Nu uit op HBO via Warner op zowel dvd als Blu-ray. Een tip? Meer dan dat!
Didier BECU
29/08/2014
---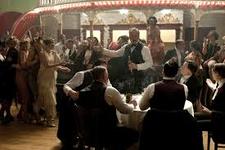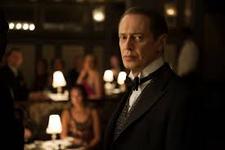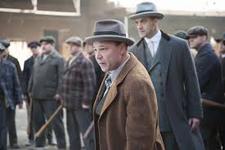 ---