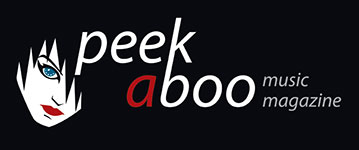 like this tv series review
---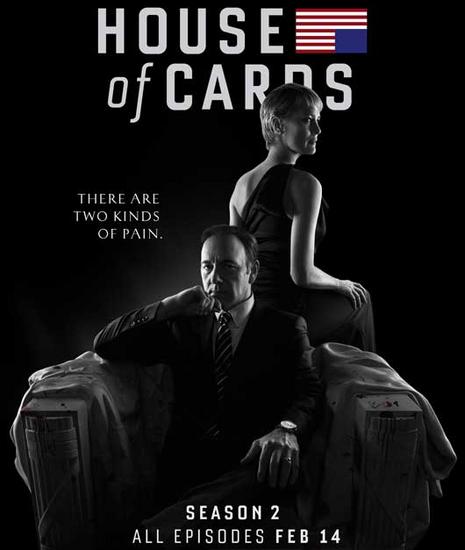 HOUSE OF CARDS SEASON 2
Movie
•
TV series
Political
•
TV Series
[86/100]

SONY SPHE
25/08/2014, Didier BECU
---
In the mean time we know that House Of Cards has caused a revolution in television world. We live in a fast world in where there's no time for patience. Back in the 80's it was possible that television stations were keeping the whole world in tension with the answer to the question who shot JR in Dallas, but such things are simply not possible today.
Netflix, the American company that created House Of Cards, put an end to the television law that said series had to be divided in one episode each week. The station decided to broadcast the whole first season in one row, and in very short time they also launched the second season. And so it happens that some weeks after we reviewed the 1st one, now the 2nd is already in the shops!
Peek-A-Boo respects our readers. So if you haven't seen the first season yet, then immediately click to another review as there's nothing so annoying as journalists who destroy the viewer's fun with publishing spoilers, not?
For those who don't know it yet: House Of Cards is set in the White House. American politicians perhaps might claim that they're having clean hands, in the fictional world that's been created by David Fincher and Beau Willimon, they're all corrupt. The dirty game is lead by Francis Underwood (Kevin Spacey) who has already become the vice president from the US. There's nothing that can stop his hunger for power. He daily manipulates the people who are surrounding him (or even more his enemies!) and doesn't even hold his breath to murder someone if that fits in his agenda (and no, even if this happened in the first season we won't tell who!).
Underwood wants all the power he can get and is never satisfied, he wants his kingdom to become bigger and bigger. Not everyone is easy to erase, in the second season he has to fight Raymond Tusk (Gerald McRaney): the adviser from President Larkin (Michael Gill). Once again we witness a cruel game of power in where, as always, Underwood gets the assistance from his bitchy wife Claire (Robin Wright).
For another time House Of Cards has become a synonym for thirteen hours of top television. For non-American viewers it might be a bit difficult to team up with the difficult terms that are typical for American politics (not everyone is aware of that!), but that's only a minor detail as the series is characterised by both genius scripts that are full of tension and brilliant performances. It looks like if Kevin Spacey is performing Underwood better and better, a role that simply has been made for him. But that counts for Robin Wright too.
We know, maybe you need some more holiday days to catch up with all those great television shows coming your way, but we can only conclude that the second season from House Of Cards (out on Sony, on both DVD and Blu-ray) is (once again) obligatory stuff.
Didier BECU
25/08/2014
---
Ondertussen is het al een gekend feit dat House Of Cards voor revolutionaire televisie heeft gezorgd. We leven in een tijd waar alles snel moet gaan en geen ruimte is voor geduld. Kon de televisiewereld in de jaren 80 nog de hele planeet nog in het ooitje nemen door maandenlang te verzwijgen welke snoodaard JR in Dallas had neergeschoten, dan is zoiets anno 2014 niet meer mogelijk. Netflix, het Amerikaanse station dat House Of Cards creëerde, besloot om een einde te maken aan de historische routine die stelde dat een reeks moet worden verdeeld in het stramien van één aflevering per week. De televisiezender zond het hele eerste seizoen in één ruk uit en in vrije korte tijd verscheen tevens het tweede luik. Dat vertaalt zich ook in de winkelrekken, want hadden we het een paar weken geleden nog over dat eerste fantastische seizoen dan is het nu de beurt aan het (misschien zelfs betere) tweede!
Peek-A-Boo respecteert onze lezer, dus mocht je het eerste seizoen nog niet hebben gezien, klik dan onmiddellijk door naar de volgende review, want niets is zo erg als journalisten die de kijkpret met spoilers bederven.
Voor wie het nog niet zou weten, House Of Cards is een reeks die zich in het Witte Huis afspeelt. De politici beweren misschien wel bij hoog en laag dat ze propere handen hebben, maar de politieke wereld van David Fincher en Beau Willimon is er een waarin verraad en corruptie welig tiert. Het vuile spel wordt geleid door Francis Underwood (Kevin Spacey): een gladde aal die het ondertussen tot vicepresident heeft geschopt. Er is niets wat er hem van weerhoudt om deze troon te bestijgen. Dagelijks manipuleert hij de mensen rondom hem (en nog meer zijn vijanden) en schrikt er zelfs niet voor terug om iemand te vermoorden (en neen, ook al gebeurde dat in het eerste seizoen, verklappen wij niet wie!). Underwood is evenwel een roofdier dat alsmaar meer macht wil en dus heeft hij de drang om zijn imperium nog meer uit te breiden. Het grootste obstakel naar de ultieme top is deze keer Raymond Tusk (Gerald McRaney): de adviseur van president Larkin (Michael Gill). Een machtspel waarbij Underwood zoals steeds de hulp krijgt van zijn echtgenote: de feeks Claire (Robin Wright).
Het tweede seizoen van House Of Cards is wederom dertien uur toptelevisie die niemand mag missen. Soms is het wel een beetje wennen aan de soms moeilijke terminologie (niet iedereen is nu eenmaal vertrouwd met het Amerikaanse politieke leven), maar dat wordt ijzersterk opgevangen door zowel de spannende scenario's als de briljante vertolkingen. Kevin Spacey doet het steeds maar beter als Amerikaanse politicus en de rol van deze aasgier lijkt hem op het lijf te zijn geschreven, iets wat evengoed voor tegenspeelster Robin Wright geldt.
Je hebt misschien wat extra verlofdagen nodig om al deze fantastische series te kunnen bekijken, maar we kunnen niet anders dan besluiten dan dat het tweede seizoen van House Of Cards (uit op Sony, zowel op dvd als Blu-ray) alweer een absolute must is.
Didier BECU
25/08/2014
---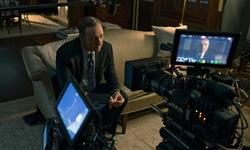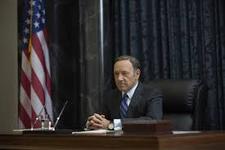 ---