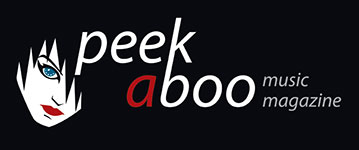 like this movie review
---
MICHAEL HERZ & LLOYD KAUFMAN
The Toxic Avenger
Movie
Horror
[72/100]

88 Films
25/08/2014, Didier BECU
---
Cult fanatics surely need no introduction to the mighty American Troma-label. Since 1974 founders Lloyd Kaufman and Michael Herz have released and produced over thousand movies in a pure independent way. Those who want to kick you some brains (never trust them!) are keen to condemn the label for its so-called bad taste, but film fans who are ready to swallow some sarcasm will adore their art that sometimes is categorized as the Z-movie. The makers never take themselves too serious and are offering great stories that are dominated by sex and horror.
Most of those movies are found in collections from cult fanatics, but 1985 was a special year for them as The Toxic Avenger became a worldwide hit that gained Troma a whole fortune. The company denied to sell their soul. Rather than looking for a repeating success, they used the money to invest in what they were doing best: being 40 years the leader of independent gore cinema.
Anyone who is visiting some forums will be scared if he sees prices that some fans are ready to pay for some movies. Lots of them are difficult to find, but in the US the company started now making non-region free Blu-ray's. No need to search a handkerchief so you can dry your tears as the UK-based 88 Films is picking them up as well, and they can be played everywhere!. After The Last Horror Film they now have released The Toxic Avenger on an excellent Blu-ray.
The movie refers of course indirectly to the Marvel-heroes. Melvin Ferd (Mark Torgi) works as a mop boy in a fitness club in Tromaville. Everyone is joking with this nerdy guy. One day another bimbo bullies Melvin. The poor guy runs away from shame and lands in some radioactive waste. In no time Melvin transforms in The Toxic Avenger. Just like Spiderman rescues New York, The Toxic Avenger protects the brave citizens against villains.
There's no real script involved in this movie that got two sequels, but so what? 80 minutes long the viewer is witnessing the crazy, hilarious world in where everything is possible. The characters are so over the top that they're hilarious from the very first second. Of course there are things going on that "normal" people would upset. But for those who only like normal: get a life! So yes, you'll see a blind woman falling over everything or a grandma get beating up by some wreckless youngsters, but it's always funny!
The Toxic Avenger has been made for a very cheap price. During years the movie was available world wide on lots of different videotapes and DVD's, but this is the release with the ultimate HD you have to own. Everything looks splendid and for die-hard fans there's also the inclusion of the (not in HD) 92 minutes long Japanese version.
There are lots of extra material included in here. Most of those short movies (something like ten in total) are made by the hilarious Lloyd Kaufman. The film guru invites you for example to his desk, takes you to Honolulu and even explains you why he ended up at the street as a homeless. Hilarious funny!
This cult classic is now out on 88 Films. There are no excuses not to have this in your collection!
Didier BECU
25/08/2014
---
Iedere cultfanaat weet zonder twijfel waar het Amerikaanse Troma-label voor staat. Sinds 1974 hebben Lloyd Kaufman en Michael Herz meer dan duizend films in roulatie gebracht. Moraalridders zullen het misschien wel over slechte smaak hebben die moet worden verboden, maar wie een flinke dosis sarcastische humor kan verteren heeft dat soort film ondertussen omgedoopt tot de Z-film. De filmmakers nemen zichzelf niet al te serieus en de verhalen zijn meestal doordrenkt met heel wat gruwel en seks, ofschoon je er ook geregeld kritiek op de huidige maatschappij in terugvindt.
De meeste van de Troma-films zijn in de kast van fervente cultfanaten belandt, maar in 1985 gingen de poppen aan het dansen met The Toxic Avenger: een vrij goedkope prent die wereldwijd een gigantisch succes werd. Troma kon (of wilde) dat succes niet herhalen, want ze wilden vooral trouw aan zichzelf blijven. Wel bracht de film meer dan genoeg geld in het laatje waardoor het filmhuis tot op vandaag één van 's wereld grootste (en beste, of ten minste met een eigen gezicht!) onafhankelijke filmlabels is gebleven.
Wie rondsnuffelt op het net zal zich een hoedje schrikken als hij de prijzen ziet wat sommige fans voor de vaak onvindbare films willen neertellen. Mondjesmaat worden deze cultklassiekers op niet-regiovrije Blu-ray's uitgebracht, maar gelukkig kan de Europese fan zich tot Engeland wenden. 88 Films heeft namelijk na The Last Horror Film nu ook The Toxic Avenger op een excellente Blu-ray uitgebracht.
Het verhaal is een flinke knipoog naar de Marvel-helden. In Tromaville werkt Melvin Ferd (Mark Torgi) als schoonmaakjongen in een fitnessclub. Iedereen lacht de jongen wegens zijn slungelachtig gedrag uit. Als op een dag één of andere babe er weer voor zorgt dat Melvin het centrum van de spot wordt duikelt de pineut per ongeluk in een vat radioactief aval (tja) en verandert hij in The Toxic Avenger. Net zoals Spiderman dat in New York doet redt ook The Toxic Avenger de brave burgers van Tromaville tegen het gevaarlijke gespuis van de stad.
Een echt verhaal zit er niet in deze film die uiteindelijk twee sequels kreeg, maar wat zou het? 80 minuten lang wordt de kijker ondergedompeld in een krankzinnige sfeer waarin de slechte (maar enigszins subtiele) smaak regeert. Karakters die zo over the top zijn dat je erom moet glimlachen. Aan foute humor is er dus absoluut geen gebrek. Een blinde vrouw die over alles sukkelt of kwajongens die een oude oma in elkaar rammen, bij Troma moet dat allemaal kunnen. Sommige van onze lezers zullen deze film wellicht op alle mogelijke manieren ontwijken, maar die hebben wel ongelijk!
The Toxic Avenger werd voor een prikje in elkaar geknutseld. Jarenlang waren er op de dvd-markt een heleboel versies te verkrijgen met een afschuwelijk beeld, maar nu is er uiteindelijk de ultieme HD-versie die tot in de puntjes is verzorgd. Alle vroegere storingen zijn volledig weggewerkt en het is dan ook een transfer om te koesteren. Let wel op, het gaat alleen maar om de film. De vele extra's en de ongecensureerde Japanse versie van 92 minuten zijn niet gerestaureerd en hebben nog steeds de videokwaliteit van toen.
Er staan massa's extra materiaal op dit schijfje. Zoals eerder aangehaald is er niet alleen de ongecensureerde Japanse versie, maar vind je hier ook een tiental filmpjes uit de Troma TV-stal. Het zijn vaak absurde filmpjes die aan elkaar zijn gepraat door de hilarische oprichter Lloyd Kaufman. Zo neemt de filmdirecteur je mee in zijn bureau, legt hij je uit waarom hij tegenwoordig op straat woont of vertelt hij ons wat er tegenwoordig van The Toxic Avenger is geworden. Onnozel? Ja, maar wel zeer amusant!
Cultfans aller landen, verenig u want één van 's werelds grootste cultfilms is nu op een puike Blu-ray uit. Kopen!
Didier BECU
25/08/2014
---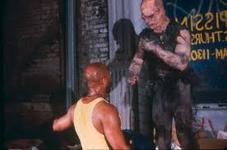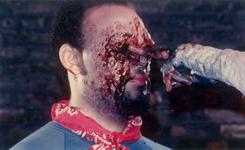 ---