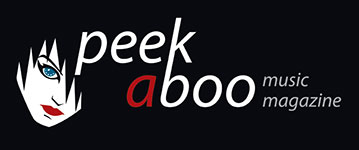 like this cult movies review
---
NARCISO IBANEZ SERRADOR
Who Can Kill A Child?
Movie
•
Cult movies
Cult
•
Horror
[74/100]

Living Colour Entertainment
19/08/2015, Didier BECU
---
We totally agree, the title sounds like a horrible weekend movie that looks more like a promotional film for the opponents of abortion, but Who Can Kill A Child? is a pure exploitation film that is anything but child friendly and will make a lot of parents shudder. Be honest, you won't see a movie in which a child's skull is smashed every day! Now, well, if you would be in the shoes of the couple Tom (Lewis Fiander) and Evelyn (Prunella Ransome), you might have done the same. They are the victims, as the children are bloody murderers who have slain the entire population of the island of Almanzora.
Sadistic kids who want to murder adults always were beloved characters in horror movies (just think of The Omen), but these bloodthirsty brats are not (as often is the case) possessed by the devil, they just want to take revenge on the adults for having destroyed many young lives. At least, that's what we think. The Uruguayan director Narciso Ibáñez Serrador never gives a reason for their weird behaviour, but he opens his film with a collage of horrific archival footage in which we see that the biggest victims of every war are children. After witnessing some horrific scenes of Vietnam or Dachau, we see a sunny scene on a Spanish beach. The fun does not last long, because within a few seconds, in pure Jaws-style a corpse is rinsed on the beach. It takes a while before we know what the cause of this death is, but once Tom and Evelyn arrive on an island, we know it! The children are murderers!
In Spain, Narciso Ibáñez Serrador is mainly known for his television work (the series Peliculas Para No Dor-mir is pure cult over there). He only directed two movies. Do not think that this firm is made by a bunch of amateurs, because the cinematographer is José Luis Alcaine, who is now the cameraman of Pedro Almodóvar! But things were different in the 70s. You could make movies in which you ridiculized the Nazi concentration camps, so you could also show images of children that were slain or a scene in which a teenage girl has fun with smashing the skull of an elderly man with a walking stick. Of course, the critical reader wonders whether this is good cinema. Anyone who knows the genre has seen such films before, but he will be watching this film untill the very last minute. Or to put it more simply: one to watch! Please note the title, as this exploitation film is in America known as Island Of The Damned (which of course refers to the scifi-classic The Children Of The Damned).
Didier BECU
19/08/2015
---
Toegegeven, de titel klinkt als een afgrijselijke weekendfilm die als een promofimpje voor de tegenstanders van abortus dienst kon doen, maar Who Can Kill A Child? is een raszuivere exploitationfilm die allesbehalve kindvriendelijk is en heel wat ouders zal doen huiveren. Want tja, een kind datde schedel wordt ingeslagen zie je niet bepaald alle dagen in een film! Nu goed, mocht je in de schoenen van het echtpaar Tom (Lewis Fiander) en Evelyn (Prunella Ransome) staan, zou je er misschien ook niet aan twijfelen. Zij zijn immers de slachtoffers, de kinderen zijn bloederige moordenaars die de hele bevolking van het eilandje Almanzora hebben gedood.
Sadistische kinderen die volwassenen willen vermoorden zijn altijd geliefde personages in de horrorfilm geweest (denk maar aan The Omen), maar deze bloeddorstige bengels zijn niet (zoals dat vaak is) bezeten door de duivel, ze willen gewoon wraak nemen op de volwassenen die vele jonge levens hebben verwoest. Ten minste, dat denken we. De Uruguayaanse regisseur Narciso Ibáñez Serrador heeft geen reden in het verhaal gestopt, maar opent zijn film met een collage van afschuwelijke archiefbeelden waarin we zien dat de grootste slachtoffers van oorlog vaak kinderen zijn. Na het aanschouwen van afgrijselijke taferelen uit Vietnam of Dachau, krijgt ons netvlies een zonnig tafereel op een Spaans strand te zien. Lang duurt de pret niet, want binnen een paar seconden spoelt er in pure Jaws-stijl een lijk aan. Het duurt een tijdje vooraleer we weten wat de oorzaak van deze dood is, maar eens Tom en Evelyn op een eilandje aankomen, dan weten we het! Het zijn de kinderen!
Narciso Ibáñez Serrador is in Spanje vooral bekend voor zijn televisiewerk (de serie Peliculas Para No Dor-mir is daar pure cult). Qua films heeft hij er maar twee gedraaid. Denk nu niet dat het om een bende amateurs gaat, want de cinematograaf van dienst is niemand minder dan José Luis Alcaine, tegenwoordig de vaste cameraman van Pedro Almodóvar! Alleen was het zo dat je in de jaren 70 meer kon. Je mocht zelfs films maken waarin je de draak stak met naziconcentratiekampen, dus kon je ook schaamteloos beelden tonen waarin kinderen werden gedood of een scène waarin een tienermeisje met plezier de schedel van een bejaarde man met een wandelstok inslaat. De kritische lezer vraagt zich natuurlijk af of er naast het schokkende ook nog iets cinematografisch te rapen valt. Wie een ervaren rot in het genre is, heeft zo'n films natuurlijk al vaker gezien, maar diezelfde rot zal wel tot de allerlaatste minuut naar Who Can Kill A Child? blijven kijken. Of om het eenvoudiger te zeggen: eentje om te zien! Let wel op met de titel, zo is deze exploitatiefilm in Amerika bekend als Island Of The Damned (waarmee men natuurlijk het publiek van The Children Of The Damned wil bereiken).
Who Can Kill A Child? is zo'n typische titel die op het lijstje voorkomt van iedere cultfanaat, terwijl anderen met plezier deze kelk aan zich laten voorbijgaan. Het is jouw keuze aan welke kant je staat…
Didier BECU
19/08/2015
---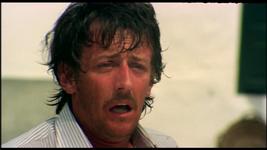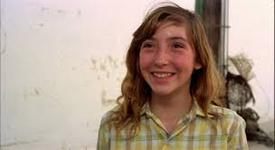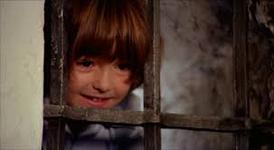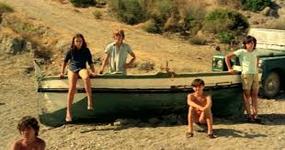 ---