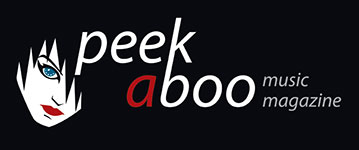 like this tv series review
---
STRIKE BACK SEASON 3
Movie
•
TV series
Action
•
TV Series
Warner Home Video
18/08/2015, Didier BECU
---
Today, television stations try everything to make their series look like films. Money is not important (at least that is what we think) and lots of films simply fade next to current series. There are plenty of examples, but if you have to choose the ultimate action series, then Strike Back is without doubt one of the best.
Critics often compare the style of Strike Back with the work of Guy Richie and Paul Greengrass, and that's not such a crazy comparison, because the uptight camerawork of Strike Back makes you feel like you are in the middle of the action. This Cinemax-production was especially in English-speaking countries a huge success. In England, fiv e seasons have been released, but because the series was detected at a much later stage here, the third season is now in the shops.
This ten-part series is based on the book by former SAS soldier Chris Ryan and focuses on the elite team Section 20 (a part of MI6, since the third season under the leadership of Major Rachel Dalton (Rhona Mitra). This time the team is sent to Africa because a cargo of nuclear weapons has fallen into wrong hands during a mission in Somalia. Section 25 has to deal with the millionaire Conrad Knox (Charles Dance) who wants to use these nuclear weapons to strengthen the position of his own private army. Although this mission forms the main part of the third season, there are also a lot of other stories added, so we get to know better the Section 20-members. They behave like superheroes, but in their hearts they are simple people who are full of doubts, they're fighting machines with a conscience. Michael Stonebridge (Philip Winchester) is seeking revenge on Craig Hanson (Shane Taylor), the murderer of his wife, and his American colleague Damien Scott (Sullivan Stapleton) has to deal with CIA agent Christy Bryant ( Stephanie Vogt).
Perhaps you could say that the characters are a bit flat, but tension and action create so much adrenaline that you forget that quickly. The stories are not always credible, but on the other hand, the characters are real, and not the kind of Rambo's like only Hollywood can create them. Or to summarize it in one sentence: anyone who wants to see sublime action, can take Strike Back at home. The third season is now out on Warner, both on DVD and Blu-ray.
Didier BECU
18/08/2015
---
Tegenwoordig proberen televisiestations alles om hun series er als films uit te laten zien. Er wordt niet naar het kostenplaatje gekeken (ten minste dat denken we toch) en vaak verbleken heel wat films als je ze naast de huidige overvloed van series legt. Er zijn voorbeelden genoeg, maar als je de ultieme actieserie uit het torenhoge aanbod moet lichten, dan is Strike Back zonder meer één van de allerbeste in zijn soort.
Buitenlandse recensenten vergelijken de stijl van Strike Back vaak met die van Guy Richie en Paul Greengrass, en dat is niet eens zo'n maffe vergelijking, want net als bij deze gerenommeerde cineasten zorgt ook hier het hypernerveuze camerawerk ervoor dat het lijkt alsof je middenin de actie zit. Vooral in de Engelstalige landen is deze productie van Cinemax een gigantisch succes. In Engeland heeft men ondertussen met het vijfde seizoen definitief het doek over deze actiereeks gegooid, maar omdat het hier een tijdje duurde vooraleer men Strike Back ontdekte, zitten wij nog maar aan het derde seizoen.
Deze tiendelige reeks is gebaseerd op het gelijknamige boek van de gewezen SAS-soldaat Chris Ryan en spitst zich toe op het eliteteam Section 20 (een onderdeel van MI6) dat sinds het derde seizoen onder leiding staat van Majoor Rachel Dalton (Rhona Mitra). Meteen wordt het team naar Afrika gestuurd omdat een lading nucleaire wapens tijdens een missie in Somalië in de verkeerde handen zijn gevallen. Daarmee komt het team tegenover de miljonair Conrad Knox (Charles Dance) te staan die de kernwapens wil gebruiken om de positie van zijn eigen privéleger te versterken. Alhoewel deze opdracht de hoofdbrok van dit derde seizoen vormt, zijn er ook een heleboel randverhalen waardoor we de leden van de Section 20 beter leren kennen. Ze gedragen zich als superhelden, maar in hun binnenste zijn het gewoon mensen vol twijfels, gevechtmachines met een geweten. Michael Stonebridge (Philip Winchester) is op zoek naar Craig Hanson (Shane Taylor), de moordenaar van zijn vrouw, en ook zijn Amerikaanse collega Damien Scott (Sullivan Stapleton) heeft een rekening te vereffenen, en wel met de CIA-agente Christy Bryant (Stephanie Vogt).
Je kan misschien wel zeggen dat men de karakters niet voldoende heeft uitgediept (bij welke actiereeks, behalve 24 misschien, doet men dat trouwens wel?), maar de spanning en de actie zorgen voor zo veel adrenaline dat je dat snel vergeet. De verhalen zijn niet altijd even geloofwaardig, maar daar staat tegenover dat de personages levensecht zijn en geen Rambos zoals alleen Hollywood ze kan bedenken. Of om het in één zin samen te vatten: wie sublieme actie wil, moet Strike Back in huis halen. Het derde seizoen is vanaf nu uit op Warner, zowel op dvd als Blu-ray.
Didier BECU
18/08/2015
---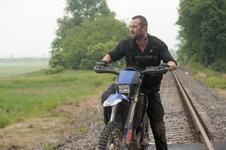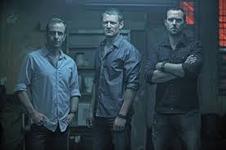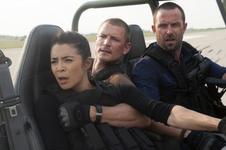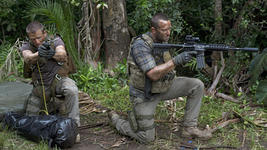 ---